Fallingwater
---
Location: Mill Run, Pennsylvania
Architect: Frank Lloyd Wright
Client: Edgar J. Kaufmann and his wife Liliane
Year: 1936–1939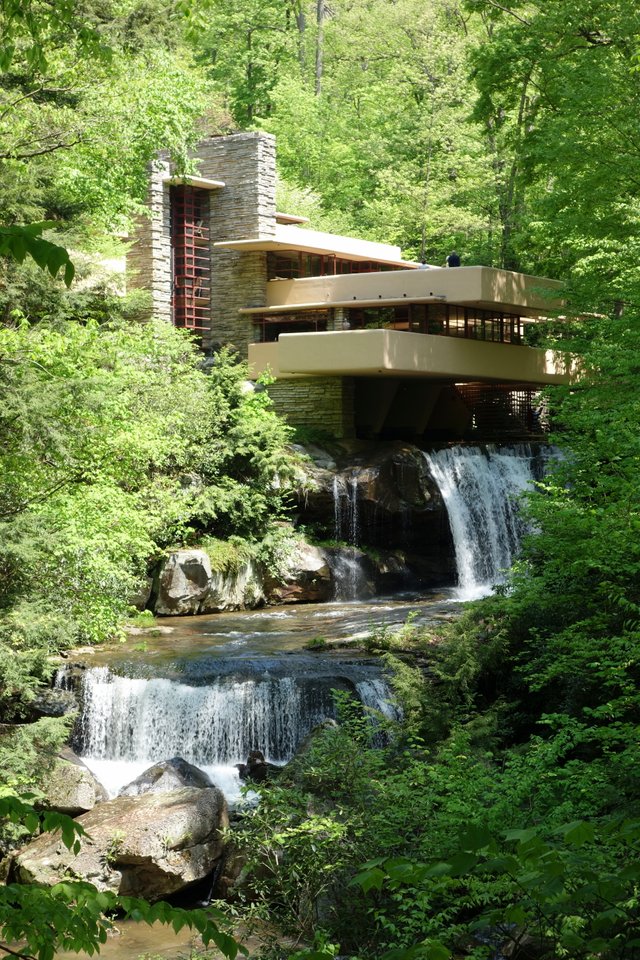 photo source
In the summer of 1934, Edgar Jr. read Frank Lloyd Wright's An Autobiography (1932) and travelled to meet Wright at his home in Wisconsin in late September. Fallingwater was the family's weekend home. Family retreated at Fallingwater to escape the heat and smoke of industrial Pittsburgh. Liliane enjoyed swimming in the nude in the river.
Kaufmann Jr. said, "Wright understood that people were creatures of nature, hence an architecture which conformed to nature would conform to what was basic in people. For example, although all of Falling Water is opened by broad bands of windows, people inside are sheltered as in a deep cave, secure in the sense of the hill behind them."
Design
Fallingwater remains as one of Wright's greatest masterpieces. The building stands both for its dynamism and for its integration with its striking natural surroundings. Fallingwater can describe an architectural tour to Wright's organic architecture. Wright's passion for Japanese architecture is reflected in the design of Fallingwater. Particularly in the importance of interpenetrating exterior and interior spaces. The building has a strong emphasis placed with harmony between man and nature.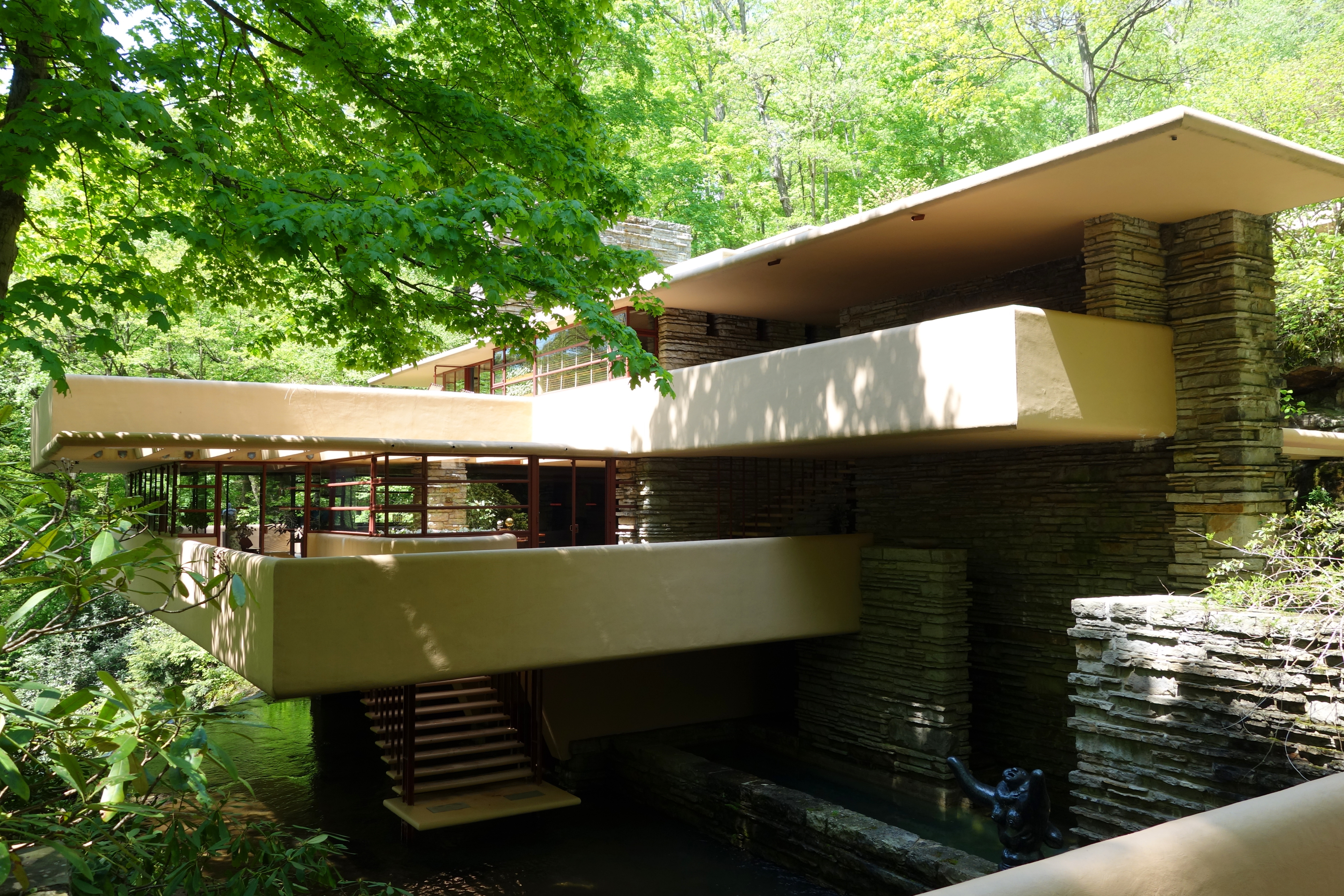 photo source
The organically created private residence was aimed to be a nature retreat for its owners. The building is known for its connection to the site. Fallingwater is built on top of an active waterfall that flows beneath the house.
The fireplace is the hearth in the living room combines boulders found on the site. The house was built to ledge rock which protrudes up to a foot through the living room floor was left in place to demonstrably link the outside with the inside.
Frank Lloyd Wright had intended that the ledge is cut flush with the floor, but this had been one of the Kaufmann family's favourite sunning spots. Mr. Kaufmann recommended that it be left as it was. The stone floors are waxed, while the hearth is left plain, giving the impression of dry rocks protruding from a stream.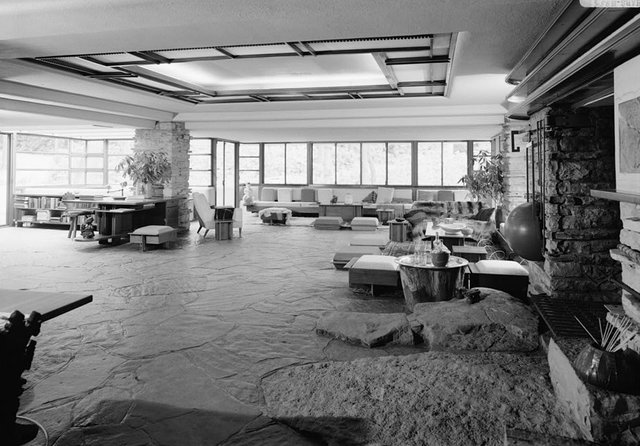 photo source
The combination with the setting extends even to smallest details. Where glass meets stone walls no metal frame is used; rather, the glass and its horizontal dividers were run into the stonework. The stone walls appear uninterrupted by glazing. From the cantilevered living room, a stairway guides directly down to the stream. Bedrooms are small, some of them with low ceilings to encourage people outward toward the open social areas, decks, and outdoors.
Fallingwater, Frank Lloyd Wright is one of the greatest experiment in architecture. The building leads people to join the harmony with nature. Its a retreat from the city pressure. A relief to people who lives there. Beautiful architectural art piece for future generations.
---
TR
---
1934 yazında, Edgar Jr, Frank Lloyd Wright'ın bir otobiyografisini (1932) okudu ve Eylül ayı sonunda Wisconsin'deki evinde Wright ile buluşmak için gitti. Fallingwater, ailenin hafta sonu eviydi. Aile, endüstriyel Pittsburgh'un sıcağından ve dumanından kaçmak için Fallingwater'ı kullandı. Edgarın eşi Liliane nehrin nehrinde çıplak yüzmekten zevk alırdı. Aynı zamanda ev onun modern sanat kolleksiyonu içinde bir müzeydi.
Kaufmann Jr., "Wright, insanların doğanın yaratıkları olduğunu anladı, dolayısıyla doğaya uygun bir mimarlık, insanların temel yaradılışına uygun olacaktı. Örneğin, tüm Düşen Sular, geniş pencerelerle açılmış olsa da, içerideki insanlar derin bir mağarada korunaklı ve arkalarındaki tepenin önünde güvendeydi. "
Tasarım
Fallingwater, Wright'ın en büyük başyapıtlarından biri olarak anılır. Bina hem dinamizmi hem de çarpıcı doğal çevresiyle bütünleşmesi ile bilinir. Fallingwater, Wright'ın organik mimarisine bir mimari tur tanımlayabilir. Wright'ın Japon mimarisine olan tutkusu, Fallingwater'ın tasarımında dışa yansıtılıyor. Özellikle iç ve dış mekanların iç içe geçmesi bu yansımada önemli bir rol oynar. Bina, insan ve doğa arasındaki uyum ile güçlü bir vurguya sahiptir.
Organik olarak oluşturulmuş bu özel konutun sahipleri için binadoğaya bir çekilmeyi amaçlar. Bina, alana olan bağlantısı ile bilinir. Fallingwater, evin altında akan aktif bir şelalenin üzerine inşa edilmiştir. Oturma odasında bulunan şömine ocak, alanda bulunan odaları birleştirir. Ev, oturma odasının içinden çıkıntı yapan bir kayaya inşa edilmiş olup, içeriye dışarıdan gösterilebilecek şekilde bağlanması için yer ayrılmıştır. Frank Lloyd Wright, çıkıntının zeminle aynı hizada olduğunu düşünmüştü, ancak bu Kaufmann ailesinin favori güneşlenme mekanlarından biri olmuştu. Bay Kaufmann, olduğu gibi bırakılmasını tavsiye etti. Taş zeminler cilalıdır, Taşın kalbi düz kalırken, akarsudan çıkan kuru kaya izlenimi verir.
Binadaki ayarlamalar ve kombinasyonlar en küçük ayrıntılara bile uzanır. Örneğin Camın taş duvarlarla buluştuğu yerlerde metal çerçeve kullanılmaz; daha ziyade, cam ve onun yatay bölücüler taş işçiliği ile oluşturuldu. Taş duvarlar, camla kesintisiz olarak görünür. Konsollu oturma odasından bir merdiven doğrudan akar. Yatak odaları küçüktür ve bazıları yaşayanları açık sosyal alanlar, güverte ve dış mekanlara doğru teşvik etmek için düşük tavanlıdır.
Fallingwater, Frank Lloyd Wright'ın mimarlıkta en büyük deneylerinden biridir. Bina, insanları doğa ile uyum içinde yaşamaya yönlendiriyor. Şehir baskısından bir kaçış sağlıyor. Orada yaşayan insanlara bir rahatlama sağlıyor. Bina aynı zamanda gelecek nesiller için güzel mimari bir sanat eseri.