Son dönemlerde Türkiyede Nusret ile birlikte inanılmaz bir steak çılgınlığı yaşanıyor. Peki bu steakhouselarda servis edilen et çeşitlerini biliyor musunuz? Yada gittiğinizde hangi et size daha uygun olur? Temel olarak steak çeşitlerini sizlerle paylaşmaya çalışacağım. Ve bu etteki pişirme derecesi kavramını anlatmaya çalışacağım.
Nowadays at Turkey with Nusret steak and steakhouses are more on trend. Do you know types of steaks? Or which one is better for you? I will try to explain main steak cuts to you. Also i will recommend the cooking temperatures with steaks.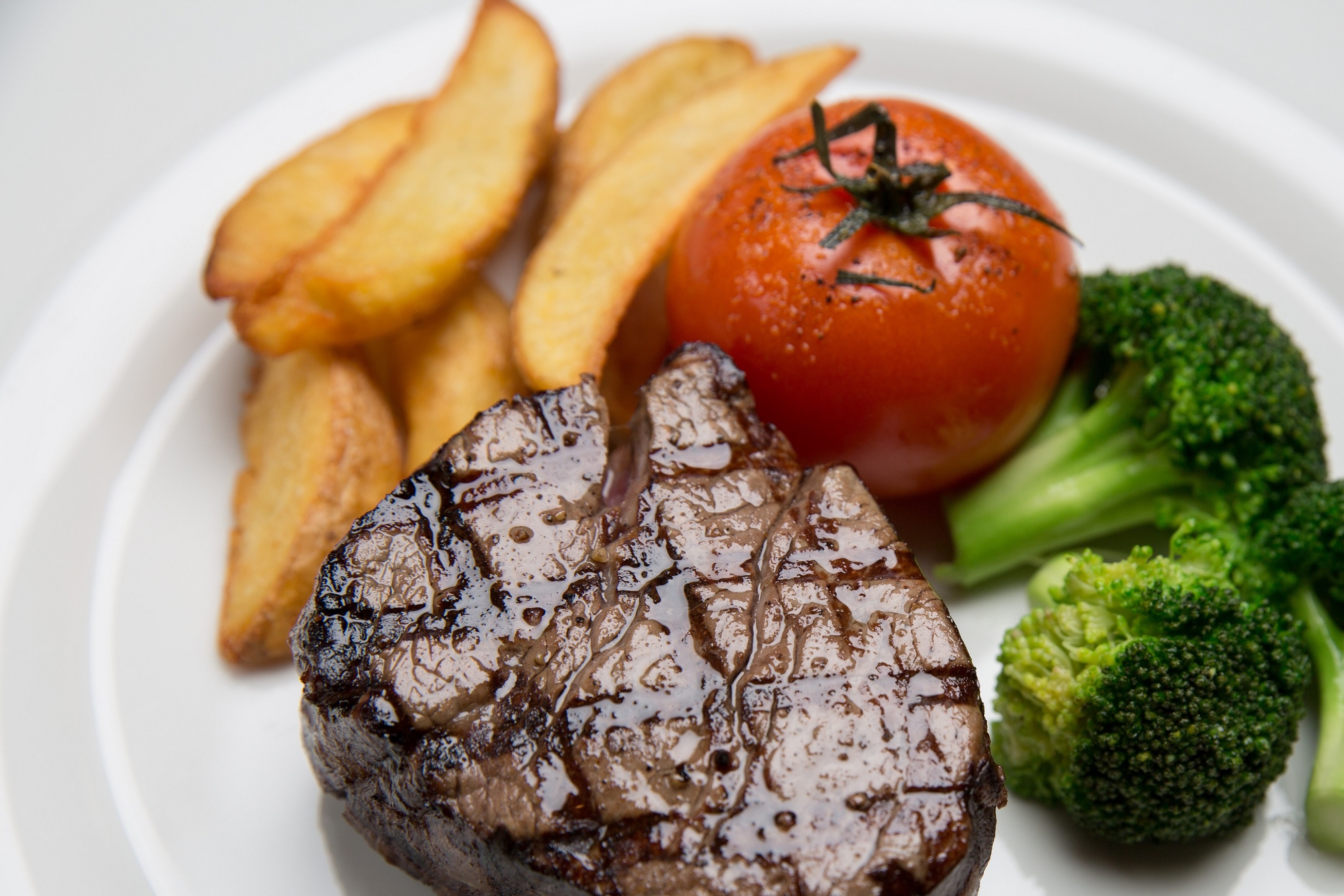 FILLET / BONFİLE
From a tenderloin, the fillet is the most valuable cut available. The buttery texture, subtle flavor, compact shape makes this perfect for sauces & toppings. I recommend for ladies cause its basicly no fat steak. For cooking temperature max medium well for this steak. Best choice will be medium for this cut.
Bonfileden dilimlenmiş fileto mümkün olan en değerli kesimdir. Yağ gibi dokusu , hoş lezzeti ve yoğun şekli filetoyu soslar ve "toppingler" için mükemmel kılar. Bayanlar için uygundur çünkü yağsız ve yumuşak bir ettir. Orta-iyi pişmiş bu et için en pişmiş değer olmalıdır. Orta pişmiş olarak yemenizi tavsiye ederim
PORTERHOUSE(T- Bone)
This 'on the bone' cut is like two steaks in one. A slice of buttery tenderloin on the side of the bone & a juicy well-marbled top loin on the other. I will recommend for gentleman. And of course medium or medium rare for cooking temperature.
Bu kemikli kesim, iki etin birarada olmasına benzer. Kemiğin bir tarafındaki bonfile dilimi ve diğer taraftaki sulu ve yağ–kemerli kontrfile'den oluşur. Büyüklüğünden dolayı beylere tavsiye ederim. orta-az yada orta pişmiş olarak tavsiye ederim
RIB EYE
A center cut rib steak minus the bone. This juicy cut is similar to the tenderloin. But offers up a little more texture & lot more steak flavor. It has more fat. On the middle side there is a fat part on this steak. I recommend both ladies and gentleman and for cooking medium preferable.
Ortadan kesilmiş kaburganın kemiklerinin çıkarılmasıyla oluşur. Bu sulu kesim bonfileye benzer ancak biraz daha fazla doku ve oldukça fazla et lezzeti sunar. Daha yağlı bir ettir. Etin orta kısmında yağ tabakası bulunur. Hem bay hemde bayanlara tavsiye edebilirim. Orta pişmiş uygun olacaktır.
NEW YORK STRİP
Cut from the tender short loin, a New York strip is less marbled than a rib eye, but with a thick band of fat around the edge for added flavor & juiceness.As steak its harder than other cuts. Medium cooked ny strip will be a perfect choice.
Kısa filetodan kesilmiş olan New York Strip, Rib Eye'dan daha az yağ damarlıdır ve etin kenarında bulunan ince bir şerit halindeki yağ etin lezzetli ve sulu olmasını sağlar. Diğer etlere göre daha serttir. Orta pişmiş mükemmel bir seçim olacaktır.
KANSAS CITY STRIP
Basicly ny strip in grilled with the bone on. The meat is highly marbled & quite tender. Its as known as Butcher steak cause butchers would like to keep this part for themselves. I recommend medium cook.
Bel kısmından kalın bir şerit halinde kesilen et, kemik üzerindeyken pişirilir. Et yüksek derecede mermerimsi yağlı bir dokuya sahiptir ve oldukça yumuşaktır.
Kasap'ın eti olarak da bilinir çünkü kasaplar bu kesimi kendilerine saklamak isterler. Bu et daha fazla et lezzetine ve yoğun dokuya sahiptir. Orta Pişmiş olarak tavsiye edebilirim.
TOMAHAWK RIB EYE
This steak is huge,tender, flavorful, complex & well marbled served with the giant rib bone. Its good for BIG Boys or for 2 people.
Bu et oldukça büyük, yumuşak , lezzet dolu, karmaşık & mermerimsi yağlı bir yapıya sahiptir ve gerçek anlamda büyük kaburga kemiği ile birlikte servis edilir. 2 kişi yada iddialı kişiler için uygundur.
Ette türkler genel anlamda çok pişmiş sevseler de aslında et çok piştikçe lezzetini aromasını kaybeder. İçi pembe dışı kahverengi tonlarında pişmiş "orta" derecesinde bir et aslında etten daha çok zevk almanızı sağlar. Sizlere tavsiyem yediğiniz etleri bu derecede tüketmeniz olacaktır. Kıyma içeren ürünlerde ise (köfte,hamburger vb) sağlık açısından çok pişmiş olması gerekir.