I always knew I lived in a one horse town.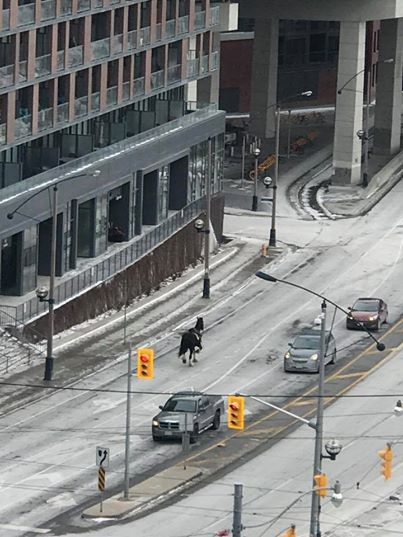 A local horse took itself out for a bit of a joy ride downtown on Monday afternoon wearing nothing but a vest to indicate its position within the Toronto Police Service.
The animal in question, a black police horse, was spotted by several people in the Fort York area yesterday without a rider on its back.
"I was on my balcony on the phone with a client and I heard this sort of 'clip clip clip clop'," said Toronto photographer David Pike. "So I turned my head and I saw a horse coming down Bathurst, just south of Front Street, across the bridge."
"There is an unmanned police horse running down Fort York," he wrote. "Happy Monday."
What gave Pike pause about the horse (aside from its vest and the fact that it was horse) is that it appeared to be "obeying the rules of the road."
"It wasn't going wild or crazy," he said. "It was just walking along the side of the road."
The horse did go up against oncoming traffic when it turned onto Fort York boulevard, but "thankfully people saw it and stopped," said Pike.
The horse just "continued on its way under the Gardiner" heading westbound toward Exhibition Place, which houses the illustrious Toronto Police Horse Palace (where our city's hardworking cop horses live.)
Police confirmed to the Star last night that it did lose a horse at some point on Monday afternoon, but that it was later recovered and nobody was injured.
https://www.blogto.com/city/2018/01/police-horse-takes-alone-downtown-toronto/