Tweet-For-Tokens! Week 7
Welcome at the:
Twitter-Bounty for EasyLife ... Tweet-For-Tokens! Share your Tweet in exchange for Tokens.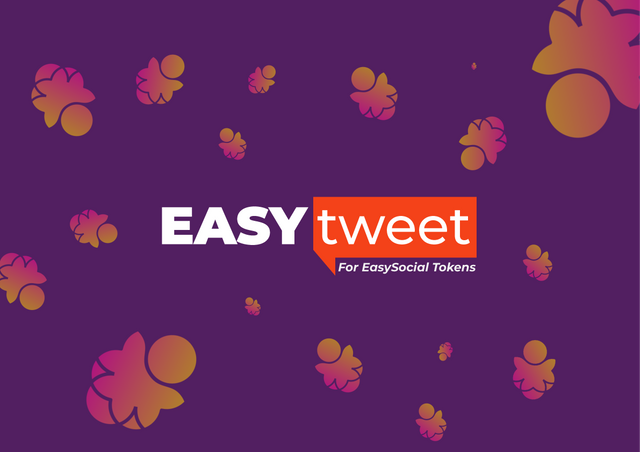 Who has followed EasyDex recently, has already received the news. EasyDex will build a completely new Social Media experience on the blockchain. EasyLife. And the first chain within EasyLife, will be EasySocial! And EasySocial is in open Beta test version. Everyone can participate in this open Beta. And everyone can actually start earning money by being social.


And the first chain will be EASYSOCIAL
Now you give your thoughts, your photos, your words, your feelings, your life ... and your privacy, free of charge and for nothing to the famous social media. they earn money from you! And what do you get in return? Nothing if you are honest. Now of course we know that not everything in life is about money. You participate in the Social Media because you like it!


But why not combine these two factors? Do the same as what you do every day now, but you can earn money with it!
Does this sound interesting to you? Then pay attention! Then this EasyDex Twitter-Bounty is for you! With this you can earn your first Ezlif.bounty tokens.


Earn your first Tokens!
Ezlif.bounty Earning Tokens? YES ... if you join our Tweet-For-Tokens Bounty you can earn tokens by following the right steps.


Promote EasyLife, EasySocial on Twitter.
TO JOIN, FOLLOW THE STEPS BELOW;
Become a member of our Discord if you are not already!
Step 1: Log in to Twitter
Step 2: Follow EasyDex https://twitter.com/EasyDexOfficial
Step 3: Retweet the tweets that EasyDex places.
Step 4: Place a link to your Tweet in our discord in the dedicated room #tweet-for-tokens:
Mention with the link to your tweet:
your BitShares ID
Number of Twitter followers

The rules
Rule 1: You MUST follow our official account; https://twitter.com/EasyDexOfficial
Rule 2: accounts Spamming of this message receives no rewards
Rule 3 : TAG #EASYLIFE #EASYSOCIAL on your tweet

Challenge Rewards
1 EZLif.bounty Token per day for 100 - 299 followers -2
3 EZLif.bounty Tokens per day for 300 - 499 followers - 3
5 EZLif.bounty Tokens per day for 500 followers and above-5
All links in our discord room are checked manually and after checking the tokens will be transferred once a week.
Every Monday a new week starts and you can participate again by repeating 1 tweet of EasyDexOfficial for 7 days!



Week rewards :
Bts name : seyi-dous
Bounty : 16
Bts name : danny6
Bounty : 1
Bts name : atom-collector
Bounty : 5
Bts name : mb666
Bounty : 10
Bts name : the-hunter
Bounty : 10
Bts name : charlie615
Bounty : 1



We reserve the right to cancel this bounty without notice, if abuse is discovered and proven ...

E A S Y D E X C O M M U N I T I E S
Join the EasyDex communities
Telegram: https://t.me/easydex.
Discord: https://discord.gg/JPva8DS.
Subreddit: https://www.reddit.com/r/EasyDex/
Twitter: https://twitter.com/EasyDexOfficial
WE NEED EACH OTHER
Your Tweet also counts! We build a platform, and we need you to make it a success. EasyDex thanks in advance to all participants for the enthusiasm and the will to help put EasyLife on the social media card.
And do not forget to visit our website http://www.ezlife.io. Here is all the information you need to find.