Crypto: Germany's Tixl's timing couldn't be better!
The Tixl [MTXLT]development team did its macroeconomic planning just right!
Besides all the knowledge needed to succeed in a highly volatile market such as the cryptocurrency market, it always helps to understand your macro's.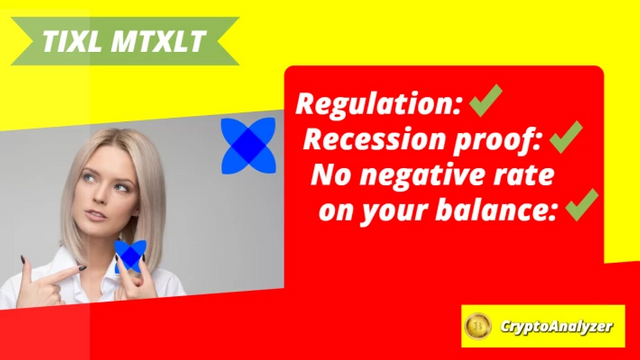 Regulatory:
To maximize their chances to succeed, Tixl started developing in a friendly environment as Germany is opening up to Bitcoin and decided not to tax individuals using cryptocurrencies as a means of payment.
Cyclical:
After the 2008 financial debacle, central banks have kept interest rates too low too long, experimenting with a procedure called quantitative easing. Just as the FED (US Federal Reserve Bank), was finally tightening the supply of money, we're clearly off to another permanent round of QE4, as the Fed and Trump will most likely work together to keep Trump's chances for reelection alive. The capitalistic system's 5 to 7 years recession must be avoided at all costs, lengthening this cycle to more than a staggering 10 years...
Printing more money will push the stockmarkets (Trump's scorecard) even higher in an environment where inflation will pick up because some of that extra money will triple down into consumer goods. Besides stocks, real estate, and precious metals, cryptocurrencies will also become much more attractive, as the world is looking for a store of value and a better form of money, likely in the shape of digital peer-to-peer currencies.
German lenders pass the pain of negative rates to their bank account customers:
German lenders have started to bash their retail customers with a nice negative rate: this will evolve in a bank run, as people rather store their EURO's at home, where they don't pay a negative rate. How silly is it to have a bank account that takes a percentage of the money you earned? This is a clear signal that our monetary system is closer to its end than we first thought.
7 Reasons to invest in TIXL (MTXLT)!
Tixl is a German fintech start-up and is registered as a non-profit organization in Hamburg, Germany. It can profit considerably from Germany's reputation with regard to its growing interest in the fin-tech sector. Germany is becoming a crypto haven for crypto entrepreneurs: https://www.publish0x.com/newsblock/german-banks-will-adopt-bitcoin-dedollarisation-xlgyow

Tixl is building upon already prooven and functional technologies such as the Stellar Consensus Protocol (SCP), Directed Acyclic Graph (DAG), which is used by Nano and NTRU Encryption Algorithm. As such, Tixl will be competing with NANO and similar projects. (https://nano.org/en)

Tixl is being developed by the team that already successfully started the Elbstack blockchain company. (https://tixl.me/team)

Tixl is available for trading on the successful and vastly expanding crypto exchange Binance (https://www.binance.org/en/trade/MTXLT-286_BNB), and will profit from that smart decision, as both projects can grow together.

Tixl has the full support and cooperation of no other than Ivan Liljeqvist, a very well known and popular YouTuber, who has a following of 208,000+ subscribers. Ivan's subscribers are seriously involved in crypto and continuously want to learn more about cryptocurrencies and blockchain, often following his channel daily!

Tixl doesn't charge you a negative rate on your Tixl wallet balance, compared to German lenders.

Technically, the chart allows investors to look at the upside price opportunity, given the coming token sale phase 3. Smart people can maximize on their short time strategy, as phase 3 starts in a few days, the 18th to be exact.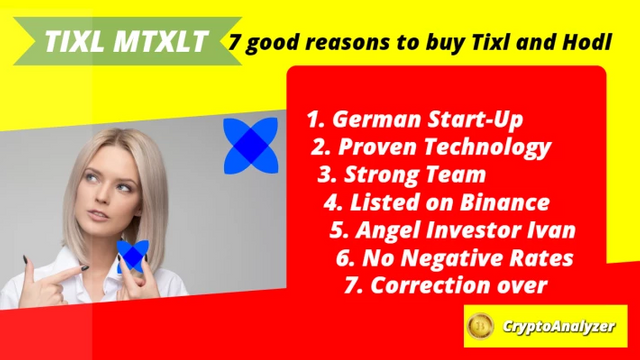 For the speculator:
There are several reasons why a bullish signal on MTXLT is possible:
The Holders Club closed its doors, so those people who want to profit from the Hodlers Club rewards, have bought their tokens, these people are hodlers, meaning their tokens will most likely not hit the exchange anytime soon;

The token sale phase 3 goes live the 18th of this month, as such people will be able to buy Tixl at a price of 300USD. An opportunistic investor will try to catch some of the growing value of the tokens on Binance, where the price is as low as 87USD.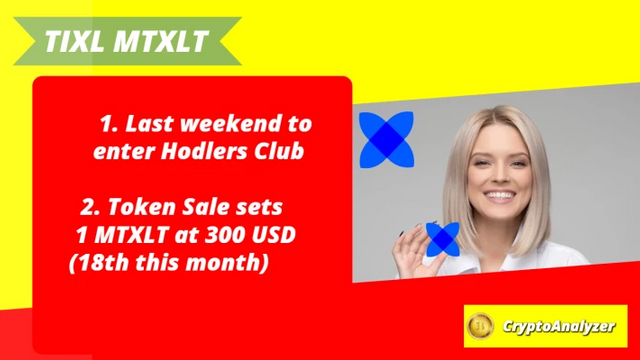 For the value hodler:
After a short selloff, following the sending of the rewards of the Binance Ask Me Anything Event, the price of Tixl found a bottom just above 4BNB per Tixl. About 100 MTXLT were handed out, and it's likely that those people, who weren't investors, partially dumped their tokens. I, therefore, assume that the existing weak hands and the receivers of those tokens sold their free coins. The sharp selling pressure resulting in three red candles is hereby ending, and sharp price rise will follow the coming weeks assuming that their will be investors that want to buy Tixl at 300USD. Many of those investors will try to buy their tokens just below 300USD if possible. It is highly likely that the token price will reach 300USD or something near that value very soon.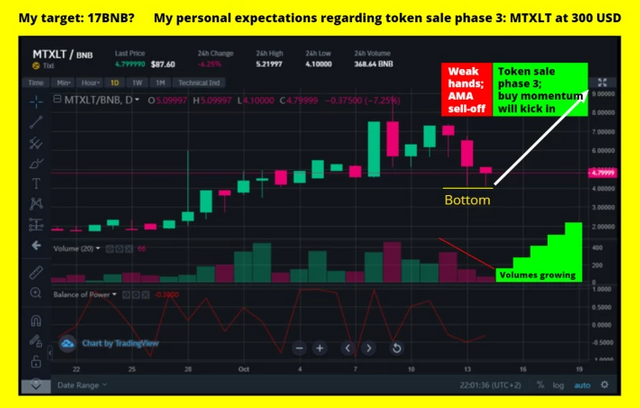 This chart is my personal price prediction, taking past and new data into account.
People that buy-in token sale phase 3, will have the opportunity to hodl as there will be a phase 4 and 5.
Disclaimer:
I am not your personal advisor, I did a lot of research into the Tixl project, like reading the whitepaper and studying the evolution of the price on Binance Exchange. Please do your own research, as I am not responsible for your trading or investment decisions.
Buy TIXL: https://tixl.me/?referralId=3!3LmRPPL
PS** I was asked to post this post here, so I have the permition to do that.
Source:
https://www.publish0x.com/cryptoanalyzer/crypto-germanys-tixls-timing-couldnt-be-better-xmjgzm