I usually walk. I love walking. I walk about 1.1 miles from home to the market, the long way. The route also allows me to have a walk through one of the Royal Parks in the UK, the Brompton Cemetery. It's a scene to see, quiet, serene; relaxes the mind.
It's about three quarter miles from the market to home. That's alongside the main road. It's also an interesting walk as I pass through the Chelsea Football Club stadium, the Stamford Bridge, and as well as a few shops and pubs populated by cute Brits. ;)
However, today, I bought a nice heavy coffee table from the British Red Cross. I'm not entirely sure, but I guess the shop is a foundation or something where furniture, books, among other things get donated, and eventually get sold.
The table is not as good as new, and it has some scratches on it; but it's good enough for a side table. I need it to put a few things on my messy room. It's priced at £7. I was initially eyeing for a £5 table, which was a very simple one and lightweight. However, they offered me a much more sophisticated type of a furniture at just £2 more.
I thought of carrying the table home, but found it was too heavy. I started regretting buying the thing because I was reluctant to ride a taxi, which might cost me a fortune. I consulted Google Maps and it told me an estimate of about £6 was the Gett taxi fare.
I installed the Gett app and booked a trip. I was pleasantly surprised when there was an offer of £3 off on my first five rides. Less than three minutes later, a lady driver accepted my booking and collected me.
She was nice and all, but I was annoyed when she announced that the route has been diverted, because a road was closed blah blah blah. I am very familiar with the area, I might not look like it, but I really am. Instead of taking the main road, we took a detour and travelled more than a mile (the long way).
When I got off her taxi, I was wondering how much I owed her. I took my things off the taxi, and was kind of stalling just for me to see how much would be credited to my account. Until finally before she drove off, I had to ask her and she said that she forgot to press on her phone, the "I arrived"-thingy.
I initially thought she was trying to cash more from me, because if she didn't press on the "end journey" thing, then I would have to pay much more (because of the pay by the mile rule).
But I am giving her the benefit of the doubt. Might be an honest mistake.
I tipped her 10% of the fee, which was £6.60, for a total of £7.20. Minus £3, for a grand total of £4.20.
I like giving tips. I have worked in the customer service before and I always loved and it always made my day whenever I received tips.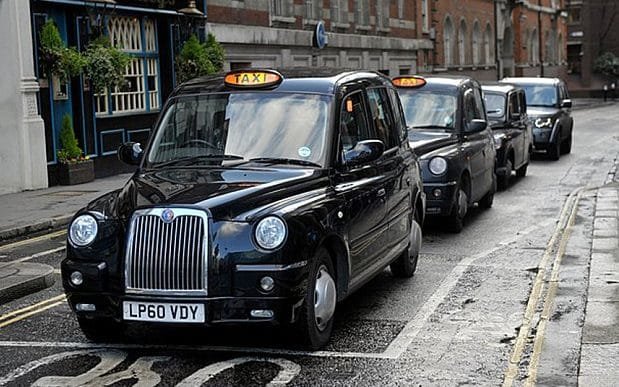 Image from telegraph.co.uk