Tiny Whoop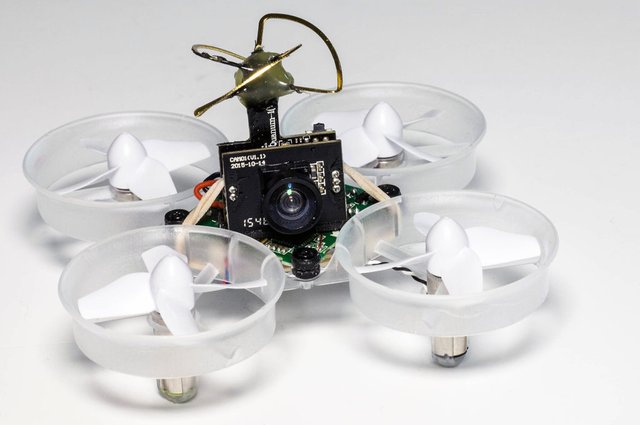 This thing spreads like wildfire among the FPV racing pilots ! But what is the Tiny Whoop?
Take a small size multirotor, capable of flying indoors, and which has an acro mode (without stabilization). In addition to stable mode, of course. Make sure its propellers are protected from collisions with obstacles that are found indoors. Add it a video camera with real-time feedback, which is very tiny. Change the original engines to be able to lift this camera. Add a small adaptor printed in 3D to carry the cam. Shake it all up and you get the Tiny Whoop!
The quadcopter which perform best is the Blade Inductrix but you can now find chinese clones as the Eachine E010 for just 15 usd. The changes are not complex to achieve. There are several models of combos wide angle cameras and transmitter (necessary to fly inside) that can equip Inductrix. The combo camera vtx that is now the best is the F797T Banggood or Aliexpress for 30 usd (these are 25 mW of power). These cameras are supplied with a power splitter, which can connect them without hacking or weld - it's even better to remove their plastic case. With the camera (and its plastic protection), it only an additional 4.7 grams, not counting a possible printed cam holder which has a 15 degree inclinaison that correspond to the forward inclinaison of the drone when speeding. (very practical, i must say)
Check out on youtube for tiny whoop...