Kari na kamo sa Bacolod kag maghinugyaw upod sa mga Masskara!!!
Kari na kamo sa Bacolod kag maghinugyaw upod sa mga Masskara!!!
A hiligaynun dialect famous tag-line to promote the city of Bacolod as we celebrate the Masskara Festival every year!!
The opening of the said festival started from the 1st month until 22nd of October which happened annually.
This is one of the famous and glamorous festival not only here in Negros but also within the Philippines.
Tourists from different countries always visiting Bacolod City before the highlights of the festivity.
There are tons of activity where you can enjoy so much during your visit. The venues are spreaded to different communal spots where people of Bacolod " The Bacolodnon " gathered together to celebrate Masskara.
As a pure Bacolodnon living in the place known as " The City of Smiles ".
I am proudly promoting my city not only nationwide but worldwide.
Masskara Festival was invited by some countries to perform during their special events. Like London, New York, Los Angeles California, Japan, China so on and so forth.
That special participation of Masskara warriors to these countries leads Masskara to be known as world class festivity.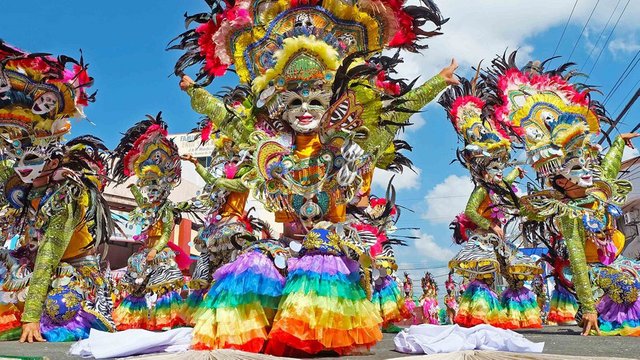 Disclaimer : image source: http://www.steelart.ph/blog/masskara-festival-brief-history/
History and Facts about Masskara Festival
Let me share to you a little idea about my knowledge in Masskara.
Masskara came from the root word " Mass " means many " Kara " means faces.
The full description mean as " Many Faces ".
As far as I can remember during our class project way back when I was in high school to make a research about the history of Bacolod. What I learned is that Bacolod created Masskara Festival to address the poverty and hardships of the " Sakada's " many decades ago. Sakada's work as farmers from different Haciendas in Negros known as " Rich Land Lord " The Hacienderos.
Sakada's labor payment is not enough to sustain the daily needs of their families. Because of the poverty crisis experience by most of the " Sakada's " they created a festival called Masskara.
History tells that because Negros known as main producer of sugar from vast field of sugarcane. They wan't to hide the struggles, difficulties, sorrow, sufferings and sadness from " Sakada's " faces by simply wearing a smiling Masks.
And that is the main reason why Bacolod given thae title as " City of Smiles " and the Masskara festival originated from that tagline.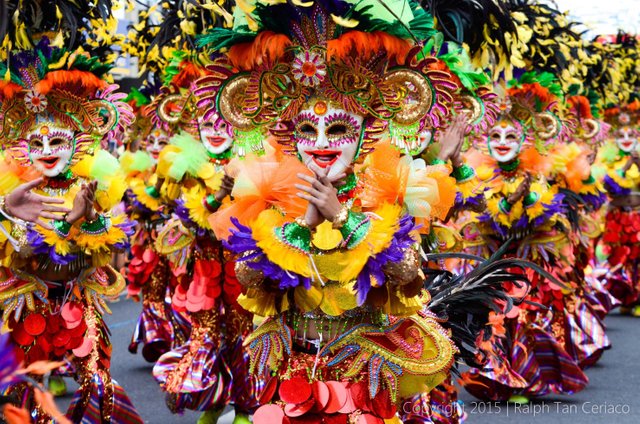 Disclaimer : image source : https://negrosislandph.com/bacolod-masskara-festival-2017-schedule/
Every year the said festival is innovated and adding activities to make it more alluring. Where the Local Government most especially the mayor of Bacolod together with his best facilitator and coordinator of Bacolod Events. Never failed to provide new set of plans, alterations if necessary and best proposals to execute the plans smoothly.
The top priorities of the organizers and facilitators is to give the best Masskara Festival celebration every year. At the same securing the safety of the people free from any harm or to avoid unnecessary scenarios.
They also calibrate the volume of people by spreading the set of activities to different specified areas only.
They also make sure that the sound systems used during the street dancing and the TV coverage of the event is properly settled ahead of time.
Then deploying of security officers from certain points to control the commotion or any signs of trouble. As they strictly implemented advance screening and proper frisking to the people who enters in the main event.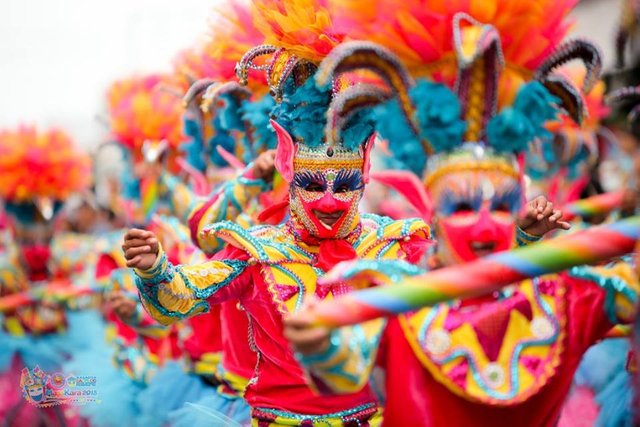 Disclaimer : image source : http://primer.com.ph/tips-guides/2017/06/12/masskara-festival-in-bacolod-city/
For the past years where the festival is innovating and growing so fast. They added flavor to the event and to extend the celebration of the festival as possible. Then " Electric Masskara " was born to grant the desire of the Bacolodnon.
Electric Masskara is similar to the original festival. They only added lights as part of the criteria for the participants and the said festival only held along the Lacson street as the main venue.
You can enjoy different floats with sparkling colorful LED lights. Dancers also wearing colorful costumes, headdress and also Masskara with twinkling lights.
You can also drink beers or eat the famous Chicken inasal along the kilometer Lacson street. While watching or listening to live bands.
Expect to see thousands of people walking then and experience the over crowded place yet you will enjoy surely.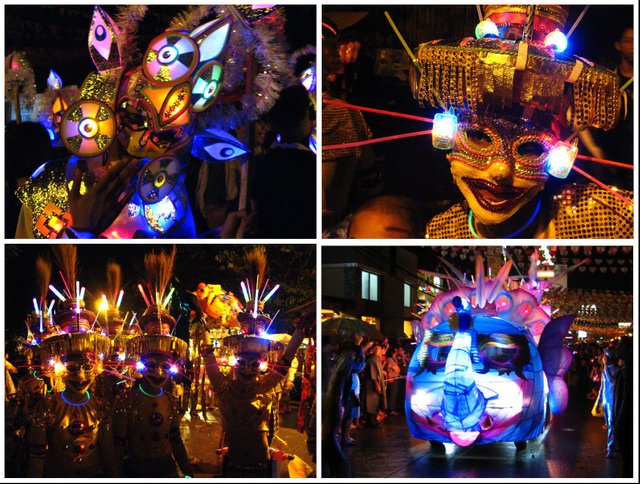 Disclaimer : image source : http://sallylyngestrella.blogspot.com/2012/10/bacolod-masskara-festival-electric.html
At the Bacolod Bay-walk located in the reclamation area you will experience " Masskara by the Sea ".
Where different pump boats designed with colorful masskara plus the sparkling lights.
You can also enjoy eating your food at the bay-walk while watching performers. Like flaring dancers, live bands, entertainment shows and etc.
You can choose your raw seafood's and select to the list of menu on how the way it should be cooked.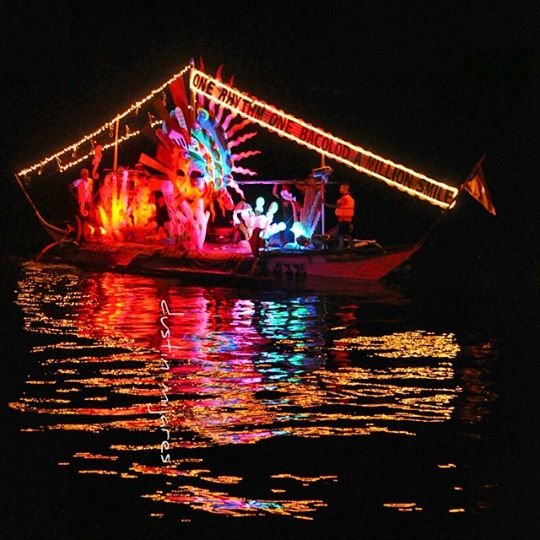 Disclaimer: image source : http://www.choosephilippines.com/go/festivals/3584/masskara-festival-floats-2015
New Government center is the next place where you can enjoy your visit here. Most of the events in Bacolod are celebrated in the New Government Center.
There is a large market place few steps away from the Government Center. You can enjoy the food being served by different restaurants.
You can also join to those Zumba dancers facilitated to that place every evening between 6-8 PM.
Just bring your zumba attires if you don't want to miss this activity.
You can also visit the Carnival's and try all the available rides or play some fortune games.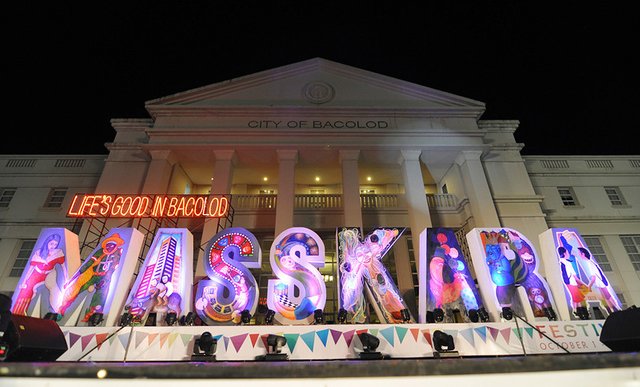 Disclaimer : image source : https://maricelacuna.wordpress.com/2015/10/01/masskara-festival-2015-schedule-of-activities/
The last place where you can enjoy and watch events is at the " Public Plaza of Bacolod ". Where it is located with in the center of the city at the downtown area.
There are shows like " Night of the Mardigrass " and Fantasy costume contests. Participants are coming from different nearby cities to join the said contest.
It is open to both men and women or whatever is your sexual preferences. As long as you can manage to carry and express yourself while wearing your own created fantasy costumes.
The event usually starts at 8 PM to 12 Midnight, so you have all the chance to catch up this show.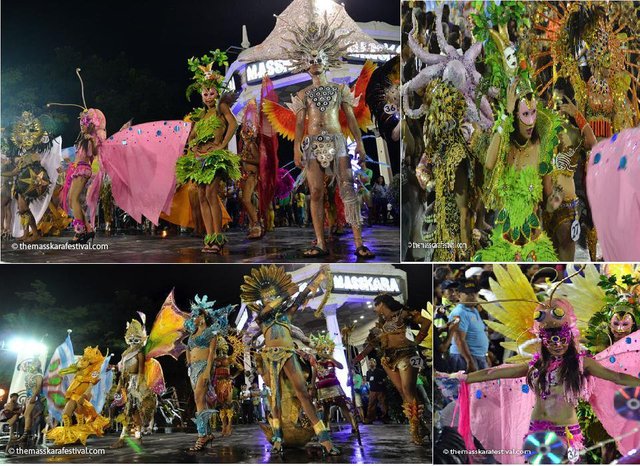 Disclaimer : image source : http://www.skyscrapercity.com/showthread.php?t=1457460&page=78
This 2018 would be a great year to celebrate the Masskara Festival and I am very excited what are the new added events.
Different barangay's and schools are also ready to participate the Masskara Dancing Competition. Where bigger prizes awaits to those winners and consolation prices for participants.
I am inviting you this coming October and mark your calendar for you to witness our ever glamouring festival. Brought to you by Bacolod City known as the "City of Smiles".
Then @jezmacher as part of the upsizing growing community team like @steemph @steem-untalented @artguild @steemgigs @philippines @bayanihan @steemphcebu @steemphdavao @steemphdavao @steemphuae @steemphnegros they curate and support others work for progression. As day goes by these communities are spreading and increasing in numbers.
don't forget to support @surpassinggoogle for his generosity and kindness by simply voting @steemgigs as your witness

or if you want @surpassinggoogle to choose as your proxy just key in @surpassinggoogle

please do also support my ever supportive friends my discord family @smaeunabs @epicdominic @watersnake101 @cejero21 @mabzter @jaypeesun07 @iamqueenlevita @oscargabat @gailbelga @luvabi @dreamiely @bearone @st3llar @dwightaden @cloh76 @princepr @immarojas @allmonitors @flabbergast-art @bobiecayao and the rest of @steemph family.
Just leave you comments, upvote , and resteem
Thank you for visiting!!