It is really a hard time to monitor our steemit activities and notification. Sometimes we want to know who are those who upvoted, commented and resteemed our post. We need to check our post one by one to know them. We need to interact and reply to those who commented our post so we can maintain our fellowship towards other steemians.
So, we need a reliable support from a very active and accurate bot named Gina. There are different way to get a automated notification of your steemit activities using your computer and mobile phone. But Gina bot is more accessible and easy to use with the Discord app.
GINA BOT - Stands for, General Instant Notification Automaton
Heres the thing, Gina bot is actually free to use using Discord. You just need to know how to use discord and know a few steps on how to get Gina as your steemit virtual support. After i registered for Gina Bot, i got all the notification of my steemit account activities. Gina will tell you if who followed and unhallowed you, she will tell you who upvoted, commented and resteemed your post. She will even notify you if you have you reward including the curation and etc.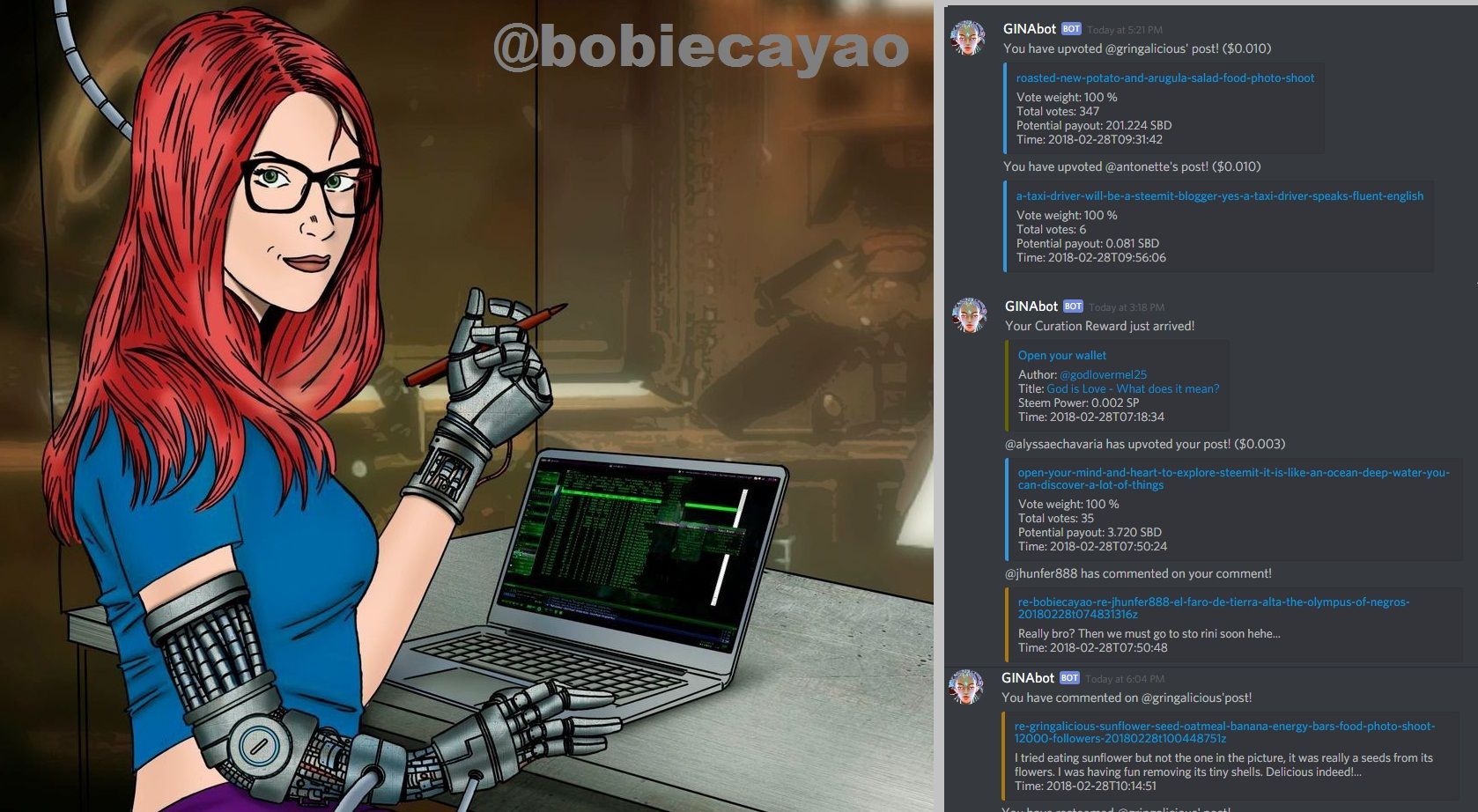 How to hire Ginabot as your steemit Virtual Support?

Gina bot can be use only with Discord application or through discord website. You must have an account at Discord first before using Gina Bot for your steemit notification.
Discord can be accessible using website or mobile application. Simply register to discord first at the website by registering the link below.

What is discord?

Discord is the only cross-platform voice and text chat app designed specifically for gamers. With the Discord Android app you can stay connected to all your Discord voice and text chat channels even while AFK.

Using Discord, Follow this simple Steps to access and Register Gina Bot.
1.) You have to click the add button at the right lower corner of your discord, window ill pop up asking you create server or join serve, chose join server. See the photos below!

2.) After clicking the join server, you will be asked to put instant invite. This is the link of the server where you can access Gina bot. Pelase use the instant invite link below to and click join and accept invite. You will be warped to Minnow -power server, where you can find Gina bot. See picture.

3.) Inside the Discord Channel, you click the registration to verify your account to Gina Bot. Your have to type first
...reg username. Gina will give you an instruction on how to verify. PLease see picture below.

4.) After register your name, Gina will give you an instruction on how to register you account. All you have to do is to send 0.001 SBD to @gina, and after sending the amount check again if your account is already register. Simple tpye ...reg username. Gina will give you a notice that you are already registered. See picture below.

5.) Since you are already registered to Gina bot, lets Gina bot monitor your account by going to Settings. Just type. ( ..set ) Gina bot will DM you with the link settings. Click the link and you will navigate you to the bot settings.

6.) After you click the link, you will navigated to minnow-power general settings, you have to choose and check those features that you would like to be notified.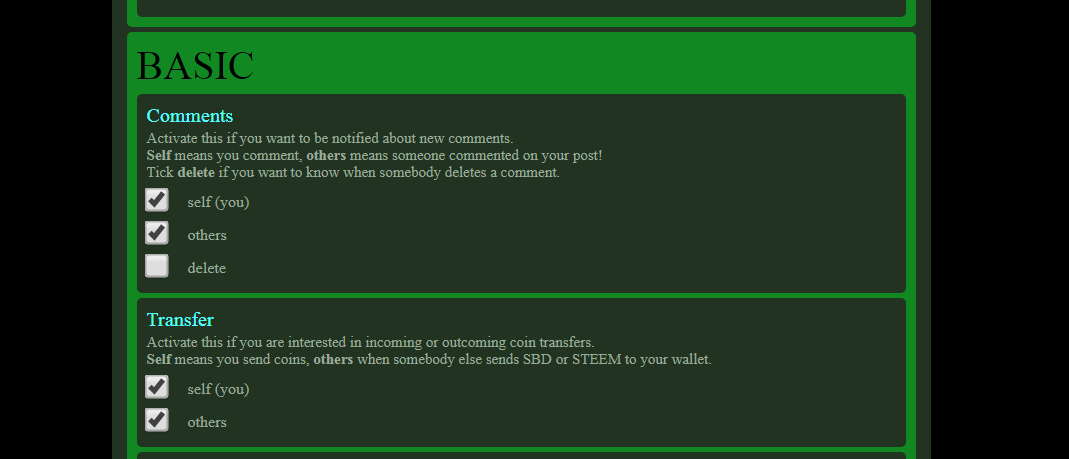 7.) After checking the features you like to be notified by Gina, you are all set and done. All you have to do is just to log in to discord and check the notification from Gina DM. She will provide all the activities of your account even without logging in to your steemit.
Check the sample notification using my computer: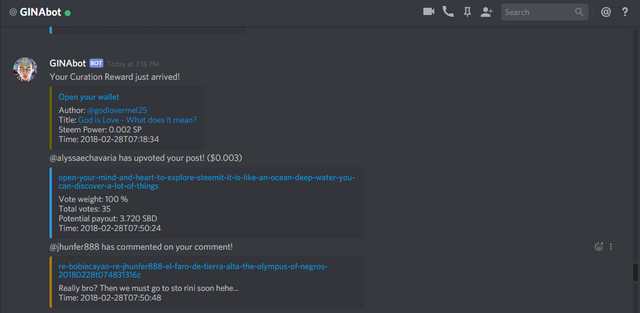 Check the sample notification using my mobile: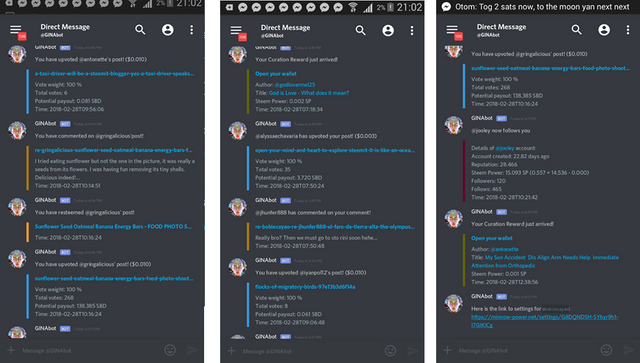 Thank you for reading, please resteem, upvote and comment below:
Hope that these information and instruction will help you out, on how to set up Gina bot using discord. Hope this will help you monitor your steemit activities. If you found this article is helpful, please resteem,upvote and leave comment or question below.

Our mentor @surpassinggoogle has been very supportive of our group and other groups too. Please support him as a witness by voting him at https://steemit.com/~witnesses and type in "steemgigs" at the first search box.
If you want to give him witness voting decisions on your behalf, visit https://steemit.com/~witnesses again and type in "surpassinggoogle" in the second box as a proxy.
Others that are good: @beanz, @teamsteem, @good-karma, @busy.org, @esteemapp, @hr1, @arcange @bayanihan, @acidyo, @anomadsoul, @steemitph, @henry-grant and @paradise-found, also the many others who have visited My posts. Pls. support them too. I am grateful for that and for everyone who has helped me and my friends. Thank you very much.