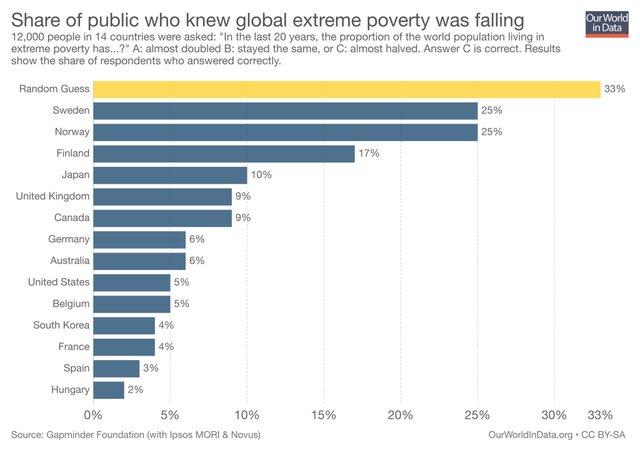 Actually this headline is not true, as I did not learn this today. But I (again) confirmed it today. I found this picture here and thought, that I should share it with the community. What the author has to say is quite short, but fitting, so there is no need in rephrasing it. Here is the quote:
In some cases, they're following the headlines instead of the trend lines: people in the news know that pessimistic narratives attract more clicks than heartening long-term trends. As the saying goes, "If it bleeds, it leads." And, of course, many in the media share the broader public's ignorance of the progress that humanity has made in its fight against world poverty. We at HumanProgress.org will continue to do our part to correct mistaken perceptions about the state of humanity and advocate for a realistic, empirically-based view of the world.
From the picture you can directly read how good / bad informed people are in the different countries regarding facts. And also how perfectly mindbending effective our Media is working.
I KNOW that in the last 20 years there was an enormous blast forward regarding the overall "success" of the world population, still I would probably have answered B.
What would you have answered? Be honest please!