TIL How Quincy, Florida Became A Town Of Coca-Cola Millionaires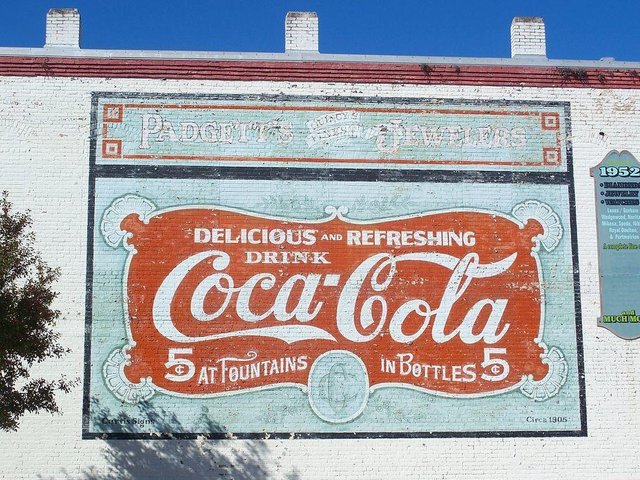 ---
The amazing, but simple, story of how everyday normal people in this small town became ridiculously wealthy
---

Pat Munroe
In the 1920's a banker named Pat Munroe urged his neighbors in the small farming town of Quincy, Florida to buy Coca-Cola stock. He had noticed that even the poorest person would spend a nickel to buy the small luxury that was a bottle of Coke, and the stock price was right. Shortly after Coca-Cola's Initial Public Offering (IPO) of $40 per share it had dropped to just $19 on news of a conflict the company was having with its bottlers and the sugar industry. It was selling for less than the amount of money it held in the bank!
Seeing such an incredible opportunity, he spread the word and issued loans to people to buy shares – the loans being backed by those same shares. He said to buy the shares and hold them forever, approximately 67 families did just that.
The dividends from these shares supported the families and the town during the great depression, Quincy soon became the richest town per capita in the whole of the USA. Most of the families ended up putting the shares in trust funds to protect the investment, and passed the wealth down to the current generation. Pat Munroe had two wives during his life, and eighteen children. He was able to leave each child an inheritance worth $1,000,000 - pretty much all of it from Coca-Cola shares!
While many of the next generations of these families have left the small town (population 8,000), in 1996 it was estimated that people with a combined $375 million dollars in Coca-Cola wealth were still living there.
Here is the part that will blow your mind. If your great grandma had bought just one share of Coca-Cola way back then at $19, and reinvested all the dividends, it would be worth over $10,500,000 today! The yearly dividend would be over $355,000 - that is $89,000 every three months. The number of shares held in this example is in the ballpark of 253,500!
If she never reinvested the dividends and spent them instead, that one share would have turned into over 9,216 because of stock splits and be worth about $380,000 – still a great investment and plenty of spending money along the way!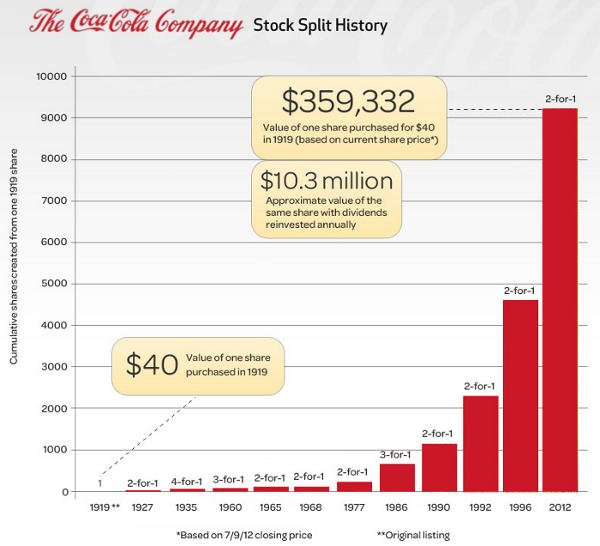 Data from 2012
That was just what ONE share turned into. Imagine if she purchased more.
The power of compounding is evident in this story. What can you invest in today so that you can enjoy later on?
Steemit could be the investment of our lives, and for that reason I never sell. Once steem comes into my hands, it stays there. It could be like the story of Laszlo Hanyecz who spent 10,000 bitcoins for two pizzas back in 2010. Today those bitcoins are worth $7.3 million dollars! Those are some expensive pies!
Back then bitcoin wasn't worth much, so it seemed like a great deal. Today some people think steem is worth little, but things change. In the future, I wouldn't want to look back and see that I sold steem for a dime when it is valued at 1000x current prices.
Do what you want, but I will continue to hold all steem that comes my way.
---
Sources: