Collage of my art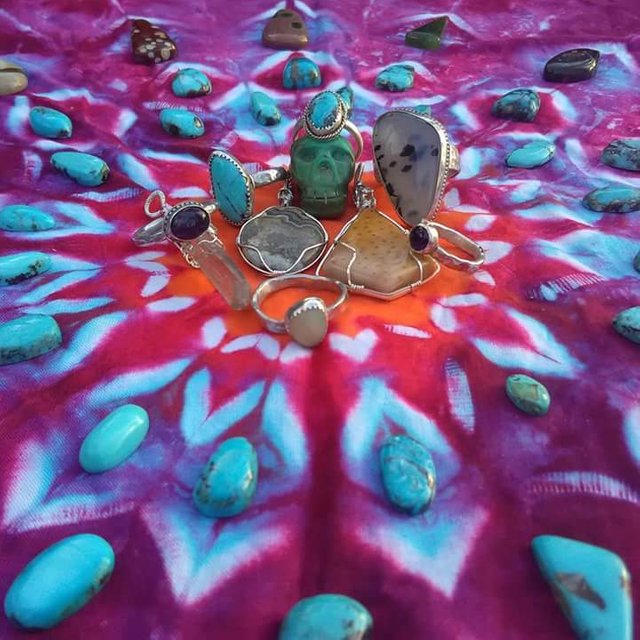 This was a fun photo shoot I put together last year. Pretty good collage of my artwork. Everything besides the turquoise skull was handcrafted by "Dirty Hippie Designs." I'll make some detailed blogs on how to tie dye in the future. For people that have already know how to tie dye and want to know my secret on how to keep the colors bright. I would suggest trying "Dharma Dyes" from Dharma Trading Company. http://www.dharmatrading.com/techniques/tiedye/dyes-for-tie-dyeing.html Always presoak your shirts in soda ash for at least 15 minutes prior to dyeing. Squeeze as much of the soda ash out as you can before you tie up your design.
Running them through the spin cycle in the washing machine with the water turned off, is how I do it. That will save a lot of work if your doing it by hand. When you mix the dye add a handful of table salt to the mix. That will help the dye form a permanent bond with the fabric. Only use high quality fiber reactive procion dye made for tie dyeing. Throw that Rit Dye in the garbage where it belongs lol.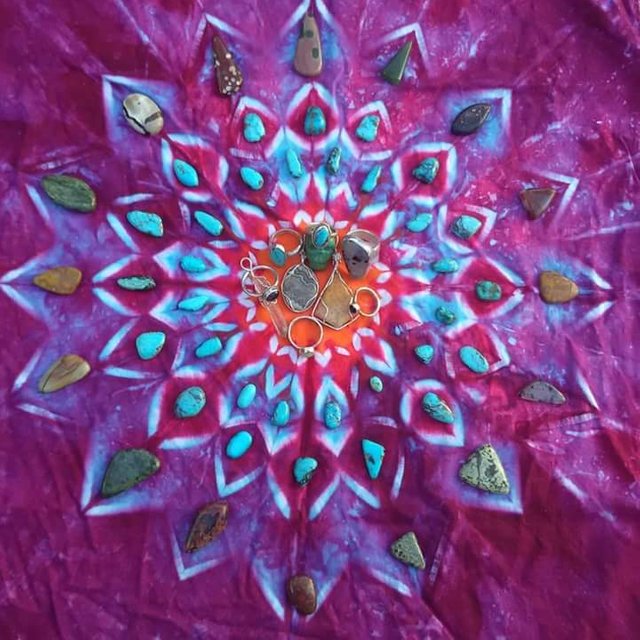 The tie dye mandala they are sitting on is made from a white bandana. It's one of my favorite designs to create. Check out the facebook group called addicted to tie dyeing for some expert advise. Youtube is another good source for tutorials. That's where I learned to make a heart design. I've been making tie dyes since I was a child but started learning more advanced folds in the last six or seven years. Maybe I'll write a book one of these days so I can share more of my skills. Something every novice needs to know is that you should always let your shirts sit for 24 hours after dyeing them. The warmer the weather the less time they need but, at least 24 hours is best. Wrapping them up in a plastic bag and letting them bake in the sun, is my preferred method. It helps the colors stay vibrant for the life of the garment.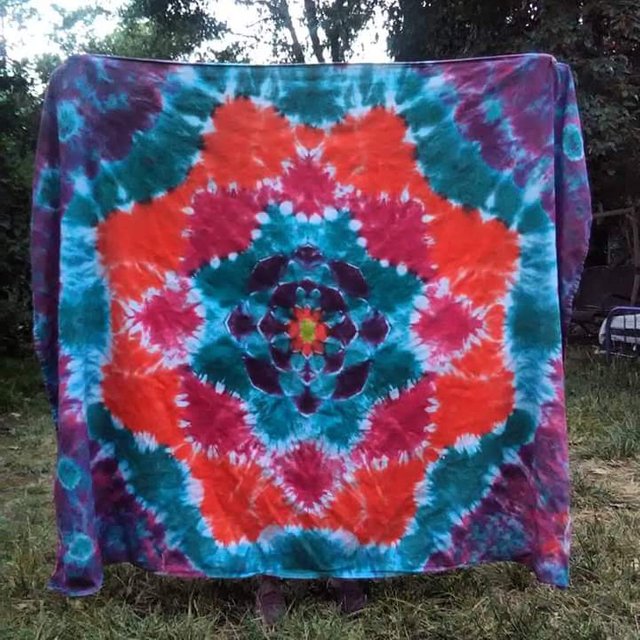 Here's a big #tiedye tapestry I made last year. Sold it for some cannabis at a festival cause I'm a hippie and I like to barter. Some of the turquoise pictured was also traded for an older metal detector called a "gold bug." Money is good but I'm also a fan of "stuff." Speaking of money and stuff, here is a link to my online shop. None of my tie dyes are currently listed, but there is lots of jewelry and gemstones, to choose from. https://www.mygypsystore.com/store/dirty-hippie-designs/ If you would like to purchase anything in my shop for Steem or S.B.D. contact me and I will accommodate your needs. Hope you enjoy my various forms of artwork.