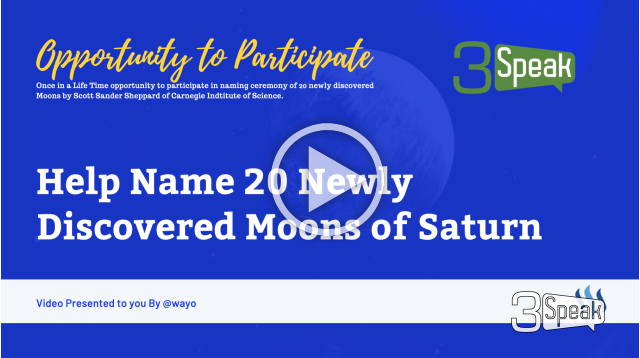 ---
Hi Steemians,
A team led and assembled by Carnegie Institute of Science's (Washington DC) - Scott Sander Sheppard has found 20 new fresh set of moons orbiting planet Saturn. This brings the ringed planet's total range of moons to 82, surpassing planet Jupiter, that has 79. The news was declared a week ago by the International Astronomical Union's planet Center.
Each of the new discovered moons has the diameter of 5 kilometer. Seventeen of them orbit the Saturn backwards i.e. retrograde direction (means their movement is opposite of the planet's rotation around its axis). The remaining three moons orbit within the prograde (the same direction as Saturn rotates).
Scott S.Shephard (Carnegie Institute of Science, Washington DC) - Profile
How to Participate into the Contest of Naming these 20 newly found Moons.
Many Thanks
@wayo
---
▶️ 3Speak