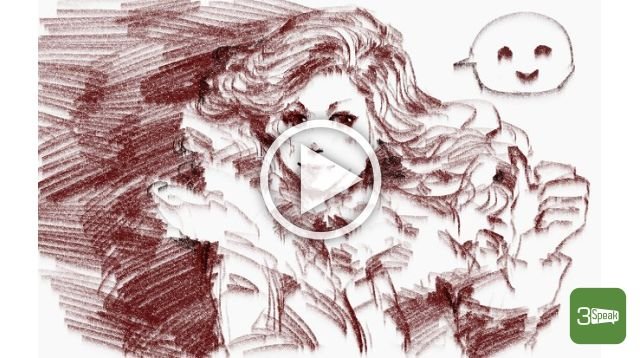 ---
It's been a few days since #NewSteem is in effect now. I think .... I'm going to need at least a week more or two to really make up my mind about it. I've had some thoughts and reflections about it, now (there were two interesting and thoughtful opinions in my latest post, if you're curious), but in general, I sympathize both with the Curation side of things and with the Content Creator side, too (since I'm both, surprise surprise? XD;;;;;;)
First off, THANK YOU for everyone for being so patient and accommodating throughout the hiccups. It has been SUPER nice to re-discover the people who continue to be eager to create contents despite the turbulent times :) And secondly, thank you, also, to the people working hard behind the scenes <333333333333333
I'll return in a few posts' times, with more of my feedback about #NewSteem, for sure :D But for now, a new 3Speak video, so I can really experience the most out of my first paid subscription month with the interface :)
Just to get the obvious out of the way: I'm not completely sure if I will resubscribe to the monthly fees of being able to create contents through 3Speak. Here's some pluses and minuses:
CONS:
Monthly fee of around 20 Steems per month
Beneficiary cuts at 10% per post
There was once that I had to wait 28 hours or so to get a post encoded and published > __ <
PROS:
Really simple to use! Easy to create contents with and upload your videos to <3
Rewarding engagements with upvotes given to replies commented to your posts within 12 hours' window
Chance of getting 3Speak upvotes (and as in my last post, even getting Dan's attention and upvote :O)
the team behind 3 speak seems to be good people * ___ *
NEUTRALS:
likwid payments: I didn't know what likwid was until I was receiving payouts for my 3speak posts (if you are also not in the knowing of things, likwid apparently pays your earnings out to you as liquid steems, read: there is NO steem power component. Just so we are clear: You won't need 13 weeks to power down your staked 50% of your earnings. And in my case: kind of useless since i never, EVER power down).
So!
There you go, a bit of my honest reflections (thus far) about my experience with 3speak~ I guess, all in all, it's been more positive than negative (so far) and that I'm enjoying VERY MUCH about how I can have the chance to give the people that engage with my contents the opportunity to earn a bit more just by commenting on my 3speak posts :)
For today's piccar, I wanna convey my general feelings about #NewSteem :D
Here is the finished piccar - I'm calling it ... "Bring it on!" :D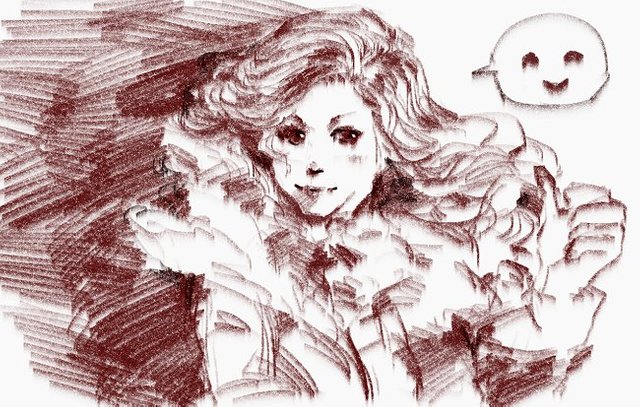 I didn't use the watercolour tool for today's picture. This is entirely the Tilted Pencil brush from beginning to finish, but to continue with my previous piece, I've broadened away from just using black. This one is done in reddish colours :D

GAMING
From the #gaming side, @archdruid's winners announcement HAS BEEN published ! I've resteemed the post, but just in case you've missed it, please check out the entries and the awesome winners: HERE :D :D :D
Thank you my friends who've helped make (and kept) #Gaming a wonderful community (and tag) on Steemit :D !!!! You're all amazeballs * ___ *
I am now writing the draft for the next (and final) round in this theme, which is video games in the decade of 2010 - UP TO THE PRESENT :D Since it will be the last iteration in this theme, the prize pool will be embiggened (yes, I made up a word) !!!! So I hope if you're ever interested to join @archdruid's contest, to stay tuned and consider joining this one, because you will get a good chance in winning liquid steems :D
(PS. a lot of people and curators are also paying attention to these contests, and there's always one, two, or a few entries that have been picked up by Curie or OCD curators in the past :D! Not guaranteeing anything, just pointing out a historical fact :D)
Come on, people \o/
That's it for this post :D I do try to keep these things as short as possible, but just before I let you all go, please send your best wishes to @veta-less if you can... Read this post and you'll see that she is in need of all of your good energies :)
Thank you, friends <3

Artists' Highlights with C2
On another note, please check out this article that I wrote for the @c-squared's Artists' Highlights a few days ago :) Please check it out! I am featuring TWO artists at a time, and the eighth pair is: @armandosodano and @shibasaki :D
Log
Issue 1: @Arrr and @thilah
Issue 2: @EdgarUVM and @Zsolt.Vidak
Issue 3: @chrisdyer and @sanderjansenart
Issue 4: @elenasteem and @patschwork
Issue 5: @nyarlathotep and @carlgnash
Issue 6: @mikkolyytinen and @nekromarinist
Issue 7: @azbeen and @barbara-orenya
Issue 8: @rachelsvparry and @jankasparec
Issue 9: @armandosodano and @shibasaki
copyright @veryspider. all rights reserved.
(that means DO NOT USE unless you got my say so in writing!)

To all of you artists out here at Steemit! Hello~ If you ever are lost and lonesome, please join Steem Artists at our discord chat: https://discord.gg/ENN8KCb

We network with fellow artists here on Steemit and we help each other succeed :) Come and say hi~ ^ __ ^







curator for OCD, curie, and c-squared (and c-cubed), helpie, archdruid and akibasteem - member of powerhousecreatives
---
▶️ 3Speak