3Speak's STEEM Burn Initiative! #NewSteem
Hello Everyone,
Welcome to post HF 21 & HF 22. We hope it was a smooth one for you. First of all, we would like to thank Steemit Inc., Witnesses, Community Devs and rest of the stakeholders (investors and content creators) for making it a success. We have taken a big step forward to change how we, as a blockchain community operate. Let's hope for the bright future ahead so that we can reach a million daily active users soon.
Maybe with this Hardfork we will see a positive change in the culture of STEEM which will be more about giving than greed. Now we have to start using our energy in a practical way that will hopefully push the price of STEEM upward. Let's face it, the poor price will not help anyone involved to thrive. It be will hard to survive unless we get funding from the outside world to keep us afloat. To get the funding, we need to prepare a system which will encourage millions of users and probably 1 or 2 huge investors. STEEM can help us reach this goal and it can take us much further without the need of external forces, ultimately attracting more users and investors. This won't be possible at the current price. Hence, we decided to share this little secret with all of you.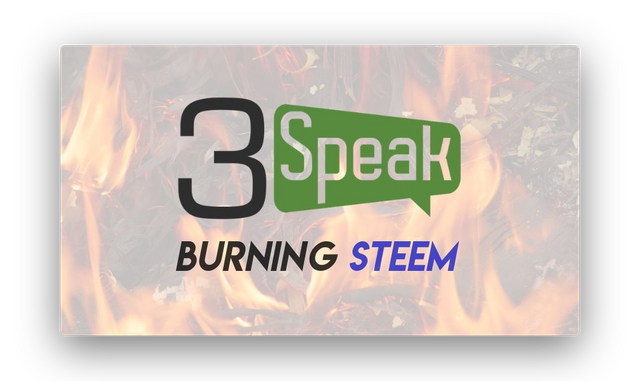 BURN
@threespeak has decided to burn 3% of the author rewards from every video that is uploaded on the platform. So for example if a video makes 100 STEEM in total, we will be burning 3 STEEM by setting 3% beneficiary to @null. Now just imagine what could happen if we burn STEEM earned from 2000 videos. Please note that @threespeak does not take any beneficiary rewards.
How Burning STEEM Helps
In layman terms, burning STEEM will reduce the overall inflation on the platform. This will also reduce the STEEM Token's supply in the market, which will in turn increase the scarcity of the token, probably affecting the price and initiate an upward movement.
Culture Change
Before HF 21, @timcliff, one of the top 20 witnesses published an open letter to all the Steemians. Please have a look if you haven't already or read it again to get the gist. He talked about the culture change that is required on STEEM apart from the technological advancements. Burning some of the STEEM from your profits can and should be a part of #NewSteem. We hope that this little initiative of ours encourages and motivates more projects to follow our lead.
Future Updates
Nobody can foresee the future but we can strive for a better one. Here are the things that we are planning to do:
Burn 3% STEEM across all Oracle-d and ThreeSpeak related Projects.
Video monetization through ads - Pay per view or pay per click.
More about all of this will follow in subsequent updates.
Rate us here
Dapp.com - https://www.dapp.com/dapp/3speak
State of the Dapps - https://www.dapp.com/dapp/3speak
Follow us on Twitter
https://twitter.com/3speakonline