Invite David Pakman to 3Speak and Earn Rewards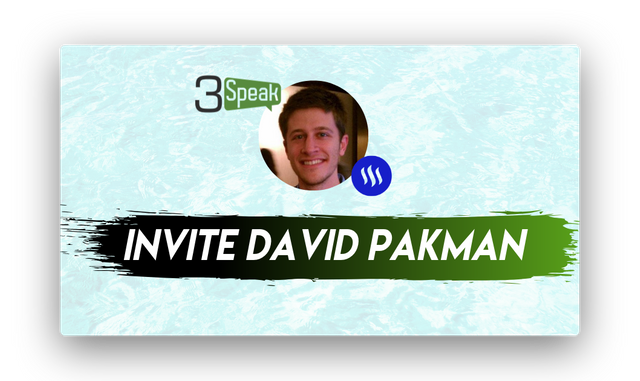 Hello Everyone,
We are here again with an open task available to all the STEEMians. This time, with your help, we would like to invite David Pakman to live-stream on 3Speak. Since he has been demonetized from YouTube, it would be great if he could use 3Speak to showcase his content. 3Speak supports free speech and we welcome everyone to try out our platform which is now open for all.
Who is David Pakman?
David Pakman is a famous social media personality and the host of the famous David Pakman show - a Political TV & radio show airing on Free Speech TV via DirecTV and DISH Network. He is one of the best political host of the current time. He is already on Steem.
Steem: https://steemit.com/@davidpakman
YouTube: https://www.youtube.com/user/MidweekPolitics
Twitter(show): https://twitter.com/davidpakmanshow
Twitter: https://twitter.com/dpakman
Instagram: https://twitter.com/dpakman
Facebook: https://www.facebook.com/davidpakmanshow/
REWARDS
Every valid entry is eligible for a small upvote on their comment based on our own discretion.
If David Pakman comes on 3Speak through your referral and/or mentions the username(who invited him to 3Speak) in his first video or anywhere on STEEM then the referrer will get 2 Full Upvotes from OD in their future posts.
BONUS: @theycallmedan will match Oracle-D upvotes too. ;)
TASK DURATION
Start date: 05- Aug- 2019
End date: 12 - Aug- 2019 12AM UTC
MANDATORY GUIDELINES
Upvote & Resteem this post if you are participating.
TO DO
Invite David Pakman to join 3Speak and host live-streaming session and/or upload other videos. You can do this by multiple ways. For ex: You can write a tweet to his official account or probably make a video message by tagging him on his other social media accounts like Facebook and Instagram. You can choose to DM him on his official accounts.
Please be creative with your invitation. You can talk about how it is beneficial for him if he joins 3Speak.
Always provide a link to 3Speak in your message: https://3speak.online/
Provide screenshots in the comment section for the proof of your Invitation. If replies, that's a bonus. You can use multiple ways to invite David but please include all screenshots in a single comment under this post.
Upvote and Resteem.
NOTE - BEWARE!
Please do not use multiple accounts to make multiple comments. Only one comment per user is allowed.
No spamming allowed.
In case you are not sure what you are doing, please do not participate.
Do not mention anything in comments unless it is related to the task itself.
If you do not adhere to above points of this section, you might risk getting downvoted.
---
---

If you appreciate the work we do for the blockchain and its members, please vote for our witness @oracle-d by going to https://steemitwallet.com/~witnesses or directly through SteemConnect
Your vote is highly valuable for us and thank you for being a part of this Journey! Also, please do not hesitate to connect with us for any kind of collaborations that can help the STEEM Community grow.
---