Follow 3Speak on Twitter!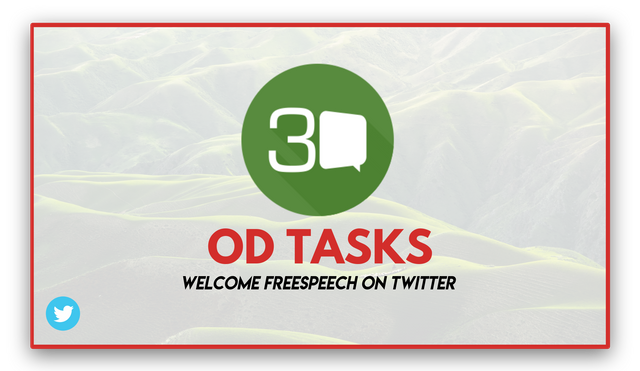 Hello Everyone,
Great news! @ThreeSpeak is now on Twitter. Let's help them reach 500 followers.
REWARDS
Every valid entry is eligible for a small upvote on their comment based on our own discretion.
TASK DURATION
Start date: 04 - Sept - 2019
End date: 11 - Sept - 2019 12AM UTC
MANDATORY GUIDELINES
Upvote & Resteem this post if you are participating.
TO DO
Follow 3Speak's official account on Twitter - https://twitter.com/3speakonline
Write a tweet or multiple tweets about why you think video influencers should join 3Speak. Tag 3Speak's twitter in the tweet. Use hashtags suggested in the next section.
Take screenshot of above activities and add them in a comment of this blog.
Also mention 5 of your STEEM friends and ask them to follow 3Speak on Twitter.
Upvote and Resteem this blog.
Hashtags
NOTE - BEWARE!
Please do not use multiple accounts to make multiple comments. Only one comment per user is allowed.
No spamming allowed.
In case you are not sure what you are doing, please do not participate.
Do not mention anything in comments unless it is related to the task itself.
If you do not adhere to above points of this section, you might risk getting downvoted.
---