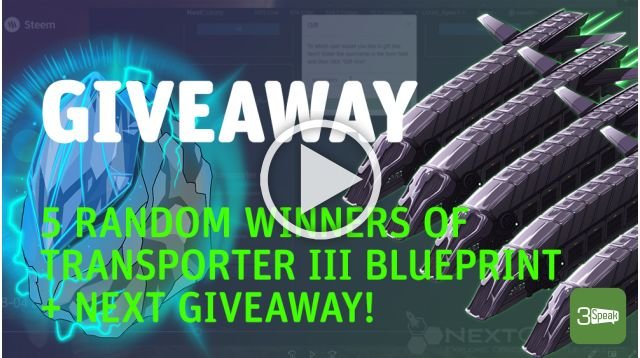 ---
In this video I have drawn the other 5 random winners. Congratulations to the following winners:
@meanbees
@gianluccio
@doggodfroglog
@publicumaurora
@samsemilia7
Your Transporter III Blueprint sponsord by NextColony has already been credited to your player accounts.
---
There's another Giveaway for you! What you have to do is check out my 3Speak channel at https://3speak.online/user/louis88
You can subscribe to my channel, I'd love that, but it's not a requirement for the giveaway. All you have to do is add an interesting creative comment to my contribution. I would like to know what you would like to do with the ingame tokens Stardust. This answer will certainly be easy for you if you already know what you can do with Stardust... but since there is no information yet, I would like to know what you think you should be able to do with them.
---
Thank you very much and I hope you will join this giveaway! :)
@louis88
This Giveaway is sponsored by NextColony
---
▶️ 3Speak