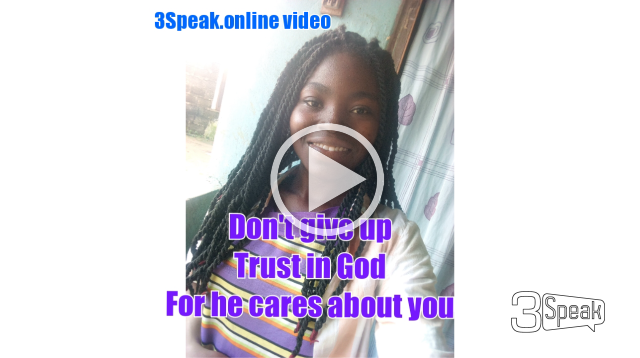 ---
Hello friends
I bring to you words of encouragement to anyone out there that feels like giving up.
I'm here to tell you Don't give up, trust in God for he cares about you.
When it's seems like you have come to the end of the road
That there is no way out
And you feel like giving up
Don't give up
Trust in God
Believe in him
For in him there is a way
For he say that he is the way, the truth and the life
He is God
He never fails
He is the same yesterday, today and forever
Don't give up
Trust in God
Trust in him with all your heart
For nothing is too hard for him to do
Giving up is not the solution
Continue with the journey
And trust in God
Remember Abraham
He didn't give up because he trust in God and God was with him.
Even David
Don't give up
Trust in God and he will see you through.
Thanks for watching 🙏
---
▶️ 3Speak