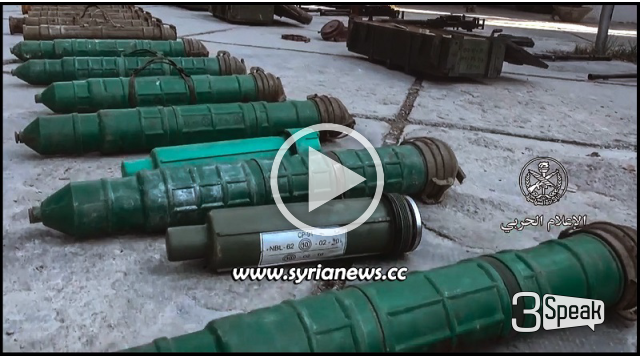 ---
The weapons and munition left by Al-Qaeda terrorists in Syria and already discovered by the Syrian authorities are enough to arm two national armies of countries like Hungary and Romania.
These latest discoveries are in Qalamon area northern Damascus countryside, and in Deir Ezzor countryside.
More details in this report: More Weapons Depots Discovered in North of Damascus and in Deir Ezzor
---
Your objective comments are always welcomed.
---
Follow @ArabiSouri on Twitter: Arabi Souri Syria News: www.syrianews.cc
Donations are highly appreciated, just click on the Donate button via PayPal or Credit Card: Donate
You can also donate with Steem or SBD or even delegate some much needed SP here :)
#Syria #Iran #Russia #InformationWar #Wahhabism #Zionism #alQaeda #FSA #Nusra #ISIS #Terrorism #Saudi #Qatar #Israel #Net #Neutrality #Mainstream #MSM #Control #WarOfTerror #kurdistan #sdf #kurds #RegimeChange

---
▶️ 3Speak