Planning a golden crypto retirement
I don't have a lot of faith in the future of employment and I consider that there will be a crushing of job prospects through automation and AI in a whole host of areas. While there will be new jobs created from the process, I imagine that either most people can't do them due to the skill level required or, won't want to do them as they will be labor intensive positions that a robot can't manage.
What is interesting at the moment is that many people work in the hope of retiring from work but perhaps in the future, they will live in hope of having work to enhance their life position. The stopgap measure of Universal Basic Income will only go so far and while people's expectations of what is a good life is slowly crushed into debt cycles and economic crashes, the purpose of existence question will be raised. A lot of people do not recognize work as playing a role in their purpose.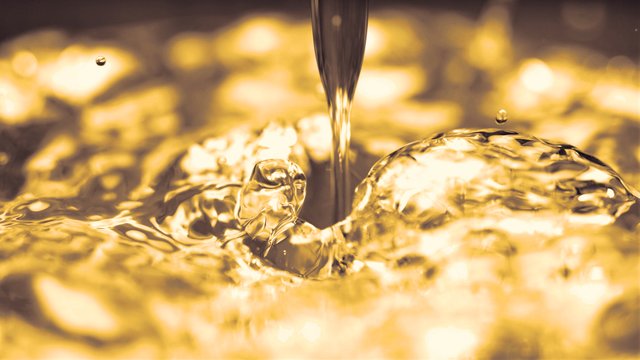 However, the goal of retiring from work is about having the means to be able to support a decent standard of living and understanding that in order o have that, plans need to start early. This is what retirement funds do but they are far from efficient and for the most part, the fund makes a greater percentage than those who fund it.
Can you imagine having 30-40 years to invest in crypto for retirement. @wolfhart
This is an interesting line of thought and one that it seems that many people don't consider, at least those who are young enough to not have the burden of experience. I know that @wolfhart does have such experience to understand the importance of preparation.
Like I mentioned in my last article, most people want Workless Wealth and do not want to put in much for the return. In crypto, most people are short-term thinkers with even those who are thinking long looking a few years, maybe ten down the track. And as I said in the last article, there are those who can achieve workless wealth but they are usually early adopters and that position carries uncertainty and investment risk.
But in crypto, there still is a massive opportunity for workless wealth if one is willing to work until wealthy. If you remember, there is eventually enough Bitcoin for everyone to have 0.003 of a Bitcoin if spread evenly. That is currently 12 dollars worth. Now, if you are planning on retiring at 65, calculate how many years that is away and then, predict what the price of Bitcoin is going to be.
If you are 20 today, that is 45 years away and that 12, 120 or 1200 dollars you might put in now might be your saving grace when you are indeed workless due to the changing dynamics of the world. Many people are going to be without employment, most of them are likely going to have to rely on others for their living standard. Unfortunately, while it is possible, I do not see some Star Trek utopia in the near future forming.
Maybe you are 40 years of age like myself and retirement is 25 years away - what is the price of bitcoin, Steem or Ethereum at that point? No one can really predict it but consiering that people are putting thousands into their retirement plans every year with the hope that the governments, banks and institutional investment funds don't "screw up" and steal it all, a few hundred into crypto is not a bad hedge investment - just in case.
Not only does it carry potential of wealth, it also means that it can be actively maneuvered as conditions change. Who knows what projects will survive 20 years but having one's keys grants one active access to it as needed - the trick is of course not needing it to survive off. That is where all the work comes into the equation in order to make sure one can get through to that period of workless wealth in retirement.
Remember that when it comes to investment plans, most young people are very, very poor planners and later in life often wish that they had spent more time understanding and spent less on whatever nonsense they did. When it comes to crypto, the potential for the future value is so extremely high that it doesn't take much of a reduction in current lifestyle to start getting in on what many in the long-term industry would consider the ground floor.
For me, I like working but I would like to do more of the work I choose to do without being forced to work. I would also like to clear my debts without having to kill myself in order to do so. I see crypto investing as an uncertain way to get a chance to do just that at a very low level of investment. Working for 45 years to retire and still not have enough is the nightmare isn't it? Most people retire unable to look after themselves or family and have to rely on handouts in various forms.
When people are looking long-term on crypto they are wanting the moon so they can buy a Lambo but when it comes to life for the average person, they are happy if they can cover their expenses and still have a little left over for enjoying some of it too. To have this in retirement takes planning and I think that more people are going to start putting a small percentage of their retirement plans into crypto.
The institutional investors are also going to start doing this through their managed funds and charge a massive fee for the privilege of having them manipulate conditions for their greater wealth. What this means though is that those who have the gumption to be able to manage their actions prior to the institutions coming in and manipulating even more heavily, will be able to take advantage of the risk of early adoption and with a lower amount generate a higher return.
You might hold 1000 dollars of Crypto today, what will it be worth when you retire? No one can answer that but is it worth the risk in finding it? I think it is and will continue to explore the investment opportunities out there with more and more of it being transferred into long position holding patterns so that myself, my family and those around my life are able to benefit from it.
This last point is one of the other things that people don't really understand when it comes to current holders being seen as selfish in some way, they are also going to be the future financiers of people's dreams rather than having to rely on the banks. My Steem Power is largely useless for improving quality of life now but what it is dealing out in future value, might be absolutely life changing for many and, what I hold for that future I will potentially be able to continue to both support my own life needs and provide for many more on Steem and of course, in my direct life community. Those without work might find their creativity in that future rewarded by people who held today so that at least they don't have to rely on handouts.
People have all kinds of beliefs about the future but until it is the past, it is an unknown. Every action comes with risk but as I see it, we already know what the risks of relying on banks and governments to handle our economic future are and, it isn't worth the risk staying on the same path. Economic responsibility is in all of our hands and, all of our wallets - even for those who like to keep theirs empty.
Taraz
[ a Steem original ]