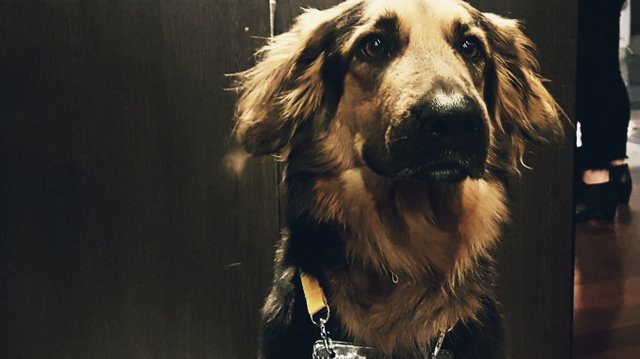 Tonight I met the gentlest Steemian in the world, @jukatravels. It was amazing to watch Juka act so calmly around so many people and, so patiently with all of the fans wanting a picture. If you don't know Juka, you might have heard of Juka's partner in crime @pharesim. They say that owners tend to imitate their pets and this seems to hold true here as he is just as calm and patient.
It is funny because I introduced myself but it didn't immediately click but when it did, he thought that I would be taller, I seem to get that a lot here. What is interesting is that many of us have known each other for quite some time through posts, comments and chats and once we actually meet in person, it is apparent that we have certain expectations about what we are going to find.
I have always considered myself a fairly under the radar kind of account but I have been surprised at how many people are surprised when we meet. That sounds somewhat conceited but I don't mean it like that, it is just that when we come across users on-chain we get a feel for who they are, what they might be like and often, the type of person they are based on very limited information.
A group of us went for dinner and as we walked back to the start of the event, I met a person who used to follow me but stopped and he even remembered the post and why he stopped following. I have lost many followers over the time so I don't take it personally that it happens but I found this interesting enough to mention. The reason was that on a particular post they had spent time developing a comment that I never answered and felt that it deserved an answer, looking back he said he was used to getting answered so was a little annoyed. That is fair enough in my opinion.
I think that accounts that don't answer often enough to users shouldn't be high on the to follow list if they are claiming to be community thinkers. Of course, this has to be taken with a good dose of understanding as some accounts get a lot of comments and many of them are repetitive as they don't read what others have commented or what other replies have already been made. What I don't agree with though is people only answering certain accounts.
I try to get to all comments but it isn't always possible but I try to treat each account as equal in value. I try to ignore Reps and wallet size and attempt to give complete answers to people whether they are whales or new signups. When I skip or miss comments, I don't do it on purpose but I am relatively even in this too. There have been some very large accounts that I have not replied to. Of course, I do have to think about support here too but if I miss commenting, it is nothing personal, it is nearly always some kind of sidetrack interruption that takes my attention away.
The reason that I put a fair amount of time into comments is that it is the only way for many users to get clarification and understanding on points that they might not fully grasp from a post. This is the core part of engagement in my opinion as it creates an environment where people feel comfortable enough to ask questions.
Now, I can only give my view of the blockchain, Steem and the future as I see it based on what I understand and envisage. I don't mind doing this as you can see but it also makes me a little uncomfortable that people actually listen. Silly is't it? I mean, of course I want people to listen but I am not looking for people to listen blindly. I hope that when I present with a hundred, words that cover perhaps, maybe, potentially and possible, people recognize it for what it is.
There are some things I am quite certain about at times yet I say, "perhaps" because I want a reader / listener to do the work themselves, to close the understanding gap so they can not only take the responsibility of action but also be much more involved in reaching the decision to act. There is an approach of "make them think it was there ideas" to decrease resistance which works but, I also see it as a buying-in process.
When someone actually uses my idea, it is no longer mine, it is theirs too. This isn't about deferring blame if it goes wrong, it is about sharing responsibility for success too. It is a decentralized decision and action process that can cross time and space. A book written 100 years ago still holds actionable content if a reader decides to act upon it. It is really quite incredible to think that ideas written can potentially be missed for generations but can still influence future generations. Too many people look for an immediate reaction to the words but that is rarely going to be the case.
A lot of the conversations I have had here so far have included aspects of instant gratification and perhaps our ideas are the hardest to accept as a slow burn process. How would you feel if you had a good idea that changed the world but by the time it was ever recognized as a good idea, you had already passed, you would never see the success and adoption of your idea?
All things that have value take time to develop and not all value is possible to be realized in a life time, sometimes it takes many generations before what could be brilliant thoughts have any tangible effects on anyone. Does not seeing the result mean we shouldn't bother?
Tomorrow morning is @ned's talk and I am looking forward to what he is going to say in regards to the community and his future vision for Steem. Unlike some, I don't see @ned as a leader of Steem as I am still hoping for more self-governance, but he is definitely an influencer. Will his ideas inspire new thoughts, will they inspire people to think or do differently? In the morning we will find out.
Someone asked me why I am not speaking at Steemfest which I find quite funny but for me as someone who is happy flying under the radar, it would worry me. What if people actually listen to me? I love being part of the discussion, I love the engagement, I love helping people if they ask but I don't consider myself leadership material by choice. If I ever had to take an authority role, it would only ever be by necessity.
What I love most about Steem and something that I will likely post about later is, it makes us think about areas we might normally avoid, and that includes ourselves and our roles in this world.
I think Juka has life worked out pretty well.
Taraz
[ a Steem original ]