---
Canvas Print - "Bonsai Rock Sunset 7"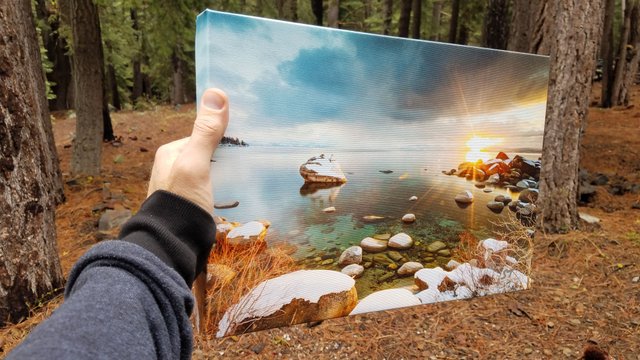 click to view large
Seller: @scottshots
SteemReviews: "TheShop Seller"
Location: Truckee, California
Contact Info: email - [email protected] website- scottshotsphoto.com
Price: 36 SBD for print (To buy, transfer SBD total to @scottshots and enter the product name as your memo)
Shipping Cost: 6.5 SBD (USA only) - Please email me at [email protected] with shipping address.
Total Cost: 42.5 SBD
Brief Description:
Photography by Scott Thompson
Printed by Scott Thompson on an Epson 9900
11"x16" canvas print of "Bonsai Rock Sunset 7" (Lake Tahoe)
Glossy canvas surface
Open edition print (not limited edition)
Larger sizes and international shipping available, please email me for a quote.
Product Dimensions: 11"x16"
Manufacturer: Scott Shots Photography
*****
To leave a product review,
1. Copy the markdown for the number of stars you want to give and delete the two spaces.
2. Write your review.
Note: Quality reviews can help others out and in return, earn upvotes.

![one star](http://bit.ly/ts1star)

![two star](http://bit.ly/ts2star)


![three star](http://bit.ly/ts3star)


![four star](http://bit.ly/ts4star)


![five star](http://bit.ly/ts5star)
How did I do as a seller? Will you leave a review for me at SteemReviews?
---
Would you support steem projects, charities, and good causes? Simply upvote this post, 100% of upvote proceeds go towards @hyperfundit.com and @hypefoundation :)

@theshop is not involved in any transactions or disputes and is not responsible for any damages or losses.