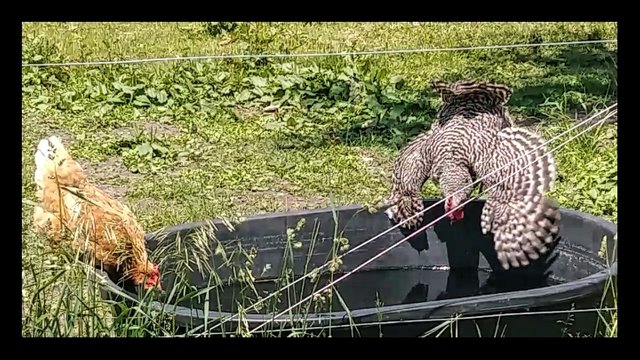 Chickens are by far my favorite homestead/farm animals. I think that every property should have chickens. They are wonderful for cleaning up bugs and grass.
There is something about the way they walk around like they are giants in their own world. They carry on as if you aren't even there.
Yesterday, I had some great and fortunate timing. While I was building a shelf /table in the garage, I changed the plans many times. When I finally landed on the design I wanted I had to get some tools from the greenhouse.
The garage is near the greenhouse, and the chickens are in the pasture behind the garage. I came out the side door and found these two birds getting a drink. While they were drinking, the black and white one fell in.
I got a couple of good shots, and then got it out of the water. The timing was perfect. If I didn't change my mind on the design do much I wouldn't have walked out when I did. I am pretty sure if the timing was different I wouldn't have gotten a live chicken out of the water.
Be well
~The Yeti

---
View this post on the Inner Blocks Community dApp for the best experience.