The Diary Game (6/28/20): Steem, Soccer, and Shopping
Intro
Greetings fellow Steemians! Not too much excitement today, but I accomplished a few small tasks in preparation for my college fall semester. Special thanks to @cmp2020 as always for introducing to the Steem community. Not going to keep you all waiting any longer, so back to your regularly scheduled programming!
My Day
I woke up closer to my alarm time, but I still woke up 15 minutes earlier than I had intended (10:30). I started my daily morning routine with a classic breakfast of a bowl of chocolate granola cereal and a glass of milk on the side to complement it. I didn't shower after I ate because I would have cut it too close to the EPL game I wanted to watch.
I much would have rather preferred to watch the FA Cup quarterfinal match between Leicester City and Chelsea, but I was scammed by the sports media conglomerate ESPN, as they only broadcasted the game on their ESPN+ subscription service. So, I was forced to settle for the Watford (WAT) vs. Southampton (SOU) EPL match instead. Shoutout to NBC and NBCSN for always coming in clutch with their coverage (even if they are also transitioning to including more streaming-only subscription services like NBC Sports Gold and Peacock...).
This was the only EPL match of the day, and I had no FPL players in it, so I was able to enjoy and appreciate it fully as a neutral fan. The Saints (SOU) opened the scoring via striker Danny Ings' precise finish from the edge of the box into the bottom corner of the net. That was the only goal of the first half, one in which the Hornets (WAT) showed little promise or attacking potential.
After halftime, Watford look revitalized and re-energized, and they created a few decent chances after utilizing the full width of the field, especially their right flank. However, their veteran goalkeeper Ben Foster made a careless and unforgivable error when he nonchalantly threw the ball straight to the feet of Ings, who composed himself to score his second of the game. It looked hopeless at this point for Watford until a dangerous cross from the left resulted in an unfortunate Southampton own goal by Polish centerback Jan Bednarek.
With a scoreline of 2-1, their was hope for this struggling Watford side, but any sort of hope in coming back in this match was crushed by a delicious free kick goal by Saints captain James Ward-Prowse, who perfectly placed the ball from the edge of the box into the top left corner. Towards the latter stages of the match, Southampton substitute striker Che Adams was unlucky to have his shot pushed wide by Foster. Winger Nathan Redmond also nearly scored for the Saints as well but hit the post. The game ended in a 3-1 win for Southampton, who moved up to 13th place temporarily, while Watford remain only a single point above the relegation zone in 16th place. Here are the full match highlights, courtesy of the NBC Sports Youtube Channel:
My key takeaway from the game is that Southampton did a good job keeping possession and made use of their time on the ball with accurate and incisive passing. The team in general showed great match fitness when pressing (pressuring) Watford players to win the ball back quickly. Southampton manager Ralph Hasenhüttl's tactical work with his team has really started to sink in with his team, and this shows. If the Saints can become more consistent next season, don't be surprised if they challenge for a top half place or even Europa League position in the table. Would you guys like to see a Premier League team analysis series in the future? Anyways, I will stop digressing from my diary entry.
During the match, I skimmed through a guide for newbies about Steem curation rewards by @remlaps. Thanks to @cmp2020 for sharing his dad's post with me! Here is the link for anyone interested in giving it a read: https://steemit.com/hive-109160/@remlaps/discussing-the-factors-that-drive-steem-s-curation-rewards
After I finally took a shower, I did some more Penn State apparel and general item shopping with my parents. We needed to spend over $50 in order to receive free shipping, so we ended up purchasing 3 face masks, a PSU room flag, and 2 PSU sports t-shirts.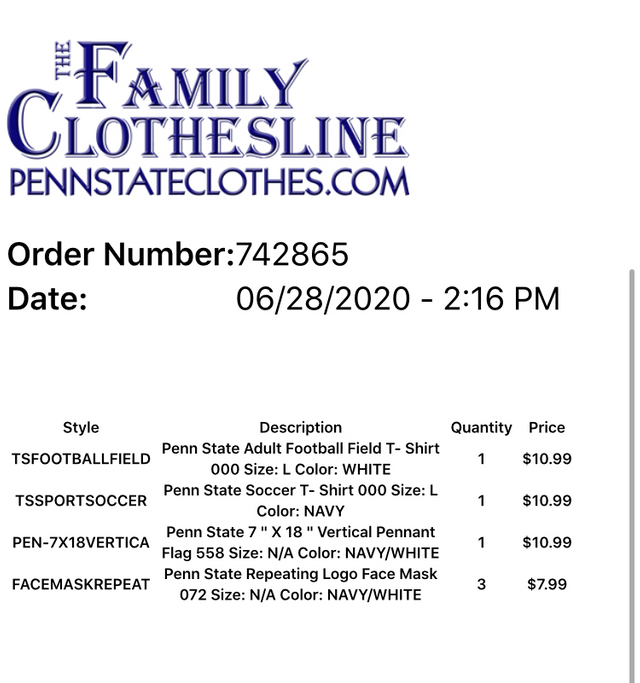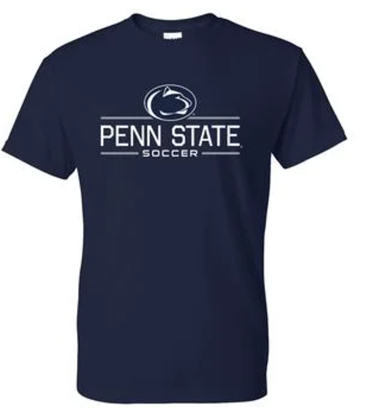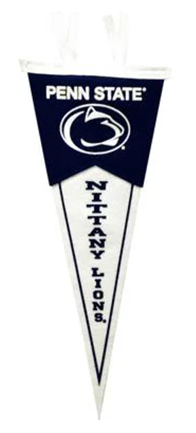 The bottom two images are product pictures from The Family Clothesline website
Once that round of college shopping was over, my dad and I did some more college shopping, specifically regarding laptop necessities. In between these online shopping sessions, I made sure to have a turkey sandwich on sourdough bread for lunch. After finishing my sandwich, my dad and I searched for a computer lock and a Logitech headset. The total cost was over $70, but because we had Dell Rewards money from buying my college laptop, both items were purchased for around only $25. It pays to save!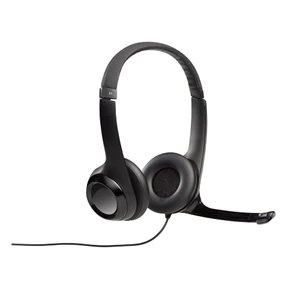 Logitech USB Headset H390 product image from Dell's website
Shopping was officially done for the day, so I started a wash for my shorts and t-shirts. While I was waiting for it to finish, I participated in a Zoom meeting with my dad to test out my computer and earbud speaker and microphone settings because I have had issues with people being able to hear me recently. I concluded that my cheap Apple headphones are most likely the problem because of their low-quality mic, so I am glad that I was able to purchase a new headset. I took a screenshot of the Zoom meeting, but I am mad at myself for forgetting to save the picture. Oh well.
At 3:30, my mom and I continued my college clothes inventory with pants being on today's agenda. I only have 7 pairs (including 2 jeans), so we plan to shop for Levi's and Docker's online in the near future.
Around 4:30, I discovered a post that @cmp2020 resteemed which caught my eye. It was a contest by @georgemales called "Loserville" that rewards STEEM to users who have the lowest number of upvotes on their comments on his post, which ensures much hilarity and wittiness. I already resteemed it, but here is the link to his post if you want to participate: https://steemit.com/contestsupportfund/@georgemales/loserville-season-7-the-worst-steemit-comment-contest-the-contest-where-losers-win-over-35-steem-in-prizes
I continued watching ATLA with @rasmuffin and others. He just got back from his beach vacation, and I am glad that he was able to watch with us today. I know he worked tirelessly to unpack and catch up on episodes 6-8 to make sure that he would be ready at 5:30 sharp. We watched episodes 9-11 today, which included the notably infamous and terrible episode "The Great Divide". This episode is considered by many ATLA fans to be the worst in the series, and honestly, we could have skipped it and not missed a beat, but I wanted my friends to get a taste of watching every episode for their first time. Also, I challenge @rasmuffin to write DAILY diary posts now that his vacation is over.
My family and I convened at 7 for dinner. Sunday is usually grill night in the Morrison household, and tonight was no exception. My dad grilled my mom's balsamic-marinated chicken. In addition, we also had sides of vegetable tater tots, leftover grilled asparagus, and brown rice. After dinner, I finally folded and put away my clothes from my earlier wash. I think I am very "neat" ;)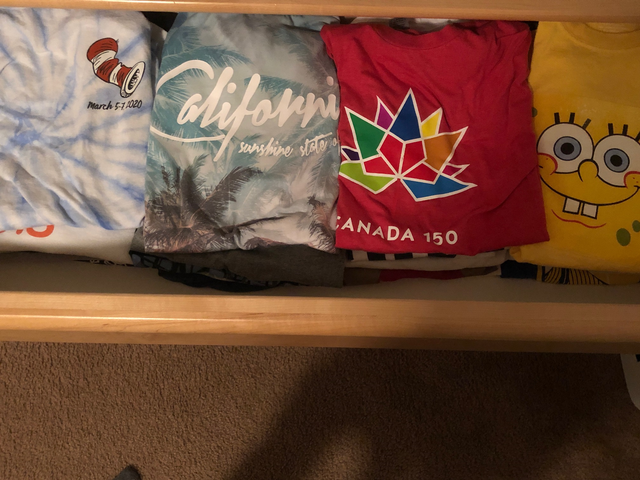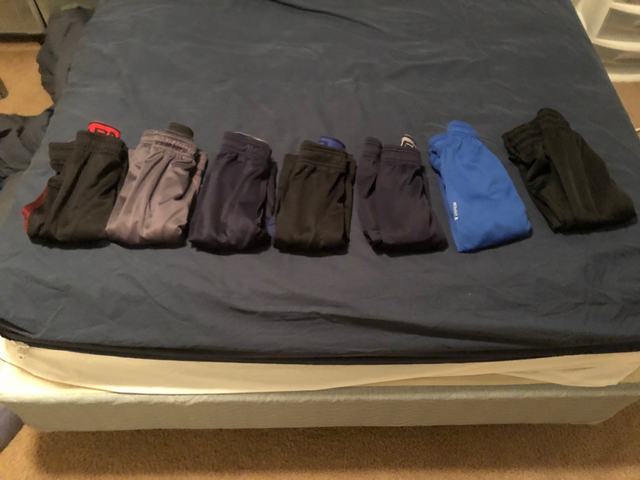 Anyways, I hope that everyone had an awesome weekend. I will continue to "Steem on" with my daily diary contributions and Steem Greet Achievement Posts. Until next time!