May 27, 2018, Burbank, CA
ReView: Wood Boy, Dog Fish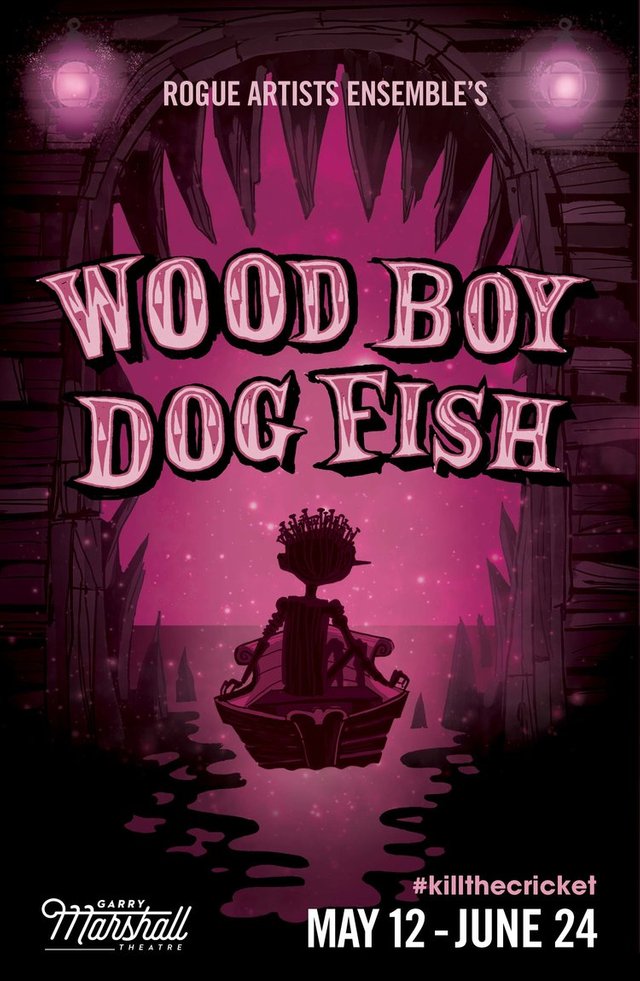 I must arrive from a great height, like from the beyond into which Ms. Sutton's spirits abscond at the end of her play— I must come like Zod in Superman 2 inexorably towards the blue spinning ball of earth:
Here we are. If I were any closer I would be incomprehensible; please let me remain distant, like the Rogue Artist Ensemble's expert ministrations in black; let me remain distant, far away, in no danger of being real.
Let me tell you a fairy tale. In Hollywood they eat children, as the wicked witch would eat Hansel. As the Bacchae would eat Orpheus.
Like both, it is a religion for them, through which the cannibals' other many crimes are exonerated; their guilt expunged through children's blood.
We know this is only a fantasy; there is no such place as Hollywood, deep in the forest of holly, no other place like it, no other nexus ...
No;
Anyway, it is only a play. I even met the playwright, a beautiful innocent. It's only a story, Robin, have no fear; no one is coming to eat you. No one at all. Not Hillary Clinton, not John Podesta, not Harvey Weinstein.
Already I've come too close, as Ms. Sutton does too, and her and Mr. Cawelti's actors, up close and impersonal: not your story. Only a kind of wooden boy.
It is a great work; no matter. I can't say enough about it; it doesn't matter. Others will have said those things, others from a parallel reality before 2016, when America forked like Bitcoin into parallel realities, of the same genes but no longer working from the same assumptions, humming on the same batteries.
This isn't a review, Robin. No, not quite. It's a viewing. Like for a corpse.
I shouldn't say anything at all; it's already been said. I should keep my mouth shut, that's what good little pinocchios do in Los Angeles, they shut up when they're told, when the big boys are talking about who they want to eat next.
None of this happens in Los Angeles. Not in my Los Angeles. I'm leaving anyway—getting out—saying sayonara. It's not real. It's only a show.
Part of me wants to insist: she knew all about it. This is a Pizzagate story.
But I was so fortunate as to meet Ms. Sutton after the performance this Sunday, and congratulate her on her great work; no, she didn't know.
But all artists know, Robin. Even when they don't know they know.
This is the truth of her Blue in the story: thrumming lifeline into the depths of hell and the human heart, who rocks us gently to sleep, in order to nibble on our guts. In order to see what it is we know.
Haven't we seen the butcher a million times? Putting on his rubber smock? Lining up the children for the axe? In the Bible? In the Holocaust?
Or with the Orthodox Jews of Brooklyn, who are a human "child rape assembly line"?
I was raped at Wood Boy / Dog Fish, and I enjoyed it. But I'm not supposed to say that.
You're not reading this anyway. This isn't a real viewing of a real corpse of America, Los Angeles, modernity, that's only a sort of conceit, you're such a conceited person, Robin. Welcome to Los Angeles. Welcome to glory.
Well, I'm leaving. I'm getting out.
I wish Ms. Sutton so well, who of course doesn't know about what lies in the dark wood of Holly, or Brooklyn, who needn't be told. Even if she suspected it already.
It was written before 2016, Robin! And anyway, Pinocchio is a much older story.
What human story, you might say, is not about cannibalism? Archaeologists tell us all our ancestors did it. Occasionally chowed down on a neighbor. The most human thing in the world.
This is the horror at the heart of the story then, your own:
Look into Hillary's eyes as she chomps down on what she calls a "chicken" (a boy?), and see yourself.
Hear the recordings of one of Podesta's victims saying "No, Skippy!" and see our wood boy and his friends; see Funtown.
Of course, it's nauseating. But what good art is not stomach-churning. You know all that.
Anyway, go and see it. And don't say I told you so. And don't say I told you to do it. You wanted to do it all along. It was in your nature.
© Robin Wyatt Dunn