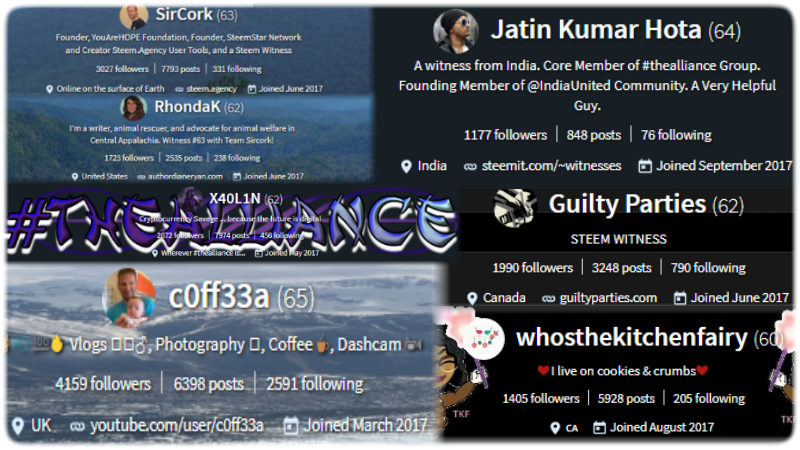 What Is A Witness?
A witness for the STEEM blockchain does one major thing that has to be supported. They secure and acknowledge all the activity that happens on the blockchain. What does that mean? It means they run what's called a server, to help efficiently process all the blocks that are confirmed. Within each block is information that can consist of anything from someone's comment, someone's edit of a comment, a post, a resteem, a post reward, pretty much anything you can think of that happens on Steemit and its counterparts (Steepshot, Zappl, Busy, etc), is recorded and publicly stored by witnesses on the blockchain.
Vote Witnesses You Trust
You can find a list of all the witnesses on a site called
Steemian
that was built by another witness,
@drakos
. We strongly urge anyone that is here and wants this platform to keep on becoming better and better, to go to that list and do a little research. There may be some names you recognize and didn't know were witnesses! The best suggestion I can give is get to know your witnesses and let them know you're here on Steemit, supporting the blockchain by voting and engaging with others.

This dynamic duo might as well be two pieces of a huge heart. If you have heard of either
@youarehope
or
@tarc
, then you already know who these two are. If not, then let me tell you a little about them.
@sircork
is the founder of the charitable organization just mentioned - You Are H.O.P.E. - Help.Opportunity.Purpose.Empowerment. All of which have been embodied time after time since its inception. He also runs the up and coming
@steemstarnetwork
, a mass media organization. Rhonda coordinates
@tarc
(and is also widely known for her work
@thewritersblock
) which stands for the Tazewell Animal Rescue Coalition. The name says it all.
Jatin is a witness from India and one of the founding members of
@indiaunited
. There are more people on this blockchain from there than anywhere else in the world, so we imagine he has his hands full quite often. On his profile, you'll notice it says "A Very Helpful Guy", and those words hold true. He has been one of
@enginewitty
's go to guys for the better part of 5 months within the witness territory. He has also been a strong supporter of
#thealliance
and it's family members through various efforts.
This guy is a full on lazy, good for nothing idiot. Just kidding, he's kinda cool sometimes. His passion for the growth and possibilities he sees of the blockchain are limitless. A true social witness, he has claimed on more than one occasion that he wants to be 'the face of Steemit' and hopes to bring it full force to the mainstream. He is also the creator of
#thealliance
and runs several support accounts to try and foster the growth of the family. His generosity is evident from his
@killerwhale
account, where he runs contests to simply give away SBD and harbor engagement through fun activities on the platform.
@guiltyparties
is most widely known for his support of the veterans' culture and the
#steemsilvergold
communities here on Steemit. What a lot of people don't know, is he has also been working tirelessly with Steemcleaners and several other 'parties' to help eliminate the spam, hacking, and phishing that tries to weasel its way into out waters. He recently showed his compassion by reaching out to people for support of a veteran named Bobby, who is losing his eye sight and had a wonderful response.
Our lovely Vegan sweetheart. Hailing from Canada, she is a native Indonesian and looks forward to helping Steemit grow exponentially over there. I dare say, vegan or not, you will absolutely be hungering for more of her delicious posts topped with good family fun and entertainment upon your arrival. She has been out here swimming with us for quite some time and just recently made her witness announcement. She will engage with you, make you feel appreciated and even at home. Stop in and say hello!
The newest of our family to join the witness security, is this guy. You've probably seen his face around as he seems to be everywhere. Truly, a master of the engagement arts. So much, in fact, he is the 'yard boss' on
#thealliance
playground. He has gained the trust of
@enginewitty
by displaying a love for Steemit and putting family first. Little known is the fact that he is also a technical wizard and set up his server without the docker code most witnesses use. That's saying something and we expect (more) great things coming from this man.