To each of the Family member of #thealliance team. This one is long overdue, and should have came earlier. I thought of conveying this message many a times, but , but , but....something stopped me. Either I stuck somwhere or didn't find some proper word for the lovely FAM BAM. Even Today I am falling short of words to say....Or describe what you have given me all these days.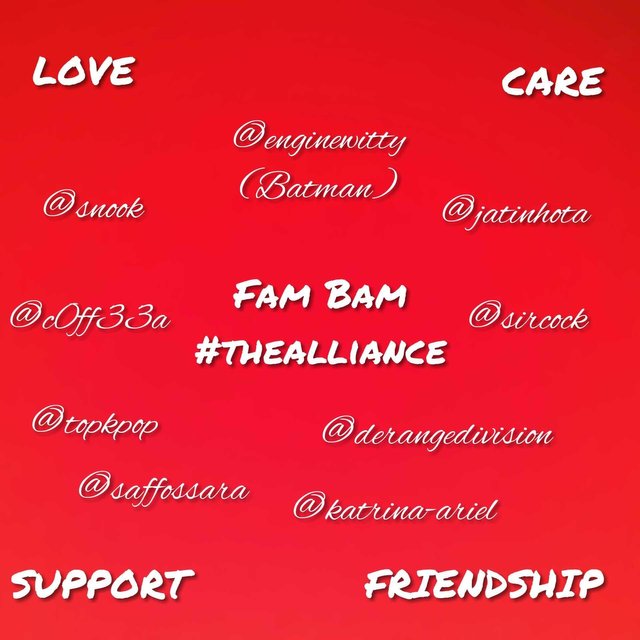 Love , Support , Care , Friendship thats what defines a true family values and #thealliance have all of them. First time ,I felt such thing too happen outside your own Family.
This STEEM FAMILY known by #thealliance fantastically headed by @enginewitty are the best one can have . This family never let you alone and alwsys stand by your side with all hand support and seer guidance
A family that lives together stays together.
Today, I would love to rewind my journey so far. The journey begins 7 months ago and only aftrr 135 days of my Steemit entry.....a FLASHBACK...
I was in middle of nowhere of Steemit journey and looking forward for some miracle. Steemit is all about community and I was not aware of any community and neither anyone guided me.
I was looking for some platform to get support, When I came across an application to #thealliance post in my feed page. It was some set of question thatvwas answered in the application. I have drafted my own application and applied too.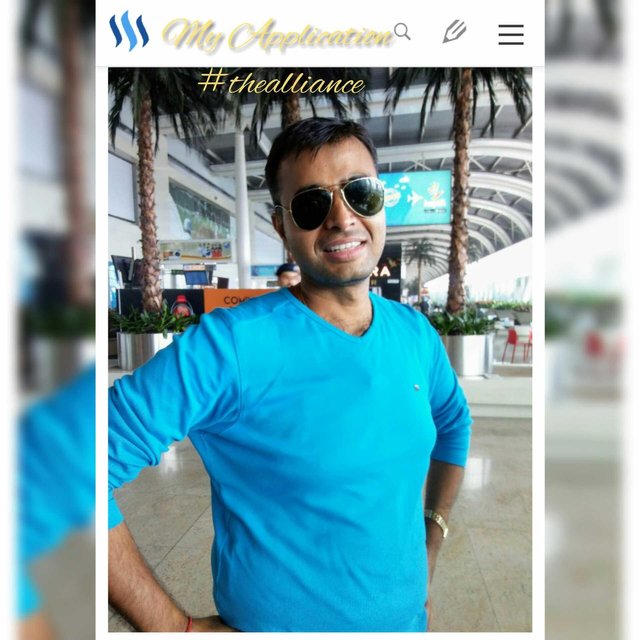 My Welcoming and My Stay at #thealliance
I applied for a community program with very little information about #thealliance. After few days I received a ping in my discord about joining #thealliance school. The school is meant to improve your quality and how to make your post attractive and welcomed by super cop @topkpop.
After few days of guidance and correction, I was introduced to the family main server. And I experienced a totally different sphere with many steemit greats @enginewitty @c0ff33a @sircork @saffissara @topkpop @thekittygirl @thekitchenfairy @katrina-ariel @snook and many more (If I take all names the page will be short for that) welcoming me with open arms and pure Heart. The feeling of belongingness automatically come to me. And then i experiences the crazyness of #thealliance family in CASTLE PARTY hosted by @topkpop and DJ @sircock with entire family dancing and chattting on the music and beats entire night. I was totally amazed by tye madness and crazyness of the FAM BAM.
My Gratitude to the Awesome Family.
THANK YOU !! THANK YOU !! THANK YOU !!
no word, no sentence nothing can define #thealliance they give you enough space to make your own room and make your stay pleasant. They are the unbelivable Family always ready and eager to help and support
#thealliance completelly defines a COMMUNITY (Family First)
The list of all Family members is to long many I knew and many I do not. But from bottom of my heart I am THANKFUL to each one of you.
After spending 7 months I can throughly say #thealliance COMPLETES me on Steemit.
Just as an advice to any new Steemians or whosoever wanted to make your mark and wanted to put your FOOT on Steemit and have thebQuality and Zeal to succeed just get inside this awesome family.
Apply for the #thealliance membership and enjoy your stay. ...IT WILL BE FUN WITH MANY ENJOYABLE MOMENTS.
Stay Calm....
Keep Steeming...Steem On !!!
---
**Vote for Witness** I have given mine. Do you??
@firepower
,
@enginewitty
,
@therealwolf
@patrice
@reggaemuffin
@c0ff33a
@thekitchenfairy
@drakos
@roelandp
@good-karma
@yabapmatt
are in my list.
---



...........................................

..............................................