The Active Hive LLC Presents: Mining Rig Rentals
Mining Rig Rentals: FASTER, SMARTER & MOST POWERFUL WAY TO RENT/LEASE MINING RIGS!
Welcome to the faster, smarter, more powerful way to rent or lease crypto currency mining rigs. Whether you're new and want to try mining out before you buy equipment or you're a veteran looking for more hash at a coin launch, Mining Rig Rentals is your one stop website. Developed from the ground up by miners for the mining community. Choose an algorithm to get started!
WHY RENT FROM MINING RIG RENTALS?
Paying with Bitcoin, Litecoin, Dash and Ethereum makes renting easy, unlike other services. Simply fund your account with the currency you wish and click to rent any available rig.
No Minimum orders, very low minimum withdraw (0.0001), fast payments 15 mins for altcoins two to six hours for bitcoin (depending on blockchain load)
Choose any pool you want to use, no restrictions.
Make rental choices based on "actual" hash rate. The system tracks the complete hash rate history of all mining rigs. Hashrates are displayed in several convenient graphs.
Make use of the convenient Live Hashrate graphs on individual rig views, as well as a whole aggregate view of all rented rigs on your rental control panel!
Implemented a rig rating system called RPI which helps you find the best rigs.
Review all finished rentals for low performance, so you can be assured that you are getting the best!
Refunds are precisely calculated to return what you are owed in accepted shares vs. what was advertised.
Backup pools! Have you ever found yourself trying to be first during a coin launch only to find out your first pool choice isn't up and running? System lets you set up to 5 pools in a fail over.
Committed to releasing rental channels for any and all active algorithms.
Extremely active network of developers. Have a question? No problem, drop by irc.freenode.net and /join #miningrigrentals Alternatively, use the support ticket system!
Backend proxy system is coded 100% in fast C++ which enjoys super fast reaction times to your pool, as well as enjoying 99.9% uptime.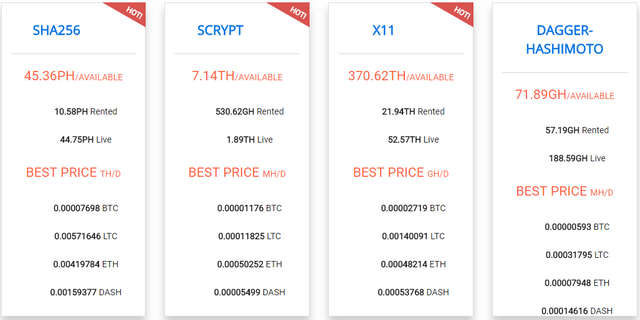 Join Now ===>>> https://www.miningrigrentals.com?ref=71807