The Active Hive LLC Presents: Fishbank
Grow, fight and trade your predatory fish champion in the new blockchain game!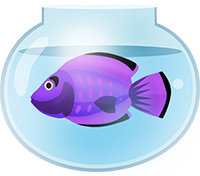 Amberjack (Common): Power:2 Agility:3 Speed:1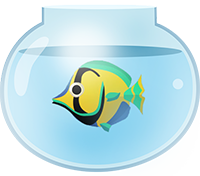 Corvina (Common): Power:4 Agility:5 Speed:3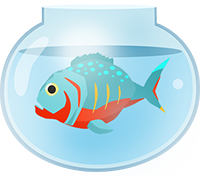 Piranha (Legendary): Power:8 Agility:7 Speed:5
Grow your fish to the top of the food chain!
Every fish is an ERC-721 crypto token stored on the Ethereum blockchain.
Digital assets are 100% owned by the player. They can be managed like a regular cryptocurrency — transferred or sold to any other player. They cannot be destroyed, removed or replaced.
Hunt other fish and take a bite of them to increase your fish weight and reach top of the global Leaderboards. Trade your winning fish for a better one and grow another champion!
What is Fishbank?
A peer-to-peer (P2P) player-versus-player (PvP) game for growing, fighting and trading unique digital fish with community-driven economy and immutable gaming assets based on smart contracts running on the Ethereum blockchain.
How to play?
Requirements to play Fishbank: Chrome or Firefox browser installed with MetaMask extension, some Ether in your digital wallet and a stable Internet connection. Reserve your fish to join the Fishbank Alpha launch.
Unique opportunity to receive Common or Rare fish tokens. *

Invite 3 friends & get 1 Common Alpha Fish

Invite 15 friends & get 1 Rare Alpha Fish

Invite 100 friends & get 1 Epic Alpha Fish

Invite 1000 friends & get 1 Legendary Alpha Fish
Join The Fish Fight! --->>> http://wx.cm/Fishbank
Stage 1 — Alpha Bounty
On this stage we'd like to invite early adopters to join Alpha and help us test the
first version of the game in Ethereum mainnet. Only those who have Alpha fish
tokens will be able to play Fishbank Alpha. We are ready to reward everyone who
helps us spread a word about the project with Alpha fish tokens. Register to get
your personal referral link and send it to your friends so you can track the
progress in personal account.
Invite at least 3 friends to get Alpha Fish token and
access to Fishbank Alpha.
Rewards are credited as follows:
• 3 accepted invitations for Common Alpha Fish
• 15 accepted invitations for Rare Alpha Fish
• 100 accepted invitations for Epic Alpha Fish
• 1000 accepted invitations for Legendary Alpha Fish
Accepted invitation — friend followed your referral link that has activated
his account (confirmed his e-mail) and is a real person.
Step-by-step instructions:
Sign up for a personal account at Fishbank ===>>> http://wx.cm/Fishbank
Activate your account (confirm e-mail)
Grab your referral link and send it to friends
Check the reward listed in Game Assets ("My Fish" page in your Cabinet)
Fill in the Profile with your MetaMask Ether wallet
Wait till end of Jan 2018 to receive link for Fishbank Alpha
Receive your fish token on wallet you've set in Profile
If you have not managed to acquire a fish during Alpha Bounty stage and still
want to try Alpha before the Stable release the only way you can get the Fish
token is to buy it from other players on the Market.
Stage 2 — Early Preorder
Reserve your guaranteed Fish Token for the Stable version. There will be no
other chance to choose certain type of new Fish Token after Stable version
launched.
• Common Fish from 0.01 ETH
• Rare Fish from 0.05 ETH
• Epic Fish from 0.35 ETH
• Legendary Fish ~1-5 ETH
Contribute Fishbank project development with Ether and get guaranteed type of
fish asset on the Stable release. More details will be announced prior to event.
Stage 3 — Stable Launch
After final version of smart contracts are deployed on the mainnet game logic and
balance becomes immutable as no one can change the code later or do any
changes. That makes Fishbank gameplay fully autonomous and independent.
The only way to get Fish is catching it (random one) from Aquarium or buying
from other players.
• Catch random Fish in Aquarium (Common or better) 0.03 ETH
• Prices on the Market defined by supply and demand
Join During The ALPHA Stage & Build Your Fish ===>>> http://wx.cm/Fishbank