The Active Hive LLC Presents: Click Fight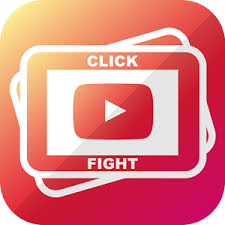 Earn FREE Bitcoin while playing a Massive Multiplayer Online RPG! Fight big NPCs in a group or fight against your enemies in a gigantic arena!
Earn rewards in the arena & weekly competitions!
Play yourself to the top of the ranking and show everyone who is the best!
Fight real enemies in the arena and win big rewards for every kill you make!
Grind yourself to the top by killing NPCs and earn Credits, XP and Satoshi!
Fight together against a strong boss or steal it from your enemies!
Upgrade your character and get even better and defeat your enemies even easier!
Damage: Increase your Damage by 0.5% per level.
Hitpoints: Increase your Hit Points by 20 per level.
Critical Hit: Increase your critical hit by 0.5% per level.
Increase your chance to deal a critical hit by 0.5% per level (max: 10%).
Reward: Increase your arena XP by 1% per level.
Defence: Increase your Defence by 0.5% per level (after lvl 20 - 0.1%).
Buy Weapons: 3 Weapon Types in the Shop!
Shop for stronger weapons & equip them in Character -> Equipment.
You can equip up to 20 weapons!
Arena Levels: Jump to higher Arena Levels to encounter new enemies!
New NPCs: Get even better rewards!
New Updates: Prestige Ranks!
Show how dominate you are in the arena.
Strive for the best Prestige Rank, which only one player can have!
Daily Challenges: New Challenge Daily!
Finish this challenge to get a bigger reward every day! Get your portion of free Satoshi, Credits, Ammo and Medipacks! Be sure to finish this challenge every day!
Rewards:
1 Days:
35 Satoshi
105 Cryptos
1000 Credits
2 Days:
40 Satoshi
120 Cryptos
1500 Credits
50 Fast DDos
3 Days:
50 Satoshi
150 Cryptos
2000 Credits
30 Cloud Attack
4 Days:
60 Satoshi
180 Cryptos
2500 Credits
50 Fast DDos
30 Cloud Attack
5+ Days:
100 Satoshi
300 Cryptos
4000 Credits
40 Cloud Attack
1 Medipack
Payout: Direct payout to your Bitcoin wallet or Faucethub account!
Using Faucethub, there is no minimum payout amount, so you can instantly cash out your earned satoshi.
Referal System: Invite other players to Click Fight & earn more Bitcoin!
10% of your referrals payout is credited directly to your account.
Join The Fight! --->>> http://clickfight.net?r=5555