Day 2 with thediarygame: PinePhone64 OS testing - part 1
Greetings, steemit! As promised, I'm writing about my first little experience with PinePhone.
So my second "thedairygame" day went through with intense testing of PinePhone64 which I got just a day ago in the mail for great price of 1000 NOK (about $ 100). I am going to tell you more about this great phone as well as my first thoughts on testing.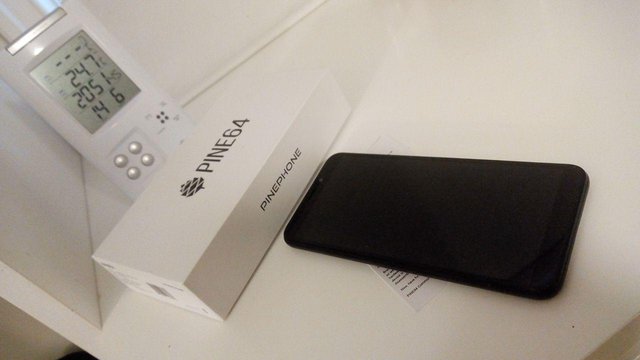 What is Pinephone?
Pinephone is one of the active "phone-development" projects nowadays that aims towards giving user surveillance-free and proprietary-blob-free environment, where you can trust that nor the phone hardware, not the software is tracking you or analyzing your actions for marketing purposes or reselling/leaking your data.
Specifications
In the lead, there's a Allwinner A64 Quad Core SoC with Mali 400 MP2 GPU, 2GB of LPDDR3 RAM and nice large 5.95″ LCD 1440×720 with 18:9 aspect ratio and Pine64 tells also about hardened glass. Radio-comm is performed by Quectel EG-25G with worldwide bands. Internal memory is 16GB eMMC unit. The battery is similar to the Samsung J7 form-factor, having 3000mAh capacity. The case is matte black finished plastic, and the best thing about it is that Pinephone lays in your hand as very solid (although a bit too big for my personal opinion).
Speaking about interfaces, phone saved the headphone jack, and I am really glad about it, while ditching micro-USB towards the now-popular USB type C, which I personally hate. But it's my own opinion of course. Good thing about USB type C is that it finally has a standardized video output (which was less of a standard on micro-USB).
All the normal stuff, like RGB led, vibro-motor, mediocre selfie and front camera (5/2 mp), as well as GNSS connectivity (GPS, AGPS and GLONASS).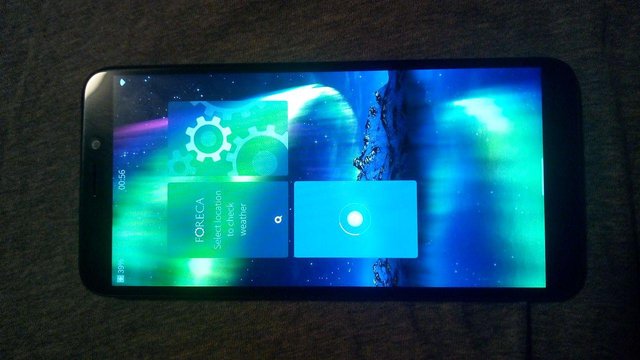 From the sensors stuff, the phone has a good set: accelerator, gyro, proximity, compass, barometer, ambient light sensors are all available.
The phone also has a dual-boot option which works like this:
If there's no MicroSD card inserted OR the card contains no OS, phone boots from eMMC
If there is a MicroSD card with OS on it, phone boots from the card.
This makes everything much safer (if you occasionally "kill" your internal OS while fiddling with it, or even BOTH of OS'es (on the card and on eMMC), you can just over-write a new image to micro-SD card - and boot from it).
Now to the more sad points in config. Quite old wifi (only N, single-band) as well as old Bluetooth (4.0).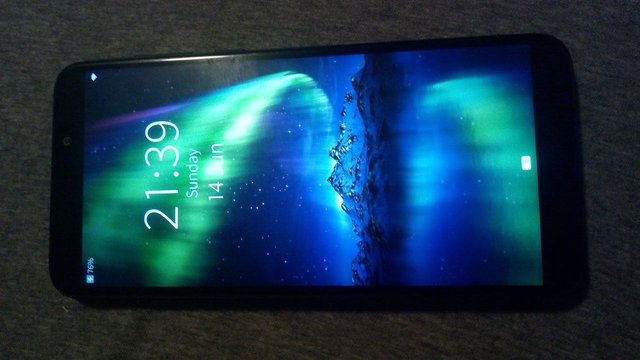 Buttons: interesting!
Speaking about external buttons, it has 3 of them: volume up, down, and power. Like most phones nowadays.
But that's not the main interest in this phone - it has also 6 internal switches, which allows you, by opening of the back cover, to control the ON/OFF state for the following devices: GSM/SIM, wifi/bluetooth, microphone, rear camera, front camera, and headphones mode switch. Yes, that means that you can physically disconnect power to these devices! So you don't have to trust the software at all - you can just flip the switch OFF and puff, devices stop working physically. That is great news and other "secured" phones should definitely take this approach to the toolbox.

Okay, so the hardware itself looks very promising. So let's move on to the main part of the article: OS testing.
OS testing
My goal, in the beginning, is a fast and not very specific OS check, while I want to pinpoint a few main OSes for more precise, exact, and long future tests. The reason behind that is Pinephone is having more than 10 OS out there available, and I want to have a sneak peek to all of them while choosing like 2-3-4 main OS of longer and more specific tests. Here's a not full list for you so you got the idea: PureOS, postmarketOS, Ubuntu Touch, Mobian, SailfishOS, Fedora, Arch Linux ARM, Manjaro ARM, Maemo Leste, Nemo Mobile, KDE Neon, NixOS, LuneOS, Sxmo... And the list continues.
Sneak peek OS check
All tests are done from micro-SD card at the moment, as for "pre-testing" purposes it works and it's fast enough for the first opinion. I will try not to concentrate too much on the "slowness" of OS as this might be because of micro-SD card usage.
PureOS on PinePhone64:
Install method: writing the image to microSD flash.
Interface: GNOME-based.
Wifi, Bluetooth, and brightness controls works
GPS, SIM CALLS, SMS - unchecked
A little bit glitchy interface in some windows.
Also sometimes hard to open and close the top-down menu.
Unable to change the timezone to Oslo.
General opinion: might be considered seriously IF/WHEN develops further. Currently generally unusable.
Fast-score: 5 out of 10.
PostMarketOS on PinePhone64:
Install method (for both): writing the image to microSD flash.
Interface: Phosh (GNOME-based).
Dislike. Same problem as with PureOS. Laggy interface.
Fast-score: 5 out of 10.
Interface: Plasma (KDE-based).
Dislike. The phone just hangs while loading, while using... Too slow. Totally unusable, even worse than GNOME.
Fast-score: 4 out of 10.
SailfishOS on PinePhone64:
Install method: using the official sailfish autobuild & burn script:
https://raw.githubusercontent.com/sailfish-on-dontbeevil/flash-it/master/flash-it.sh
The most developed OS for PinePhone (for the moment of the test!).
Great experience with visuals, settings. Had some trouble with WIFI connection stability.
Fast-score: 7.5 out of 10.
I will continue my OS research on the next days as I still have more than 10 OSes to test and review.
That was all the news about me & my stuff for today. I'll continue the testing and update you tomorrow :) Probably, in a few days we will get to some interesting results about that phone. Also, I plan to test all available distros and when I'll finish with "free" Linux-based ones I might switch to testing some other more or less weird things, like android-based distros or something even more fascinating. Stay tuned for my daily updates in #thedairygame #the100daysofsteem (:
P.S. I want to thank the creators of the competition for the second time (@steemitblog and @steemcurator01) as well as those who shared me the links and info about this competition (@vipnata and @ladyzarulem). As it seems to start working towards my goal of regular posting to steemit :)
Thanks for reading and see you in the next one,
D. from O.