My dear steemians,
Today I'm celebrating my 8000 FOLLOWERS !!! OMG I can not believe it!!!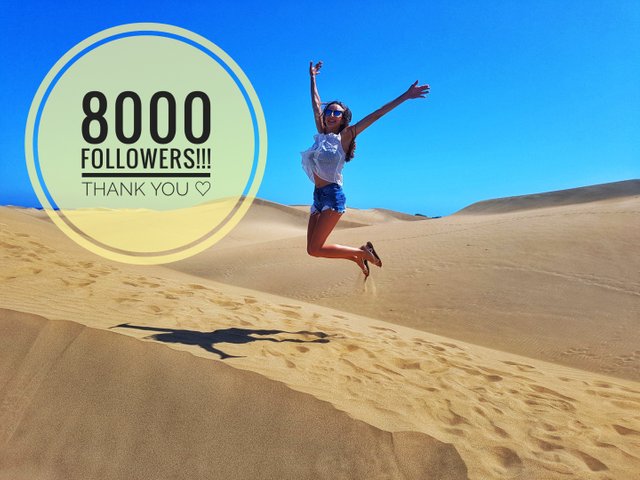 I would like to say THANK YOU from the whole of my heart to the Steemit community for what it brings me for several months. At first, I had a hard time believing it, this world of crypto and blogging was totally unknown and today cannot live without it! There is not a day going on without me thinking of Steemit and what I can bring to this platform to make it even more alive!
By organizing meetings with Steemians and people who have an interest in this platform, I try to participate in its development. Thus, more people are aware of the unprecedented technological progress that this platform represents. The use of blockchain technology to distribute rewards and secure the wealth of the community is still too little known in my opinion.
We celebrated 1 000 000 users this year! It's awesome but the sky is the limit, so are we going to the MOON or further ??? 🚀🚀🚀
I have never known a technology that combines interaction, creation, contribution and rewards seamlessly as Steemit does. That's why, I try to share interesting and diverse content every day and also organize regular meetings to promote Steemit.
Since September, I learned a lot thanks to all of you and to my research. If like me, you want to share your knowledge in a real way during a meeting, I will be delighted to welcome you at the next meeting steemit in Barcelona on Saturday, September 29th!
My future projects on Steemit:
Continue the PROMOTION of the platform in Spain (Next Meeting Steemit in Barcelona on 09/29/18).
Consider applying to become a Steemit Ambassador through @steem-ambassador and #promo-spain.
Continue to organize big CONTEST every month with a different theme and maybe collaborate with other Steemians on this topic.
Continue writing TRANSLATIONS in French of the weekly report "State of the Network" (BSotN) written by @steempower. This report allows me to better understand and identify emerging trends and changes in the Bitshares platform.
In the meantime, I wish you all a nice day! Steem on and Stay connected my friends!
@flamingirl is back soon for new adventures!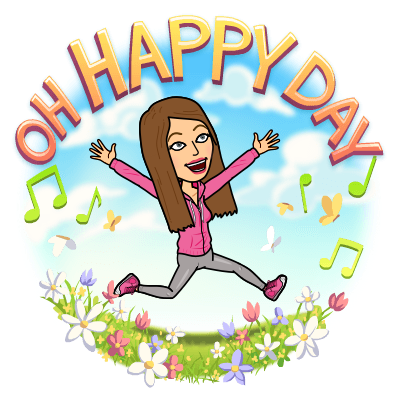 ---
---
Mis queridos Steemians,
¡Hoy estoy celebrando mis 8000 seguidores! ¡No lo creo! ¡Gracias a todos por su apoyo! <3
Me gustaría agradecer con todo mi corazón, la comunidad steemit, por lo que me trae durante varios meses. Al principio, me costó creerlo, ¡este mundo de crypto y blogging era totalmente desconocido y hoy no puede vivir sin él! No pasa un día sin que yo piense en Steemit y en lo que puedo hacer para contribuir a esta plataforma.
Al organizar reuniones entre Steemians y personas que tienen interés en esta plataforma, intentó participar en su desarrollo. Por lo tanto, cada vez más personas son conscientes del progreso tecnológico sin precedentes que representa esta plataforma. El uso de la tecnología blockchain para distribuir recompensas y asegurar la riqueza de la comunidad, todavía es muy poco conocido en mi opinión.
Nunca he encontrado una tecnología que combine la interacción, la creación, la contribución y la recompensa sin problemas como lo hace Steemit. Es por eso que trato de compartir contenido interesante y diversificado todos los días y también de las reuniones regulares para hacer la promoción de Steemit.
Desde septiembre, aprendí mucho gracias a todos ustedes y a mi investigación. Si, como yo, quieres compartir tus conocimientos de una manera real durante una reunión, estaré feliz de darte la bienvenida en la próxima reunión en Barcelona el sábado 29 de septiembre.
Mis proyectos futuros en Steemit:
Continuar la PROMOCIÓN de la plataforma en España (Próxima reunión de Steemit en Barcelona el 29/09/18).
Considere postular para convertirme en embajadora Steemit a través de @steem-ambassador y promo-spain.
Continuar organizando gran CONCURSOS cada meses con un tema diferente y tal vez colaborar con otros Steemianos en este tema.
Continuar TRADUCIR en francés el informe semanal del estado de la red Bitshares "State of the Network"(BSotN) escrito por @steempower. Este informe me permite comprender mejor e identificar las tendencias y cambios emergentes en la plataforma Bitshares.
Mientras tanto, ¡les deseo a todos un buen día! Steem on!
---
---
Mes chers steemians,
Aujourd'hui je fête mes 8000 followers !!! Je ne peux pas le croire!!!
Je voudrais remercier du fond du coeur la communauté steemit pour ce qu'elle m'apporte depuis plusieurs mois. Au début, j'ai eu du mal à y croire, ce monde des crypto et du blogging était totalement inconnu et aujourd'hui ne peut pas m'en passer! Il ne se passe pas un jour sans que je pense à steemit et à ce que je peux apporter à cette plateforme pour la rendre plus vivante encore!
En organisant des rencontres entre Steemians et des personnes qui présentent un intérêt pour cette plateforme, j'essaie de participer à son développement. Ainsi, plus de gens se rendent compte du progrès technologique sans précédent que représente cette plateforme. L'utilisation de la technologie blockchain pour distribuer les récompenses et sécuriser la richesse de la communauté, est encore trop peu connue à mon avis.
Nous avons dépassé la barre des 1 000 000 utilisateurs cette année! C'est génial mais le ciel est la limite, alors allons-nous à la lune ou plus loin encore??? 🚀🚀🚀
Je n'ai jamais rencontré une technologie qui combine l'interaction, la création, la contribution et la récompense de façon transparente comme le fait Steemit. C'est pourquoi, j'essaie de partager du contenu intéressant et diversifié chaque jour et aussi d'organiser des rencontres régulières et des concours.
Depuis le mois de septembre, j'ai appris beaucoup grâce à vous tous et à mes recherches. Si comme moi, vous souhaitez partager vos connaissances de façon réelle lors d'une rencontre, je serai ravie de vous accueillir lors du prochain meeting steemit à Barcelone le samedi 29 septembre!
Mes futurs projets sur Steemit:
Poursuivre la PROMOTION de la plateforme en Espagne (Prochain Meeting Steemit à Barcelone le 29/09/18).
Envisager ma candidature pour devenir Ambassadrice Steemit grâce à @steem-ambassador et promo-spain.
Continuer à organiser des gros CONCOURS tous les mois avec un thème différent et peut-être collaborer avec d'autres Steemians sur ce sujet.
Continuer les TRADUCTIONS en français du rapport hebdomadaire "State of the Network" (BSotN) écrit par @steempower. Ce rapport me permets de mieux comprendre et d'identifier les tendances émergentes et les changements dans la plate-forme Bitshares.
En attendant, je vous souhaite à tous une agréable journée! Steem on! Restez connectés les amis! @flamingirl revient vite pour de nouvelles aventures!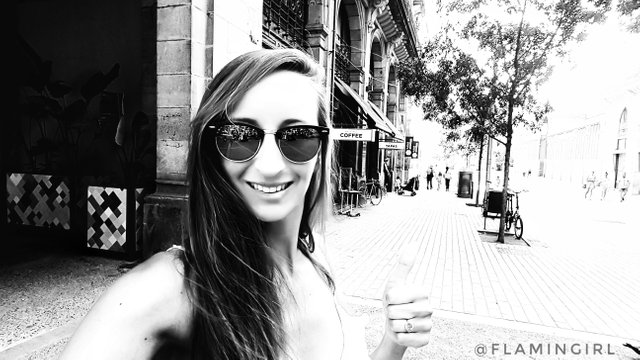 If you liked reading this article, feel free to FOLLOW ME, UPVOTE and RESTEEM! It's always appreciated =D. Thank you all for your support and see you soon for a new flamingirl's adventures!