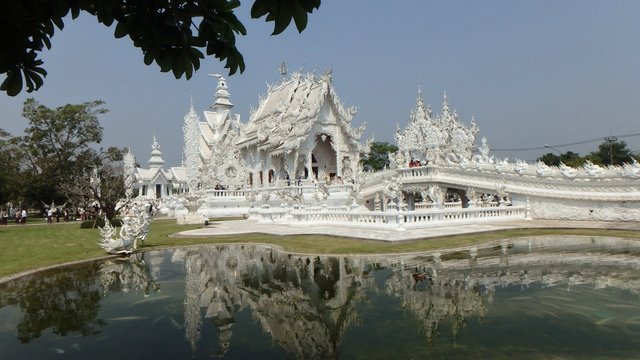 There are over 40,000 Buddhist temples in Thailand but one stands out from all the rest. This one is pure white! 'Wat Rong Khun,' as the White Temple is more properly called, looks like it has been freshly covered in snow or dipped in white paint. If Gaudi or Dali were Buddhists, they might have imagined a surreal vision like this.
This unique architectural ensemble is much more than some pretty ornate white buildings. The place is loaded with bizarre features. You know right from the moment you drive in and are directed to the parking lot by traffic cones topped with red skulls that all is not normal here. Spanish moss-festooned severed heads hang from tree limbs as you make your way to the central temple. Then you cross a white bridge guarded by demons. The bridge of the 'cycle of rebirth' allows you to avoid temptation and desire by rising over a moat full of hundreds of ghostly pairs of hands reaching out in despair like a scene from a Breugel painting.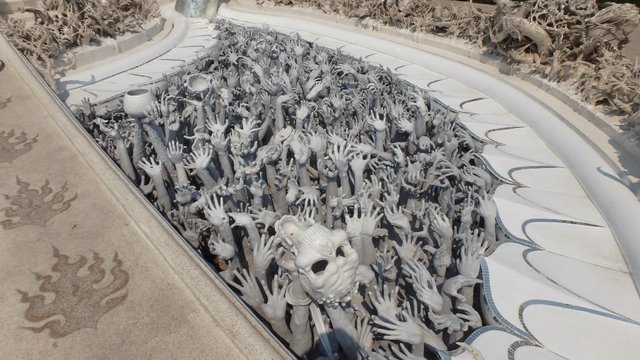 There are Buddhist deities and Naga serpents everywhere, studded with countless fragments of mirrored glass. Ahead lies the main temple with its classic Thai three-tiered roof. Inside the temple, nothing is white. Covering the walls and ceiling is a tormented mural of flames and demons, interspersed with dozens of mankind's most iconic and 'sinful' creations: there are scenes of the Twin Towers with a gasoline hose snaking through it. Interspersed throughout are dozens of worldly figures such as George Bush, Osama Bin Laden, Michael Jackson, Darth Vader, Spiderman, Superman, and even a couple of 'Angry Birds.' That epitome of worldly desire, 'Hello Kitty' is definitely on the roster!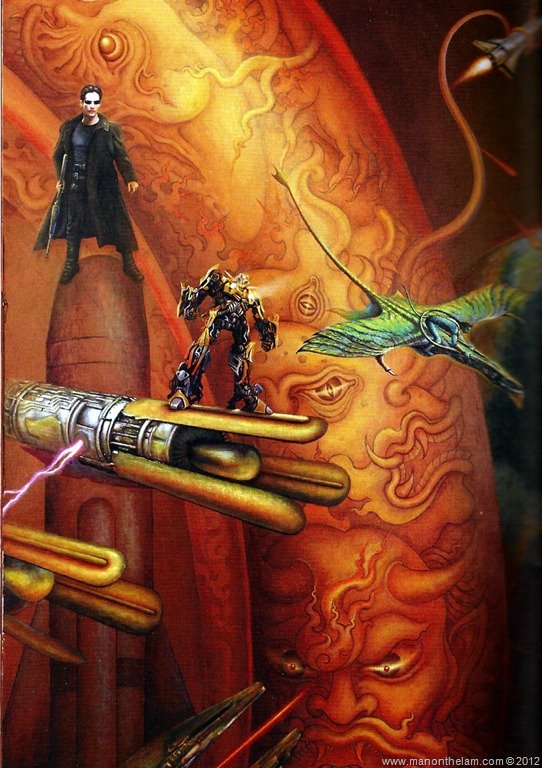 This amazing complex is the work of one man, Chalermchai Kositpipat. He is not well known in the West but is one of Thailand's most famous artists. It's estimated that he's sunk well over a million dollars of his own money into the project, a work which he hopes will earn him merit within the Buddhist system. The complex is his personal offering to Lord Buddha, an action he believes will give him immortal life. He allows donations but nothing more than about $300 lest he be swayed by rich donors.
Traditionally, Buddhist temples incorporate a lot of gold, so Chalermchai decided to make his temple white to reflect the heavenly purity of Buddha. The Wat was opened to the public in 1997 and has been steadily added on to since. He estimates that the project won't be finished until 2070.
Everything in Wat Rong Khun carries deep religious symbolism. Many of the messages carry a common theme of escaping desire, greed, and passion and move towards the sublime through Buddhist teachings.
Next to the temple is a center of learning and meditation for devotees of the Buddhist faith. Another building houses a gallery displaying hundreds of the prolific artist's paintings.
In May of 2014, the temple was heavily damaged by an earthquake. Chalermchai decided to close the building and demolish it for safety reasons, and never rebuild it. Fortunately, an engineering team inspected the temple and deemed it structurally stable. Chalermchai reopened the building and continues on with his vision.
If a quake wasn't enough of an obstacle on his path to immortality, an incident in the restrooms last month caused quite an international stir. Some Chinese tourists 'desecrated' the toilets in ways too sordid to describe. The artist didn't react well and denied entrance to all Chinese visitors. He relented a few hours later when the press caught wind of the incident. Now tour leaders are responsible for ensuring the cleanliness of their charges.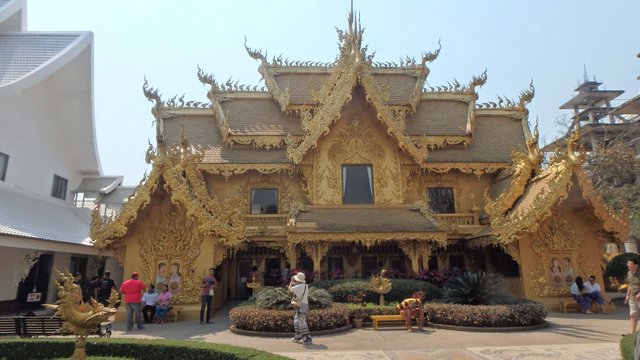 The restroom alone would be worth visiting as it's a beautifully ornate golden structure. Chalermchai chose a gold coat to symbolize worldly desire. Many consider this work of art to be Thailand's most beautiful restroom building!