Vapaée - first Telos DEX
Introducing Vapaée DEX
first Telos DEX completely on chain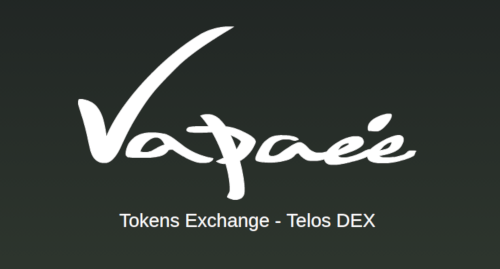 vapaee.io
Intro
As you may know by now, I'm the one behind the Cards & Tokens, which is composed by four different modules. One of them is called Vapaée Tokens (contract name vapaeetokens) and it implements all kind of token related services, INCLUDING EXCHANGE !!.
Last Worker Proposal
Last month I introduced a worker proposal to get funds to buy the resources for this platform and it was approved... So, THANK YOU VERY MUCH to the TELOS COMMUNITY for supporting this project!!! Now I have enough resources to deploy the four contracts on Telos blockchain so it's my turn to return some value to the community.
We need a DEX on Telos
A few days after I released the last WP, I was talking to Douglas Horn from GoodBlock.io and I was saying to him how difficult is, for an indie develloper like me, to get one Token (specifically CNT in my case) listed on a regular exchange. So he dropped the following comment...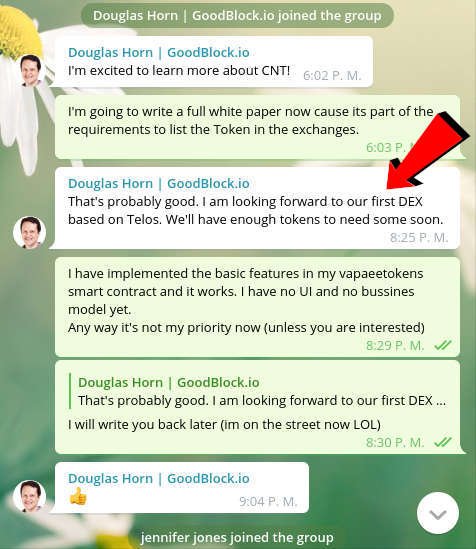 telegram link
... to which I never wrote back, until now. The priorities has change and we need a DEX on chain so that the entire Telos community can benefit from it. That's why I decided to quit trying to get my CNT listed on third party exchanges and create our own DEX on Telos.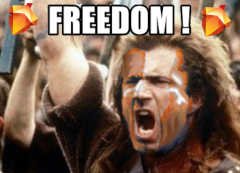 ... LOL!! sorry for that...
---
Vapaee.io
first DEX on Telos blockchain
vapaee.io
Alpha version release
It's finally online for everyone to test it. Right now the alfa-v1.0.7 version was released and deployed on Telos Mainnet. This version in completely functional but is still in alpha (we need some testing and a good graphic chart for the website).
Fake Tokens
All the Telos alt-tokens are already registered but you will no be able to trade them yet. For that, I've created 6 different FAKE TOKENS (plus one FAKE TLOS) that are registered as well but they are enabled to be traded.
Current features - How to use it?
You can Login with Scatter and go to account page. There you can claim some FAKE TOKENS that act like any normal token, except for the fact that anyone can "claim" (issue) any amount of tokens. They worth nothing but are useful for testing !!!
Remember that there are 6 FAKE TOKENS and one FAKE TLOS to simulate real TLOS. You can claim both.
Once you have your fake tokens, you have to deposit any amount into the contract (it's a normal transfer with memo: "deposit"). Then your 4 digits tokens converts to 8 digits tokens allowing much more precision to make trade orders.
Finally go to trade page and select the token you want to trade and make an offer like any other exchange. It should be very intuitive but I'm very open to suggestions!!
When you think you're done, return to account page and withdraw all your tokens almost instantly, without any requirements or delays !!!.
Screenshots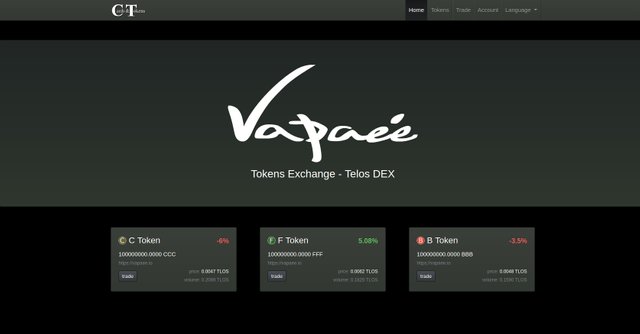 Home page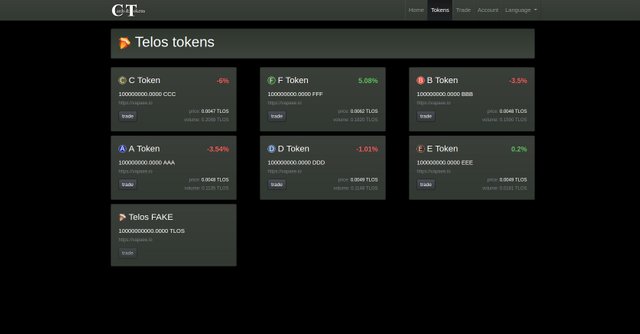 Tokens listing page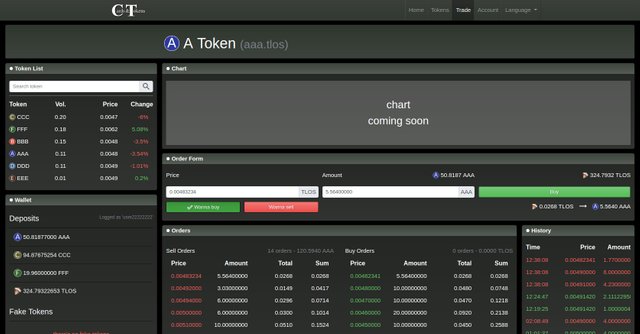 Trading page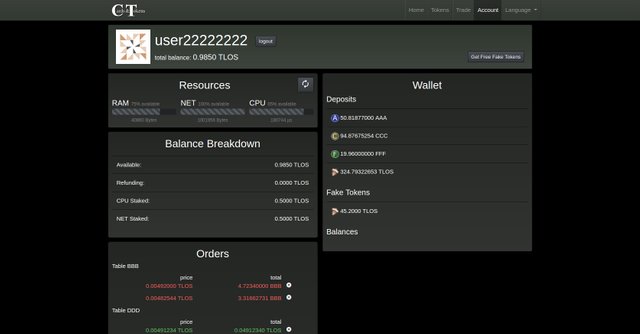 Account page
Next Worker Proposal
I will write a new Worker Proposal to ask for funds to finish this work, plus adding a lot of killer features (like auctioning, USD price for alt-tokens, create your own token webform page, and more). Plus, possible work in coordination with @louisthomas to create a review video (that will bring a lot of attention to the blokchain) about the hole Cards & Tokens platform and this particular DEX first module vapaee.io.
Thanks
As usual, thanks to all of you out there supporting my work. Thanks a lot to the Telos Community for being such a great group of humans to work with. Their support means a lot to me, and I'm willing to continue working hard to make this blockchain a real success !!!
With the support of all of you, Telos will be an EPIC WIN !!!
GO Telos !!!