Telos Central – March 2019.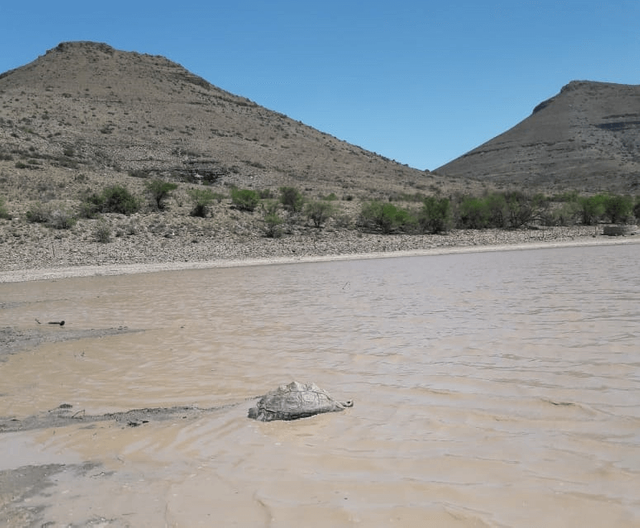 A tortoise going for a swim in the dry Karoo basin in South Africa.
Infrastructure.
Telos Central invested in bare metal servers for both the MainNet and TestNet.
We believe that Telos has a bright future ahead and we're invested in Telos for the long term. Investing in hardware infrastructure was just the next natural step.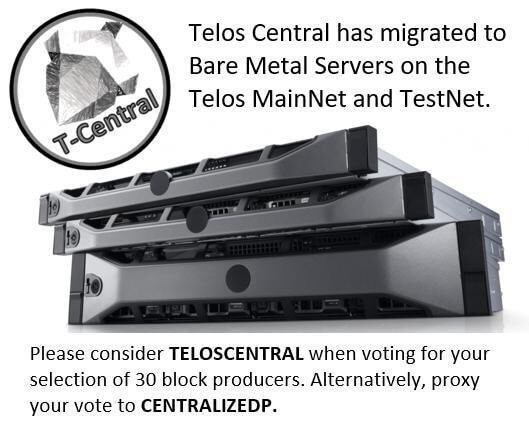 We're in the process of optimizing the CPU execution times which should be reflected on the next rotation, if not than latest by the one after that. Currently, our servers are processing blocks at a rate of 3.5 ms. We would like to see that figure drop to below 2 ms and as close to 1 ms as possible.
Telos Central Web Directory.
We've seen tremendous growth in the Telos ecosystem during the last month and we've listed some great links and added new categories to the Telos Central Web Directory.
New categories:

Arbitration
Proxies
Snapshots
Software
Tools
Worker Proposals
We received feedback and realized that the styling of our website was not for everyone, so we decided to add two new Themes. We're always open to more feedback and suggestions on how we can improve.
Arbitration
If you had an EOS Genesis account, you should have an Ethereum public key linked to your EOS and by extension, Telos account. If you lose control of your private keys, you can prove that you're the owner of the EOS and Telos genesis account by proving ownership of the Ethereum account by making a transaction.
The same proof of ownership structure is not in place for accounts created after the MainNet launch as they are not linked to an Ethereum account. Thus, a Cryptographic Fallback Protection plan was put into place. You can secure your Telos account by following the steps outlined in this Article, written by Douglas Horn from GoodBlock. The link is listed as shown in the picture below.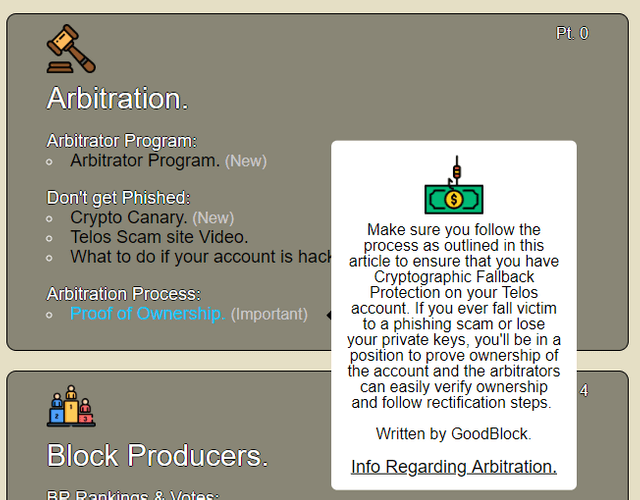 Proxies
Proxies have a huge influence on the Block Producer rankings as they control a big percentage of the overall voting power. Proxies are also vital to maintaining a healthy ecosystem as they do continuous analysis on the BPs and vote for the ones making positive contributions to the overall network. There are many ways that BPs can make contributions, some not always visible to the average community member. From this point of view, using a proxy is a great tool to ensure your votes have a continual, positive influence, while at the same time rids you from the time and work it takes to do research.
Research should be done however to ensure you use the proxy that aligns to your voting principles. Information on proxies that registered through the Sqrl wallet is readily available, but there are proxies that did not register through the Sqrl wallet, thus making it a little harder to get information on the proxy. We created this category so that you can see all the available proxies, as well as have easy access to proxy information.
Our proxy is called the Centralized and we have a very specific voting method, the details of which are listed on the proxy page.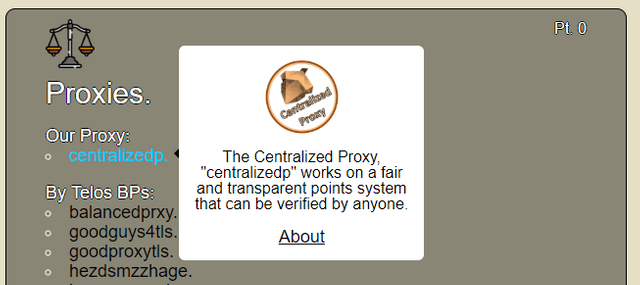 There are many more great proxies listed, so be sure to do some research and choose the one that suits you best, should you choose to make use of a proxy.
Snapshots
Apart from the Telos Genesis snapshot that was taken at block 6 million, monthly snapshots are taken to give developers the opportunity to use a more updated snapshot of the network should they wish to do an airdrop.
Thanks to the Chainspector tool, created by The Teloscope, the recorded snapshots can be reviewed by account holders to verify account inclusion and token balances.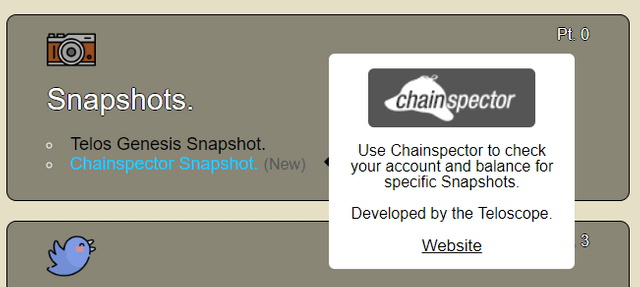 Software
We decided to add this category for anyone who wishes to set up a node on the Telos network. This category is more directed towards potential BPs or developers wishing to run a local node. The MainNet and TestNet Genesis.Json files can be downloaded from here.
Tools
Telos have seen some great tools being added over the last couple of weeks. We'll mention the 3 that we added to the newly created "Tools" category:
All three are great and have their own unique focal points. Telos Node Status and Telos BPStats play a big role in ensuring that BPs have their hardware infrastructure set up properly. Telos BPStats is still under development. Keep an eye on the tooltip of the link as updates are rolled out.
Chainspector focusses on voter analytics, worker proposals, arbitration elections and Telos snapshots. The site is under constant development, so watch out for more additions in the future.
Worker Proposals.
Worker proposals can have a huge impact on the ecosystem and jumpstart the development of projects for the improvement of the general network and community. It is your right as a token holder to vote for the submitted worker proposals that'll have a positive impact and lead to a potential increase in token price and user adoption.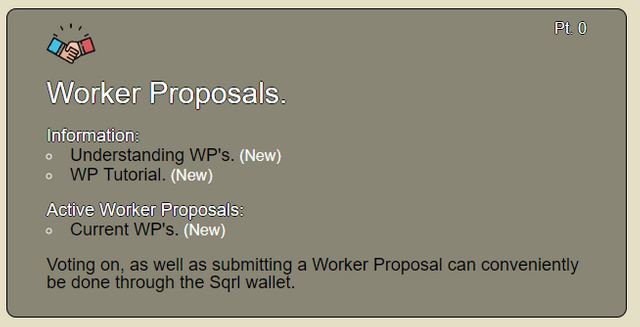 If you're new and not familiar with the Worker Proposal Fund, have a look at the User Guides, written by Douglas Horn from GoodBlock on the Understanding of Worker Proposals and the Worker Proposal Tutorial. These articles are a great source of information and are listed under the "Information" subheading.
Themes
Click on the "Themes" button and select the style that suits you best. You can also select between "Colour" and "Pencil" depending on your preference.
Retro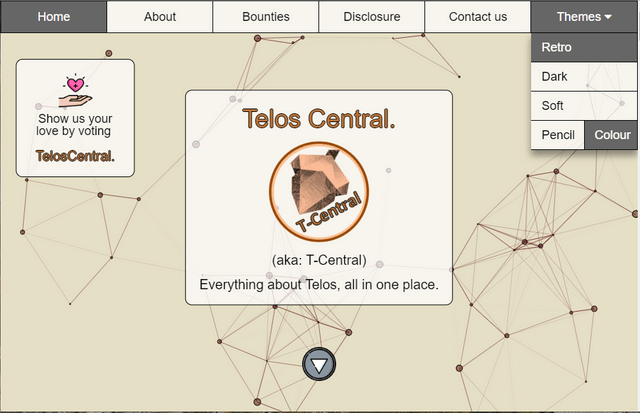 Dark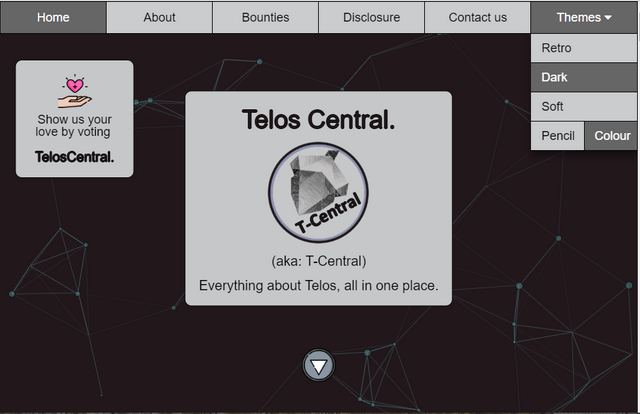 Soft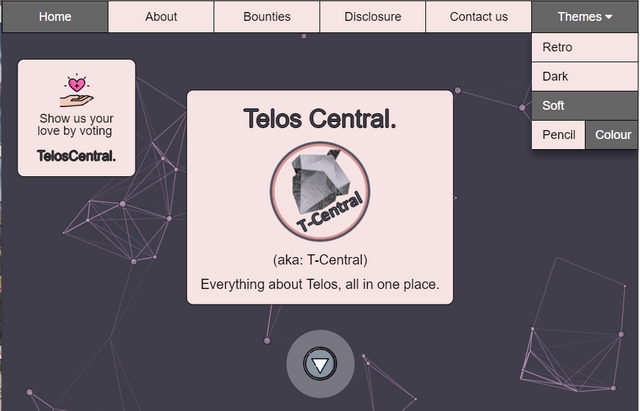 Airdrop Website
Are there any airdrops on the horizon?
We've seen this question asked, in different variations, many times. The Telos Airdrop website is there to give token holders a centralized overview of planned Airdrops, as well as serve as a platform for developers to get the word out about their projects.
If you are a developer planning to do an Airdrop, please submit the details on The Telos Airdrop Tracker website. Please contact us via our Telegram group, or here directly if you run into any issues. The site is under development, so we value any and all feedback.
Web Traffic
As far as web traffic goes, we're mainly interested in the number of unique IP addresses visiting the site. While Telos is still a relatively new blockchain, our focus is mainly on onboarding as many new users as possible, as well as give the community an easy to use, centralized source of information on all things Telos.
The unique IP visits to the website are as follows:
November: 107
December: 539
January: 1317
February: 900
While there is a decline from January to February, we're still excited about the number of new users indicating a growing community.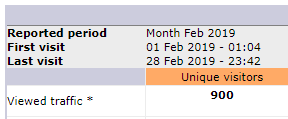 These statistics are a very positive sign regarding the interest and growth of Telos.
Although the number of unique visitors declined, web traffic continues to rise.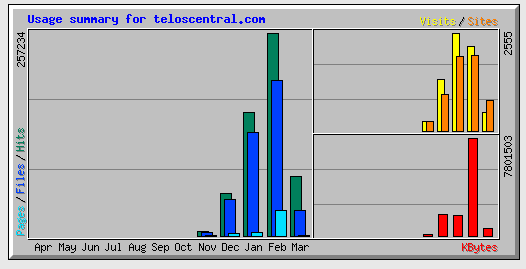 Donation Fund
Some dApps have referral programs and we are using these for our "donationfund" which you can support by using the following links on the Telos Central Website:
EOS Playstation
Telos Planet
More information regarding our donation fund can be found at Telos Central. Click on Disclosure and then on Donations.
Thank you for supporting us.
Conclusion
We're committed to helping make the Telos blockchain one that sets an example for the true potential that blockchain has to offer. We're thankful to everyone voting for us and we'll continue working to retain your vote.
Please consider voting for "teloscentral" or using our proxy "centralizedp" if you haven't done so already. Join our Telegram Group and stay up to date.
Stephan
Telos Central