How Do I Get My Hand On Every Digital Artist's Dream, a Wacom Cintiq?
The title has to be great and catchy isn't it?
Well, maybe it's not really every digital artist's dream...maybe it is just my personal preference...maybe?
This is a long post, keep reading if you'd like to know how i get my hand on this monster with a CHEAP price!
---
MY FIRST WACOM
WACOM is a trusted brand for graphic tablet widely used by digital artist around the world. Around 10 years ago, in 2007, i bought my very 1st graphic tablet by WACOM, it's called Bamboo Fun. It comes in 2 sizes, small and medium. Mine is a small one because i can't afford to buy the medium size at that time. Most Malaysian artist are poor u know, including me. People doesn't appreciate art so much in this country. Sad but true.
At that time, i have 2 options, either Bamboo Fun or the cheaper Genius graphic tablet. I've had an experience in using Genius in the company i previously working at, so i know how it's performance. At first i'm planning to buy the Genius, however it's out of stock at the shop i went to. No choice, i have to buy the Bamboo Fun after doing some calculations.
However, after using the Bamboo Fun, i know where the extra money goes to. It's really great and worth every penny i've spent! I'm not saying the Genius aren't good, but the Bamboo Fun is much more better. The design, the pen pressure, the pen itself are all great! I've made thousands of artworks using this little monster.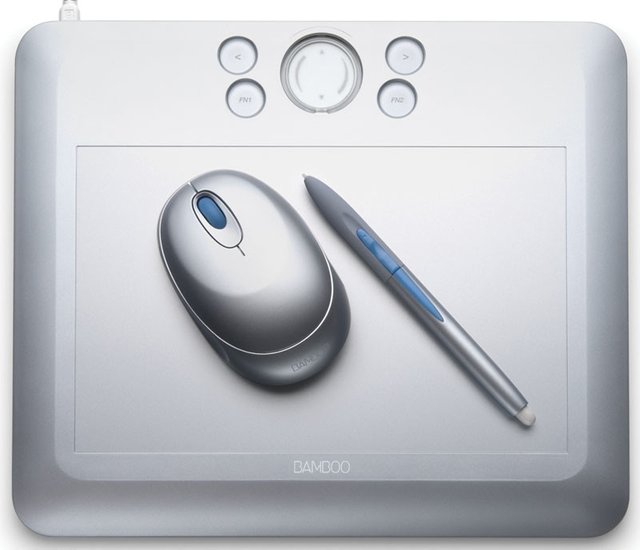 WACOM Bamboo Fun Small - Mine is exactly like this!
---
WACOM FAN
To cut it short, after years of using WACOM brand, i'm now officially a Wacom fan. It's the only brand for graphic tablet that i trusted. Until today, i have 6 model of Wacom Tablet in my possessions. They're Bamboo Fun, Intuos 3 Wide, Intuos 3 Large, Bamboo Pen Small, Intuos Pen Small and the latest is WACOM CINTIQ 21UX 2nd Gen. The Cintiq is different to other model because it was an on-screen tablet. Means, we can directly draw on the screen like we draw on paper. We will get the most control of our line work in creating arts.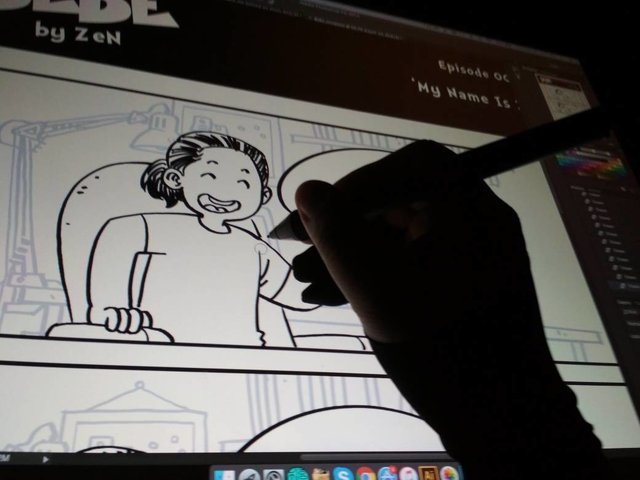 ---
WHY CINTIQ?
Yeah, why i bought Cintiq? Is the other Wacom Tablet not that good?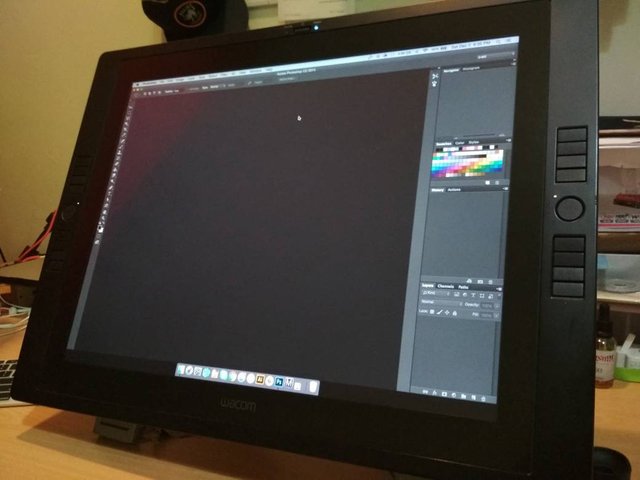 It's not like that, the other Wacom in my possesions are all good, even the 1st Wacom i bought, the Bamboo Fun are still working great until today BUT, i found out that it's really hard to produce a smooth and steady line art using another tablets other than Cintiq, it's possible but not easy. For another tablet, when we draw, our eyes are looking on the screen while our hand holding pen is moving on the tablet board, it's not natural. Cintiq in the other hand are not working like that because we can draw directly on the screen, our eyes and hands and pen are all on the screen. As mentioned above, it's like we draw on paper. More natural and more control over line art.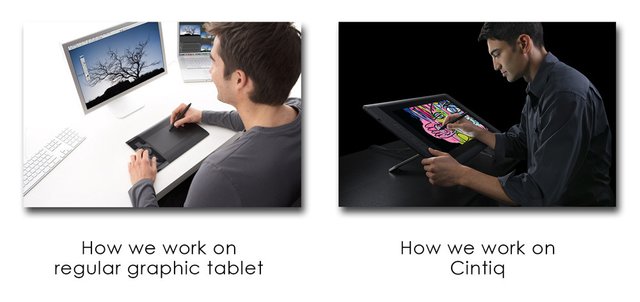 I'm also a concept artist for animations, film & games. Its no problem for me to produce regular digital painting using a regular tablets, in fact i'm still using them when i need to travel while doing my job. They're easy to carry because of their small size.
BUT lately, i need to do some jobs that required a neat line art and i need to do it fast. Long before digital, i did this kind of job traditionally, using pencil & pens on paper and i'm really good at that. I can sketch and inked hundreds of simple illustrations in a day. But when using regular tablets, i realize that my speed are all gone. It takes me all day long to finish the jobs. So that's why i've decided to buy Cintiq, because i believe i can do it faster when using it.
---
WHY OLDER MODEL OF CINTIQ IN 2017?
It's been months now that i'm using Cintiq, it works great and did what i expected. The Cintiq i bought was 2012 model, the name is Wacom Cintiq 21UX 2nd Gen. It's the last model before the HD line-ups went to the market. But why i bought it instead of the latest HD line-up?
OBVIOUSLY because it's CHEAPER! But, how cheaper it is?
At first it is a hard decision for me to choose which model to buy. As stated in my bio, i'm also a tutor in local college here in Malaysia, one of the subject i taught is Digital Art. In class, i'm using a Cintiq 22HD Touch as my main tablet. It is at this point i realize that i can produce some good line art using it. So, i did some research about the on-screen tablets by Wacom. They're all comes with high price tags, i will not buy them even if i can afford them. So i've expand my research to another brands. Now in 2017, there're many alternatives to Cintiq, so we have many options to choose. They're many brand out there like UGEE, YIYNOVA, HUION and such that offered alternatives to Cintiq.
After days of research and watching some reviews, i found out that the brand second to Wacom is Yiynova with the price tags of half a Cintiq with nearly similar specs. The problem is, there's not many dealers here in Malaysia and if there is, they have no tester units, so i can't test it out myself before buying. At this point, i really let go my ego as a Wacom user, i really want to buy this Yiynova, the model is MVP22U V3. It's also a HD model with 22 inch display, what a good deal compare to Cintiq.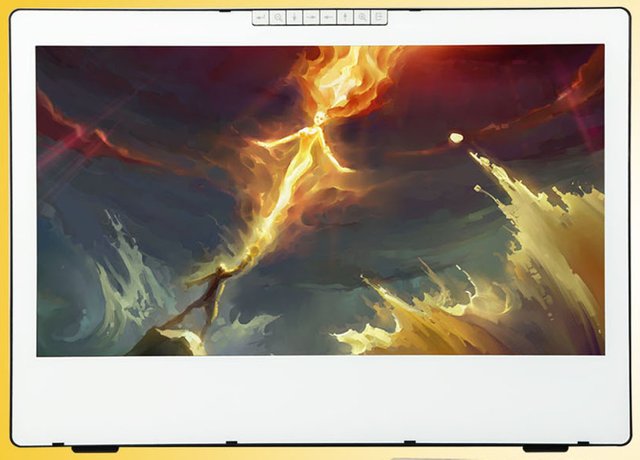 YIYNOVA MVP22U V3
Fortunately, after a few chats with my buddy, he said that he has bought the latest Yiynova a few months back, he is also a good guy to refer about the tech things. He said that the model he owned is the V3 model, he also said that he was surprise by how much the improvements compare to V2 model. What a good opportunity to test it out. So i went to his studio and test the Yiynova MVP22U V3 myself. Well, my opinion is, the feeling of using Cintiq is not there (of course, because it's not Cintiq!). So how now? Do i need to buy the expensive Cintiq? I'm willing to spent for the 13HD's Cintiq but it's too small for me, i need a bigger one but it's too expensive!
Then, this idea come up to my mind, even the Bamboo Fun that i bought in 2007 is still working great, why not i just buy the older model of Cintiq? The 1st model came up to my mind was a Wacom Cintiq 21UX, it's one of the older model in Cintiq's line-up. After doing some research, i found out that it has a brother, which is the Cintiq 21UX 2nd Gen. The difference is, of course the design, pen pressure, buttons, etc (u can Google it yourself). But the main difference is, the 1st Gen using Intuos 3 technology while the 2nd Gen using Intuos 4 technology. At this point, i've decided that this is the right choice! It's older model but it's a WACOM, a trusted brand for graphic tablets!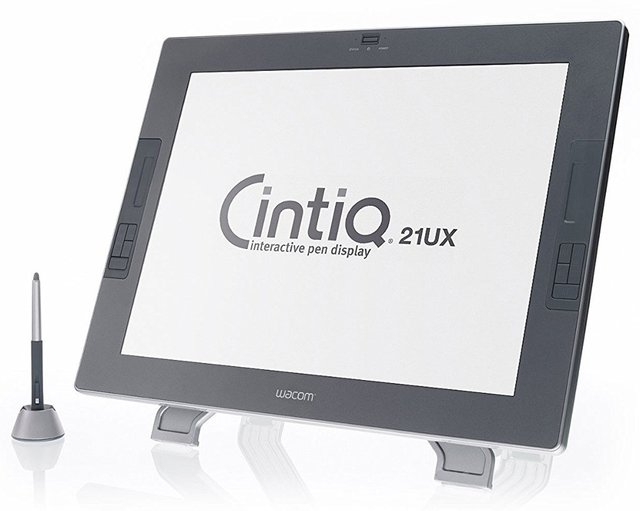 WACOM Cintiq 21UX 1st Gen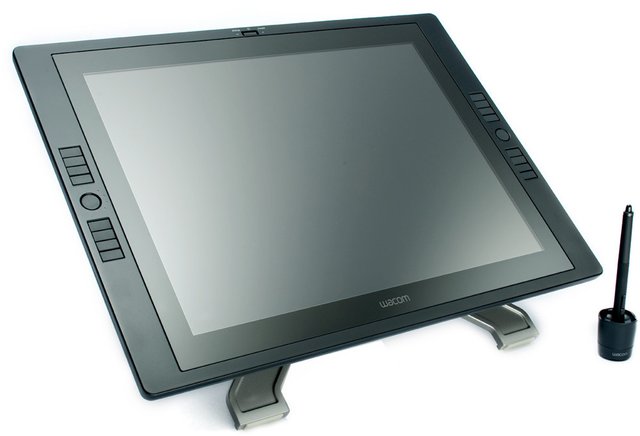 WACOM Cintiq 21UX 2nd Gen
I went to eBay and looking for it, and to make it short, i've found a very good deal there. In fact there's many good deals there. I've successfully bought a used Wacom Cintiq 21UX 2nd Gen in a great condition for only USD500 (it's around MYR2200) plus USD158 for postage (around MYR650) plus USD40 for import charges (around MYR160). The total is USD698 (MYR3100++ at that time, depends on currency rate). Good deal isn't it? It's about 1/4 of the Cintiq 22HD price.
This is how i get my hands on Cintiq 21UX 2nd Gen for ONLY USD500 (around MYR2100++ excluding postage & import charges). The rest is history...;)
---
Cintiq 21UX 2nd Gen VS Cintiq 22HD Touch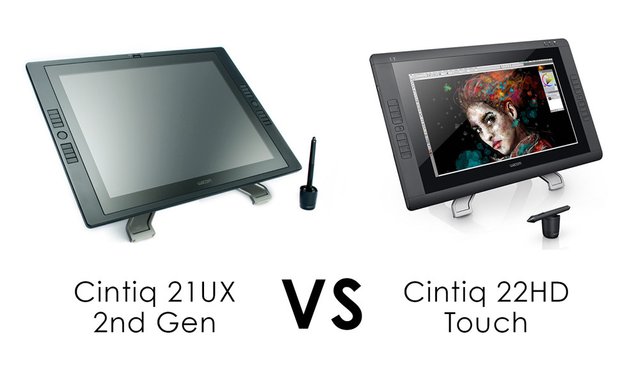 I ONLY can compare this 2 models because i'm currently using them, 21UX in my studio and 22HD Touch in class.
The main difference is of course the resolutions. One is regular and one is HD. The screen size? 21UX and 22HD Touch are both comes with 21.5 inch working space. However the 21UX screen ratio is 4:3 while the 22HD is 16:9...if measured by overall working space, the 21UX got a bigger area to work on.
The other big difference is, 21UX is non-touch, only working with pen, but the 22HD Touch comes with options to turn ON/OFF the touch input, so u can use it with your fingers like using iPad. Nevermind, i'm not using the touch function anyway.
At first, i found out that my 21UX produce a jitterly line art, but after installing the latest driver, it's all gone.
Trust me, it's not much difference in terms of feel & performance of using this 2 tablets. They're both by WACOM, only the specs and technology used are different. I'm not saying that my 21UX is better than 22HD Touch, of course NOT. The 22HD Touch is one of the latest line-up of Cintiqs, so it should be so much better. As for me, both are good products, it's depends on your wallet to choose which one to suits your need. Cintiq 21UX 2nd Gen is more than enough for me...;)
---
Before anyone said that i am a Pro-Wacom, i want to tell u NO, it's not. I'm using Wacom product mainly because it's good and all my opinion is based on experience of using & testing the units, but i REALLY hope that other brands can catch-up the Wacom technologies or do it better. The Wacom prices are outrageous for now, we need a real competitor to find balance on the market prices.
Last but not least, if u're using graphic tablets of any kind, don't forget to use this glove, other than to avoid the tablet surface from scratching, it can also cleaning up the surface at the same time while u draw.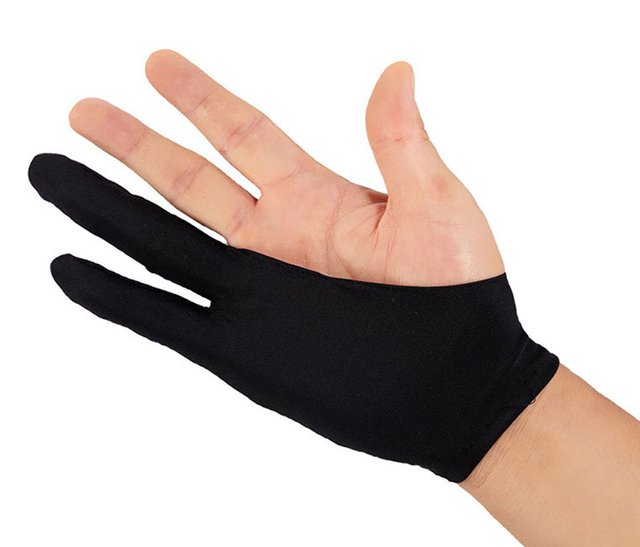 ---
Phewww...it's really a long post, i have no potato to give u but i hope that u can make the right decisions before buying a graphic tablets, because every penny's count! Hope it'll helps!
If u have any questions regarding graphic tablets, just let me know in your comments, maybe i can answer... ;)
Don't forget to upvote & follow me if u like my post!
Cheers~
ZeN