Nowadays, free apps rule the app market. About 94.24% of the app population in the Google Play Store are free apps. The fact that eliminating an upfront payment for users can give them a more welcoming impression than paid apps. This helps users gauge the app's features and services before committing anything financially. As said by Teut Weidemann in one of his conferences, "The later the player spends in your game, the bigger he ends up spending in total.", even though this is a reference to games, this can still be linked to other transactional apps like Grab, Booky, iFlix, and more.
The app monetization model is crucial to the app's financial success, however, there won't be any profit without any active participation from the users. A substantial amount of subscribing or paying users will be an essential as it can dictate the app's success or downfall. App installs would mean little for the publishers as the value circulates within app engagement and retention.
More Money, More Users
Studies show that the cost to acquire a user is around $0.50 – $1.50 per install and the cost to acquire a user who makes a purchase in an app is $64.96. Acquiring users will be costly for publishers but this potential investment can lead to a positive outcome. There can be multiple activities that publishers can set up to gather users.
Events can help gather enthusiasts and publishers alike as this can spread the news about the app's functionalities and services. Small group gatherings can be insightful as well as this can be a medium for collecting feedback and ideas about any app improvements.
Promo codes and reward systems can be used for potential partnerships with other brands as sponsored content can bring in additional users. Similar to Grab's Reward system with offerings to discounted rides or brand coupons, users will have an added incentive or motivation to continue using the app.
User referrals is a great reward system that benefits users and publishers. A system where current users are given app incentives for bringing in new users. A cycle of benefits and user acquisition.
As acquiring users can be challenging for publishers, retaining them can be even harder. As seen from the chart below, the average app churn rate increases gradually over a time.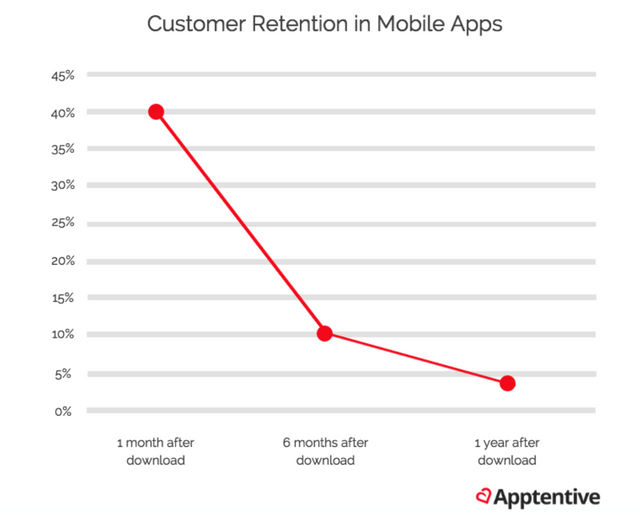 Customer retention rate over a 1-year span from Apptentive.
Losing users can be caused by different types of app problems (poorly placed ads, faulty user experience, and so on). Basically speaking, the app must be in optimal condition upon launch with only minor bugs to be reported. Investing a lot in great app quality assurance pays its dividends in the long run.
It's important to make a great first impression as that usually sticks with the users for a really long time. The onboarding flow of the app must be smooth, clear and of proper function as this is the best chance for the app to retain users. A combination of user engagement and a great onboarding flow is key for the app's success. A method like push notifications helps re-engage users to the app. Personalizing the onboarding process assists in gaining retention. When these methods are implemented correctly, the user's lifetime value will significantly increase thus resulting in great returns for the publisher. However, too much of those methods could hamper any efforts of acquiring and retaining users.
Monetization Process
With free apps being the "norm" of the app market, incorporating monetization strategies would have to come from within the app. Whether through in-app transactions or advertisements, this additional stream will provide a consistent source of revenue for the publishers.
Implementation is key here. A barrage of ads will never do anyone good. Weak subscription packages will not get any attention. The app must always be inviting to all users. A friendly mixture of ad types and transaction models will be a more encouraging experience for the users.
For in-app advertisements, publishers would need to be careful with its placements. Pop-up ads can be really annoying and will drive users out of the app. Using Native Ads provides a more subtle appearance than the other ad types. Native ads are integrated into the content of the app to have a less disturbing and more manageable ad experience.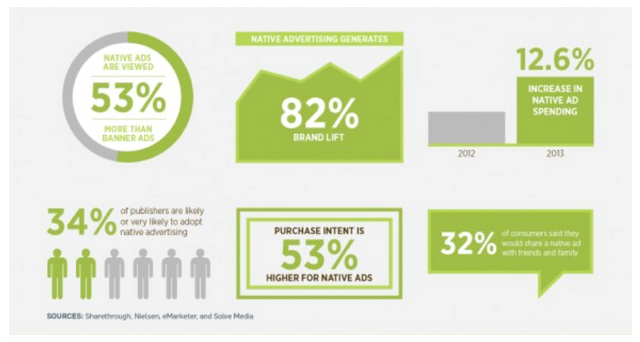 On the other hand, there are a lot of apps that doesn't use ads (e.g. Grab, Twitter) as incorporating them will disrupt the app's desired output to users. Instead, they use transactional monetization models that provides users a much better app experience.
In-App Purchases are generally purchases made inside the app. Publishers sell physical or virtual goods within the app and this can provide opportunities for other brands to sell their items as well. This setup can be seen throughout a lot of different types of apps.
Paywalls (or subscriptions) are similar to the freemium model as users can experience the app's service first, but then users need to subscribe or sign-up to progress and unlock limits in the app. This model also gives publishers a steady and ongoing revenue stream due to auto-renewals. Apps like Netflix has created high-quality and exclusive content that made users want the content. The video streaming app counted around 125 million subscribers as of March 2018.
The Freemium model offers a try before you buy approach. This has been proven to be really successful (with the likes of Spotify and Slack garnering 70 million and 3 million paying users, respectively). This gives users a pressure-free environment where they can just enjoy the free benefits. People love free stuff! And when people start loving something, they share it with everyone they know. As said by an article from Ramona Sukhraj, "The magic of the freemium business model is its ability to grow a business at a rapid-fire pace through advocacy."
Publishers make use of different combinations of monetization models in an effort to acquire and retain users. Succeeding in the mobile app industry is a daunting task that is, without a doubt, achievable when executed well.
Publishers connect with users to be able to provide and offer them services, entertainment, and many more. Users enjoy provided content and pay for excellent service offerings. All of this is made possible by one major factor – The Internet.
Now, what if there is no internet to connect everyone and everything? Monetization models would not be able to work, a limited range of revenue streams, limited market, and so on. How can publishers connect to the unconnected?
Free Internet Makes Sense
At this day and age, almost everything revolves around the internet. About 4.1 billion people are connected to the internet and for a fact, the average U.S. user spends more than 4 hours a day on their mobile phones accessing the Web. Research from Flurry, an analytics solutions company, states that 92% of the time spent on mobile devices are on apps, with 8% only belonging to browser activity.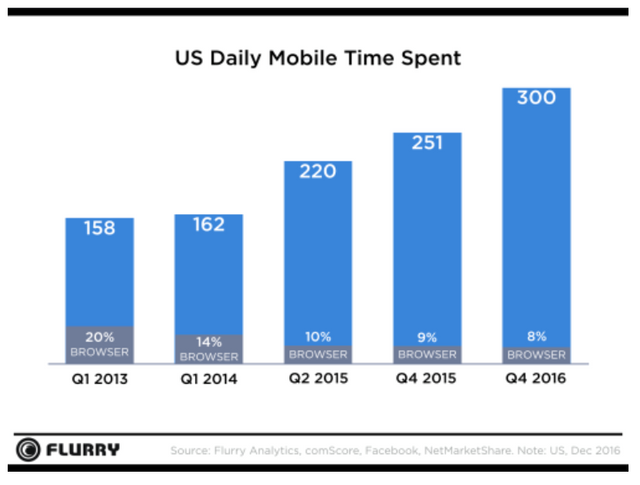 The problem is that there are still a lot of users that cannot afford internet access. The cost to be always connected is 6 times more than what the average user can afford.
As publishers, they want their app to be accessible to all users 24/7 and will provide free data for users to operate the app. However, current restrictions only allow big publishers to work with Internet Service Providers (ISPs) and buy data in bulk. That leaves tons of other publishers helpless in providing free data for their users.
This is the problem Open Data Exchange (ODX) wants to solve. ODX offers free internet access for users and a marketplace for publishers and ISPs for buying and selling data. Offering fast and reliable connections will help the emerging markets bloom and thrive in the current ecosystem of the connected world.
Conclusion
New technologies, like the Blockchain, offers a new world of possibilities for publishers, a better environment for publisher-user engagements. Taking advantage of new resources or technologies can pay dividends for publishers as a new crowd of users look to capitalize in fresh apps that are capable of being the "Next Big Thing."
Posted with permission from ODX Pte Ltd. View the original article here:
What Challenges Do Publishers Face in Monetizing Their Apps