Background & Diagnosis
At some point Macbook owners are going to come across an issue whereby the Mac OS's Kernal Task Process will grab so much CPU resource that your machine becomes unusable.
Often the issue (from online research and my own experience) will manifest itself when the machine is running peripheral devices such as Monitors, Speakers, Video Cameras etc and the issue will improve once those devices are removed.
This is what happened to me. As I unplugged the monitor and other devices the issue disappeared, but it left me unable to use my Macbook with multiple screens which was a real pain.
I tried changing video display settings.... no luck. There were other suggestions online that required some pretty hard-core changes to Mac system files which I ran from like a screaming child.
However the issue was so bad at this point that I was considering moving back to a Windows machine so I could get some work done (Ok it wasn't a 'very' serious consideration as it happens).
Lots of online articles were suggesting the issue was heat related, I didnt see how that could apply to me as the issue manifested itself when peripherals were being used and disappears when they weren't. However desperate at this point I purchased a cooling pad which helped a little, but not much. The photo is the Havit 12"-17" cooling pad. It's very inexpensive and does work, so it is in use now, but it didnt solve the issue outright by itself.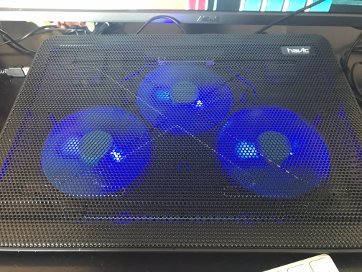 My Solution
Well in my case the issue did indeed turn out to be heating. Specifically the cooling ducts on the new Mackbook models. As shown here there are two sets of channels on the underside of the machine. Using a wooden toothpick I carefully removed a surprising amount of debris from these ducts.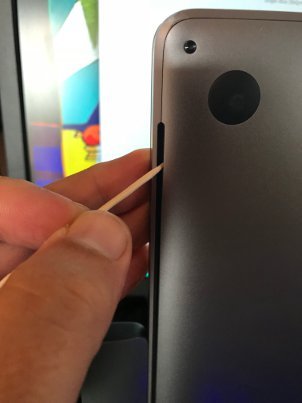 I returned the Macbook to the cooling pad, plugged in all the peripherals and the Kernel Task never rose above 13% (at least when I was checking it).  So far, two days after implementing this fix I have had no repeat of a high Kernal Task CRP Percentage which is usually sitting at under 10% of CPU resource.
Why the issue should be exacerbated by Peripheral use I do not know, and thats what threw me off seriously looking at the heating issue when the problem first appeared.
Obviously this may not work for you, but it caused me such a headache I though it best to share with others.

Hope this Helps