SpaceX signs up mystery passenger for first trip around moon
The trip will be aboard the Big Falcon Rocket, still in development.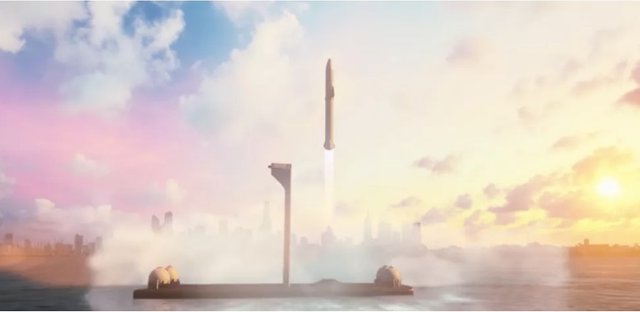 SpaceX will send its first passenger around the Moon in a Big Falcon Rocket (seen in its original form).
SpaceX has a passenger for the first private trip around the moon on its Big Falcon Rocket.
But it's cloaking the news in a bit of mystery for a few days. The rocket company, founded by Elon Musk, will reveal the passenger's identity on Monday.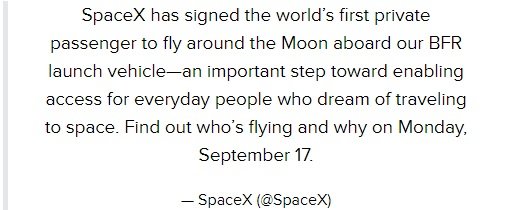 "SpaceX has signed the world's first private passenger to fly around the Moon aboard our BFR launch vehicle—an important step toward enabling access for everyday people who dream of traveling to space. Find out who's flying and why on Monday, September 17," the company .
After people responded with questions, Musk weighed in and that the render of the Big Falcon Rocket, which is , is new and designed to resemble one seen in .
When asked if he himself is the passenger, he hinted that the mystery person is Japanese by .
SpaceX has established its bona fides in the aerospace business by transporting supplies to the International Space Station and by completing the tricky maneuver of after launch so that they can be reused. But, along with companies like Virgin Galactic and Stratolaunch, it's also blazing a trail toward a new era of commercial spaceflight.
And its ambitions extend even farther. Musk has designs on sending spacecraft to Mars and establishing a colony. there.
SpaceX for the announcement, which is scheduled for 6 p.m. PT on Monday (9 p.m. ET / 2 a.m. Tuesday GMT / 11 a.m. Tuesday AEST).
: SpaceX reveals where the first people it sends to Mars will live.
: Stratolaunch's supersized aircraft could someday launch a space plane to orbit.
https://www.cnet.com/news/spacex-signs-up-mystery-passenger-for-first-trip-around-moon/