Let's Discuss Xaya: A Secured, Autonomous, Decentralised and Flexible Platform for the Future of Gaming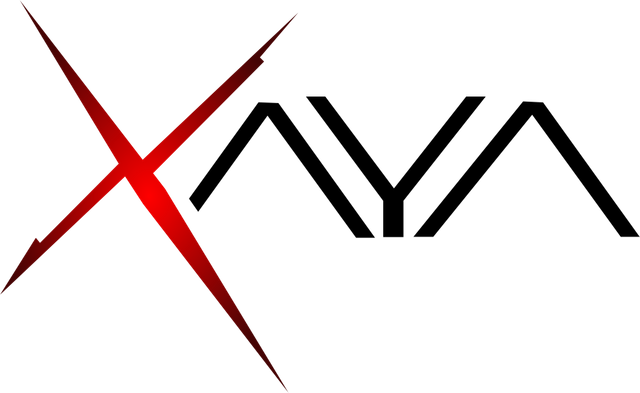 INTRODUCTION

There's this common saying that "All works without play makes Jack a dull boy".
However, this doesn't apply to Jack alone, but to all of us. This is why game has been a major competitive recreational activity for the entire human race at large. A lot of people including children, youths, and even adults recreate themselves just by playing that soccer game which is like a representative of the real life soccer on screen. They get to shoot at zombies on the screen just in the name of having fun. The main idea of gaming is the driving force built around the quest of achieving some set of tasks, and deriving fun from it consequently.

Gaming Markets Overview
The video gaming market is very profitable and is estimated at $108.9 billiion per annum. This is partly made possible due to a large figure of the mobile gaming estimated at $35.3 billion, and the ease of accessibility of computing platforms to larger human populations due to the lowering cost of the computing platforms. There are millions of players for both subscription and freemium model games for some of the leading games. Revenue are well generated through freemium models. Players are allowed to play for free or improve their performance within the game by making payment.
Cryptocurrency Markets Overview
Irrespective of the challenges (including usability and regulation) faced by the proponents of cryptocurrency, The use and acceptability of cryptocurrency is gaining more ground day by day. The core technology of blockchain which serve as the basis of Bitcoin and the alternative 'altcoins' is being proposed for series of applications in sectors such as defence, banking and others. The number of users that cryptocurrency have and how much they are used determines the value of cryptocurrencies. Which implies that value of currency goes up with many users and a high 'velocity of money'.
Now, Let's imagine bringing about competition and cooperation in an unstoppable decentralized virtual realities which doesn't work based on any server among millions of players across the globe. The total democratisation of game development will be required for efficient and smooth transformation of the gaming industry. However, there have been some challenges that developer and gamers face in the gaming industry which have been a major barrier to them in one way or the other.

The Challenges Gamers and Developers Face

Developers: Time and cost have been a major constraint for many of the developers. Many of the developers find it quite difficult to reach the gaming market because of the constraint of time and cost. There are also scaling challenges associated with asset storage ledgers and cryptocurrencies, as well as underestimated technological challenges in relation to scalability which are in association with increasingly complex and rich universes within the games of MMO.
Gamers: Gamers face two different challenges. The first challenge is that an asset storage ledger which is truly scalable and real or close to being real is needed or required for the gamer in any games they play whatsoever. The second challenge is a basic requirement of the need to create a means of ownership management and sharing in increasingly complex game universes.
These challenges has created the opportunity for original creators of Blockchain gaming, experienced developers, and experts of business and blockchain of the assembled team of Xaya to propose a new frontier to make use of their insight, experience and available design to readily provide solutions to the stated challenges as above.

What is Xaya?

Xaya is a cryptocurrency, as well as a blockchain-based gaming and virtual item trading platform. The Xaya platform operates bases on the basic know-how developed across the experiment of Namecoin and the Huntercoin. The developers of game will be able to create their own world of game that align with their project and vision, through the utilization of suitable tools and infrastructures that will be made readily available by the Xaya platform.
Watch this Video - Video Credit

Huntercoin - A New Frontier in Cryptocurrency and Blockchain Based Gaming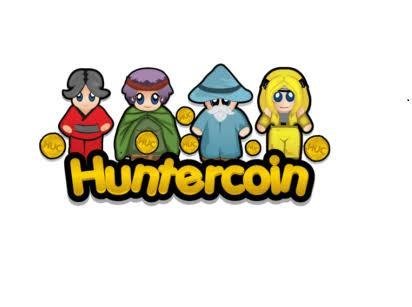 The Huntercoin experiment was successfully deployed by the team of Xaya in 2013 immediately after its development. The achievement of some notable features were marked by the team of Xaya in that year. These achievements includes and not limited to the following:

Image Credit
Huntercoin was marked by a significant success. This is because despite a low profile launch, there is more than 35,000 characters interacting simultaneously in the game within just a few months of launch. It was serverless and totally autonomous.

The Solution by Xaya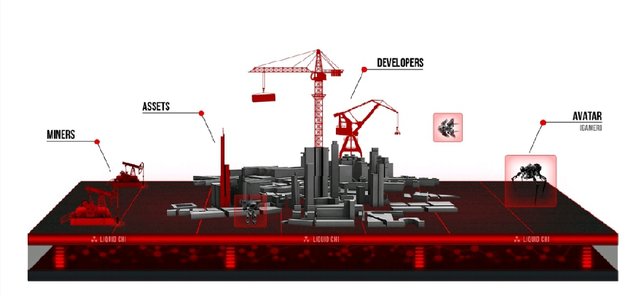 Image Credit
As I said earlier, the developers of game will be able to create their own world of game that align with their project and vision, through the utilization of suitable tools and infrastructures that will be made readily available by the Xaya platform. The technology of Xaya can be totally leveraged by the game developers for them to build decentralised games and Issue a currency of their own game that can be traded for CHI or other assets or coins of Xaya controlled by the blockchain of Xaya.
The major problem of scaling for blockchains and most especially massive game worlds has been overcomed with major progress in Ephemeral Timestamps and Trustless Off-chain Scaling for games (Channels of games) by the team of Xaya.

Model Characteristics
This is a description of the basic characteristics of
Xaya
Solution to the major challenges of gamers, developers and supporters.
For Gamers


Image Credit
For Developers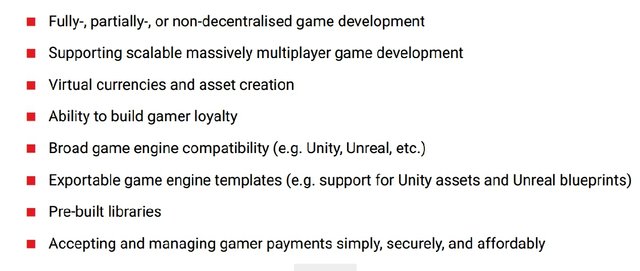 Image Credit
For Supporters


Image Credit

The Proven Technologies Upon Which Xaya Operates and Key Intellectual Properties

The cryptocurrency of Xaya will operate based on a blockchain controlled by proof-of-work (PoW). The data of games ( such as ownership of worthy items) that are very significant, as well as the accounts of player are made permanent with a decentralised value/name store built into the chain in a direct manner. Due to this, the intellectual property and experience acquired from Huntercoin and Namecoin by the team can be fully leveraged.
The team of Xaya developed some outstanding innovations that serves as a plus to achieving a successful goal and these innovations includes:
Atomic transactions: In 2013, the members of the team of Xaya put forth a technique called atomic transactions as a go before in Namecoin, which will be made readily available to utilize in Xaya. It will bring about trustless trading game-specific currencies, items of games and accounts of game for CHI to bring forth an economy that is flourishing on top of the Xaya platform and make certain the demand for CHI.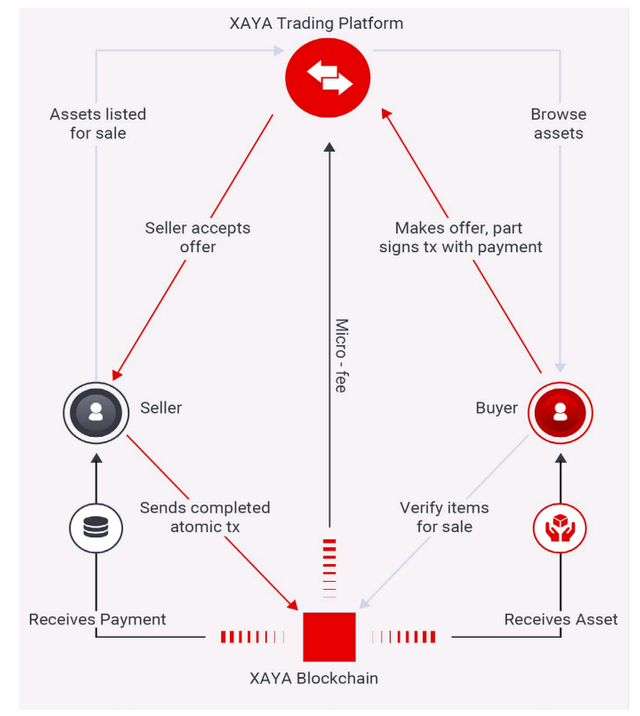 Atomic transactions - Image Credit
Game Channels: An extension of the channels of payment in Bitcoin that are capable of being applied to game moves between more than one player off the blockchain has been developed. As a result of this, Xaya can be easily scaled to its global target size. Considering this, The enablement of near-real time gaming which doesn't have any limit on the blockchain can be achieved when the same concept is used for shards of a world of global game.

Ephemeral Timestamps: There is need for transactions to be made on the main blockchain in order to resolve any disputes that arises in a game channel. The ingenious connection created between Merkle-ized hash commitments, fraud proofs, time-stamping property of a blockchain and amortised mining incentives has led to the development of a new protocol that makes sure that the occurring transaction fees will always be a profit for any participant that is honest.

Technical Details - How Xaya Platform Works

Similarly to Coloured coins, tradable in-game items and game accounts will be implemented by Xaya blockchain based on the technology of Marching that has been proved. This ensures secure tracking of ownership in a way which is decentralised on the blockchain. This is made possible by making a transfer of the payment of a sold item and the sold item itself in CHI between the two persons performing the trade in a single (atomic) transaction. For both transfers to be done or not, there is need for both parties to sign the transaction.
A turn-based game can be carried out between two players in a way that is not trusted through the implementation of game channels. This is done without recording all moves permanently on the blockchain but on a "side chain" that is private. Forging or backward changing of moves in time is prevented by hash-chain structure and Digital signatures.
The agreement of both players on the outcome of a game, technically means that the prize coins that resulted from that game can be shared by a 2-of-2 multi-signature transaction. If the players doesn't agree, then the data enclosed within the sidechain gives an honest player the opportunity to prove to the world that she's not wrong with reference to the rules of the game and still claim her rewards. An example of game channels is shown in the figure below.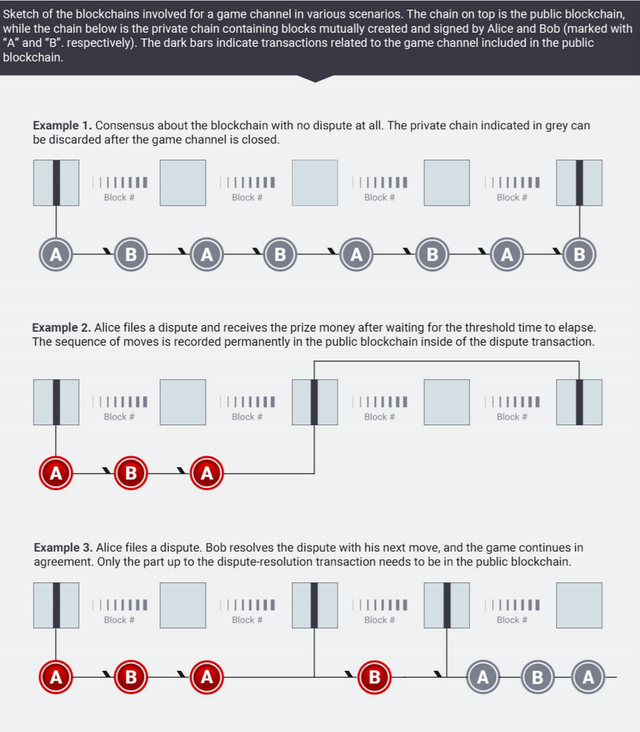 Game channels - Image Credit
The main issue that the original channels of game is having is that: A game will continues as before if a dispute is resolved after it is raised. A player who want to create a confusion in the game created on the blockchain of Xaya can bring up disputes and resolve it. This kind of behaviour it irrational with reference to the theory of game since it cost them fees that are not necessary, but this is a strategy can be utilized to irritate players that are honest and create a disturbance in the game platform.
Ephemeral timestamps is the solution to this problems. They have the following useful two characteristics:
Nodes can send some data D to be timestamped at time T by the public P2P network and blockchain. Due to a Merkle construction, this does not cost any blockchain space or transaction fees per timestamp. Miners still have an economic incentive to process these timestamps.Whitepaper, Page 17
Later, and only if necessary due to a dispute, such a timestamp can be used to prove to the P2P network that another game participant could have known D at time T. This, in turn, can be used to prove that this participant did not act in a game channel according to the rules, and thus claim payout of the prize money. Only this act of actually using the timestamp requires a transaction on the blockchain and transaction fees, which are then offset by the prize money that is guaranteed to be paid out. In other words, the cost incurred by the dispute will always be paid by the defecting player in the end via awarding the game prize to the honest player.Whitepaper, Page 17
With these properties, game channels can be improved upon with the help of ephemeral timestamps so that an honest player will always make profit in money due to a dispute.

Xaya Upcoming Games/Partners

There are two major releases in the works of Xaya. Xaya is preparing to populate their platform with games alongside the live mainnet that have been launched already. Xaya blockchain project is a reality and not an ordinary concept.
Treat Fighters
Treat Fighters is a game devised in the universe of Canedoom! and it is set to launch within a short time. Waste no time in fabricating your best treat fighter and compete in a battle with others. The running of the game will be completely based on the blockchain. Players should be expecting an uptime of 100% in this game genre due to the fact that nodes is acting as servers.
Soccer Manager
One of the most popular games across the globe is soccer manager. This game is all about managing a team of soccer. The partnership of soccer manager with Xaya will make it quite possible for real ownership of in-game assets (which includes but not limited to currency, stadiums and players), and provably fair gameplay to be readily offered to players by soccer manager. The partnership will bring about the immediate exposure of Xaya to lots of players, consequently providing a platform for soccer manager to give out a gaming experience of complete blockchain.
Players of the soccer manager powered by the blockchain of Xaya can come as close as possible as being a real manager of a soccer team as it may be in real life.The way people game and carry out a transaction in game assets will be greatly influenced by the experience of Xaya, in combination with their ability to build a partnership that is not weak. The top managers in the soccer manager will be able to profit from wealth gained from their efforts.

Types of Games Supported by Xaya
A developer can build or access the following types of games on Xaya
Turn based games
Collectable card games
Real time Strategy (RTS) / Multi-player online battle arenas (MOBA)
Head-to-head games

Highlighting the Full Benefits of the Xaya Platform
A true blockchain gaming that transform the world of gaming into a Decentralized Autonomous Universes that works without server and cannot be stopped.

Simple and efficient management of asset.

An efficient payment gateway which makes fraud a thing of the past.

The Ultimate Combination of VR Technology and the Scaling Solutions of Xaya Blockchain

At the moment, there are not much companies working on combining the technology of blockchain and the Vitual reality technology; but believe me, there are lots of opportunities in this universe that are yet to be deanonymized. The most exciting combination of VR technology and the technology of blockchain is a world of endless and digitalized features in which everything that we can imagine can come true. With Xaya blockchain scaling solutions, We will benefit from a virtual world that are governed based on undiluted democracy via CHI token and smart contract.
The Xaya blockchain will help to permanently store the data of the virtual worlds in a well secure way. Everyone that makes use of the virtual world can simultaneously function as a server at their own end. Thus, the growth of a virtual world becomes increasingly stable, with increasing number of players as a result. Xaya has created the best platform that will empower and provide the opportunity for everyone that has the capability to program VR applications to start the development of a virtual environment. As such, the worlds of virtual is set to boom.

Use Case

Bob is a 19 year old boy. He is the only child of his parents. Bob is very into playing of video games. Particularly, he loves playing action and adventures games. His love for games makes him innovative in such a way that he gets to create, build and design games by connecting together any resources he found around him even when a game to play is not readily available at his disposal.
With Xaya, Bob can be empowered and motivated to utilize his skills and intelligence in a provably fair environment to harvest resources and gain exceptional artefacts of significant real world value. Xaya can provide him with suitable and efficient the tools for the trading of asset for new and existing games.

Token Information of Xaya

Presale: Ended with over 29,178,394 CHI sold, which represents a value of $2.5million.
Main Sale: Ongoing
Token Supply: 150 000 000 CHI
Coin Distribution

Image Credit
Allocation of Funds

Image Credit
Join Xaya Main Sale Here

Conclusion

The increasingly complex and appealing world of game can be effectively and efficiently managed by the Xaya blockchain. Ownership can also be secured and simplified and smooth trading and sharing of virtual assets can be fully practiced. Xaya will help developers provide autonomous, decentralised worlds, that is full of virtual times that can be easily tradable by gamers. With Xaya, The developers do not need to worry about the cost of infrastructure and recurring, thus, the transition from concept to game release is done in less time and for less money.
The values and utility of a cryptocurrency for users can also be improved upon with the introduction of Xaya. There is assurance of gamers and developers sharing in a win-win outcome with both of them finding it easy to focus on new source of revenue. All of this will be achieved and brought into reality by Xaya through a single, custom, blockchain based platform that have the ultimate capability of providing the following features.

Image Credit


Image Credit

Meet Team Xaya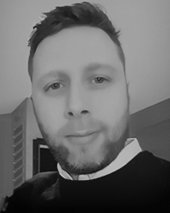 The team is headed by the CEO and co-founder Andrew Colosimo.

The Xaya team further consist of the following intelligent individuals:
Daniel Kraft (Co-founder),
Konstantin Gorskov (Lead Game, Web Developer - Co-Founder),
Andrew Gore[NUL] (CEO and Co-Founder of Soccer ManagerTM)
Bas de Gruiter (Business Development, Branding - Co Founder),
Ryan Smyth (Copywriter and Community Management),
Patrique Burgersdijk (Project Management),
Ayalies Schoonhoven MSc[NUL] (Marketing Manager),
Joseph Jacir[NUL] and
Other team members, advisors and partners.

You can visit the links below for more details

NB: All images, unless otherwise stated are taken from the resources of Xaya.
This post is submitted for the Xaya Writing Contest organised by @originalworks. Feel free to join here
Twitter bonus link here
Xaya2018