Launches country's first container train service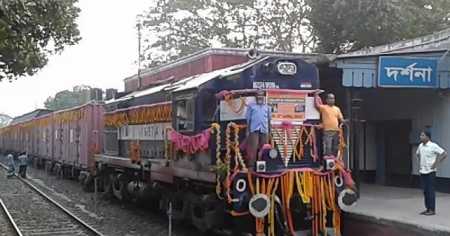 The country's first container train service started with Darshana Port. This led to increased trade-and-trade facilities at the port. It will expand business between Bangladesh and India. As well as revenue earnings will increase this port at the port.
60 Containers of US Container will be transported on a container train. Each Container will be loaded with a maximum of 20 Metric Tonmels. Today, at 5 o'clock in the first train, 30 containers are imported into dry vine, meaning soybean bran. Imported soybean seeds by 11 rs 47 m tons of sugar through the R. P. Agro Farm Container of Godrej. Indian Railway officials inaugurated a container service from Mazarhat at 9:35 am on Tuesday afternoon.
While traveling to Darshana port, the railway station's co-director (interchange) Kalikant Ghosh and Indian Railway Railway Traffic Inspector (Interchange) Sealdah Ashok Kumar Biswas were present.
In order to expand trade between Bangladesh and India, a discussion on conducting a container train between Dhaka and Dhaka was held at the intergovernmental government railway meeting held on 9-11 November in Dhaka. In its sequence, in the meeting held on August 28, 2011 in Kathmandu, Kathmandu, the discussion was held in the meeting of the railway anarch group of the SAARCs - due to the obstruction of the broad gauge container train movement on the Bangabandhu bridge, due to the conveyor reaching Dhaka by defeating the Bangabandhu bridge through the container shipment from broad gauge wagon to the broad gauge wagon at the west side of Bangabandhu bridge. Discussions are heldThen on Dec 26, the decision to launch Container Train Service through Darshana Port was decided in the cabinet division.
Bangladesh Railway will serve as a carrier from Darshana station to the Bangabandhu Bridge West Station. After this, the Konark representative / handling conductor will perform the task of reaching the destination through road or convenient transportation system. This will increase railway revenue and revenues from Darshan Port.
The trade between the two countries will be further expanded by introducing a container train. Traders get special privileges to import and export.