How much protection does the Gorilla Glass display?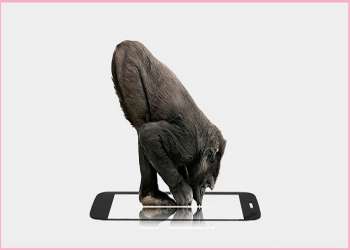 Gorilla glass protection is generally used to protect the smartphone's display. But many do not know what this Gorilla Glass? How to protect the smartphone screen or how useful is this technology?
Gorilla Glass is a solid type of glass that protects your smartphone's touchscreen from external injuries. Many people do not know, in addition to smartphones and tablets, this Gorilla Glass is used on other devices. Its use is also in the IT sector.
What is this Gorilla Glass? This glass made of Corneck Inc. is made of very sturdy metal. Its main components are aluminum, silicon and oxygen. Alkalai-Aluminum Silicate is made by mixing these three substances. This substance contains the Gorilla Glass in the current context. This material is not available in nature. It is specially made in the laboratory. The gorilla glass was discovered in mid-2005. The weight of the glass is very light, the screen does not collide on the popularity of this glass continues to increase. Now the smartphone without the cover of Gorilla Glass can not be thought. Many see before buying on a smartphone, whether it is a gorilla glass cover or not.
0.40 millimeter wide, transparent this glass is not the first big discovery of the company! Earlier, the Corning Company brought more than one 'Resistant Glass' to the market. These glasses were used not only on mobile but also in cars, pharmaceutical sectors. But Gorilla Glass is the most popular product of Corning.
The gorilla glass starts from 2010 It does not, but it's not that Gorilla Glass will never break. In fact, there are quite a few pieces of Gorilla Glass. There is a gourmet glass of thickness trial that does not break the screen even though hammering on it. Glass 1, 2, 3 In this way, Gorilla Glass is more modern or updated at specific intervals. Now the Fifth Generation of Gorilla Glass has arrived in the market.
The gorilla glass producers claim that if the mobile phone is covered by this gorilla glass from about 1.6 meters high on the ground, its screen will not break, so strong it is so strong.
How do you know that there is a Gorilla Glass on the phone?
It's very easy to know. A listing on the Corning website clearly states that this technology has some handsets. Currently, many companies use this technology to protect the phone from external injuries. There is a concept in the minds of customers that if there is a Gorilla Glass cover on the phone then maybe my phone will not break. And from this concept, such an euphemism of gorilla glass.