Bangladesh won the WSIS Award for the fifth time in IT and Innovation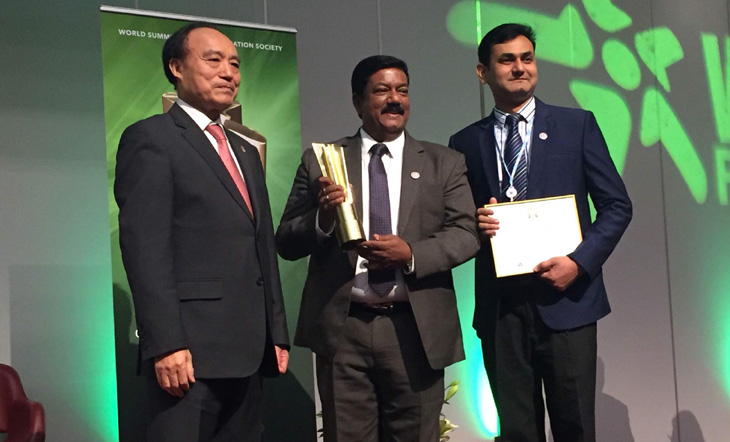 Bangladesh won the WSIS Award for the fifth time in IT and Innovation
Bangladesh won the WSIS Award for the fifth time in IT and Innovation
Bangladesh has achieved the 'World Summit on Information Society (WSIS) Award-2012', the world's most respected award in the field of information technology.
This award has been given for the innovative project 'Mata Path', implemented by the A2I program in the Prime Minister's Office. 'Muktapath' (www.muktopaath.gov.bd) is a national level e-learning platform, through which people of different levels of society, including youth, women, professionals, and expatriate workers, can be educated and trained. Also, with the help of the Service Innovation Fund of A2I Program and the successful implementation of the Dhaka Metropolitan Police, Bangladesh Police and A2I Program jointly achieved WSIISpurush for 'Online Police Clearance Certificate Management System'.
The WSIIS Award was received from ITU Secretary General Haolin Jhao, Project Director of A2I Program and Director General of the Prime Minister's Office (Administration).
During this time, the policy adviser of Chowdhury of A2I, Policy Specialist (Education Innovation) Afzal Hossain, Dr. Ramiz Uddin, Policy Associate Shahnur Sabbir On behalf of the Bangladesh Police, the Deputy Inspector General, Mr. Haroon Or Rashid, Additional Superintendent of Police (ICT) Mr. Ruhul Amin, received the WSIS award for online police clearance certificate initiative.
AIIi program was won by the International Telecommunication Union (ITU) at the WSIS forum in Geneva for five occasions in Geneva, after delivering services to the deprived people in front of 'Services at the doorstep of the people'. WSIS is the most important and biggest platform in the world on development through the implementation of ICT, by which ICT implementation is included and it is ensured that no one is backed up.
Work has been started to make Bangladesh a knowledge-based economy by a historic call of implementation of Digital Bangladesh by Prime Minister Sheikh Hasina's 2021 by a decade ago. These activities of Digital Bangladesh were brought to the notice of ITU in 2014 and in that year, they gave WSIS awards to the nation-wide Digital Level Implementation Project.
Since then, the A2I program has won the WSIS Award for its 12 major projects. It includes 'National Information Center' where 43,000 government offices have been brought under a roof; Through the 'Digital Talking Book', more than 100 primary and secondary schools are given access to books for those with disabilities (which is distributed annually by the Prime Minister on National Textbook Day on 31 December); 'E-document' system through which government office document management is being digitized; The government is getting more people closer to the people by increasing the use of 'social media' to bring innovation in civil service. Among other projects, WSIS Award 2014-2018, includes 'Grameen Stage Tele Medicine Services', 'Easy to Process Services', 'Environmental Clearance', 'Teachers' Booth '' and 'Farmer's Window' in Identifying Plant Problems.