Good afternoon, dear readers. Glad to provide again for you, quite an interesting project. We all remember from the school courses in biology the term DNA. If you get to the process and terminology, then DNA is primarily the genetic information of all living things on our planet. Now the technology has reached such a large scale that you can parse the entire DNA chain of a single person and put it in digital format. That's just a couple of years ago, the amount of information received was estimated by gigabytes of memory, and already today with the help of the project DANTIX, we can write everything on a regular flash drive. In this article, we will take a closer look at you, what is the company DANTIX.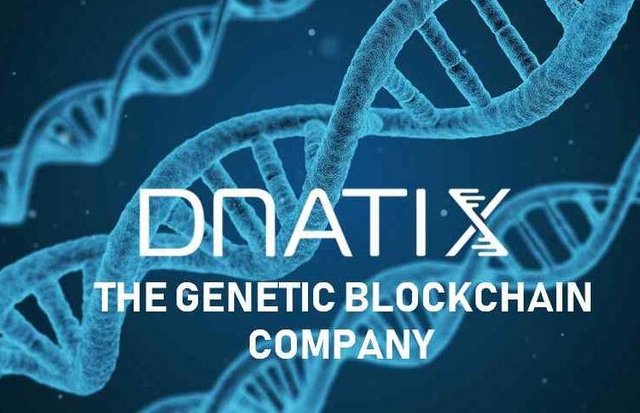 The DNAtix platform is primarily a service that will be provided to researchers and laboratories, as well as to ordinary private clients. All information will be strictly anonymous, it will be available only on request. In its development, the project from Singer DNAtix will use Advanced Infrastructure And Blockchain technology. To provide services related to scanning, as well as the storage and exchange of AKSes, a digital platform will be used to store DNA data, directly for CONSUMERS.
DNAtix also introduces a token utility, it will be used for the DNAtix genetic platform. Token will also serve as an investment coin, for the further development of the platform. With this platform, users have the opportunity at any time to get all the necessary information at any time.
Comprehensively, the DNAtix project will provide users and companies with services of a similar nature:
1 Blockchain infrastructure for storing an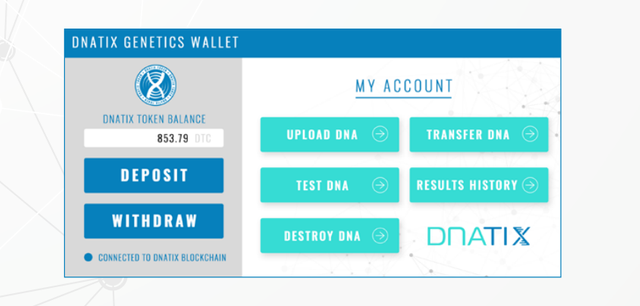 d transferring data containing all the information about the DNA code
2 Application with developed ecosystem and portal GDAPPS
3 Anonymous support service for DNA issues
4 All users will be able to digitize their DNA code
5 Promotion of genetic research and development of new solutions in the field of genetics and medicine
6 Possibility to receive strictly information interesting you for reasonable money
7 Point to personalize medicine for defined actions
8 Target platform for clients and employees of gene institutes
What does the DNAtix platform offer?
First of all, this is the loading, storage and transmission of all sequential DNA information. I recall that earlier it was impossible because of the colossal size of such information, and with the advent of Advanced Blockchain it becomes real. The next and important fact is that the platform provides complete anonymity for any user. The project will also play a key role in connecting customers with the professionals of the gene shop. Add here the modern experience that the user will receive, and we get the platform full of innovative solutions.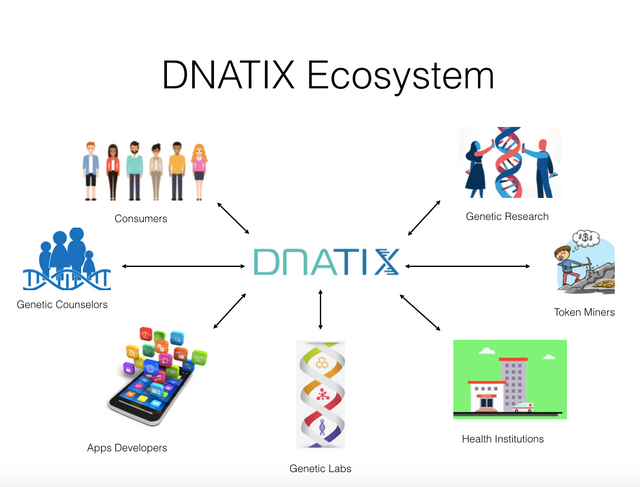 DNAtix will allow each one of us to monitor and manage their genetic information. In fact, this means that we will be given a "holy grail". We can contemplate our own essence in our own hands. all this will help to improve the prevention of dangerous diseases, and will also give us the information to actively and operatively interfere with our destiny. The DNAtix platform will allow downloading partial or complete sequences of genomes, as well as store, transmit and test these sequences. All this in a compartment with advanced blockchain technologies that allow anonymously to digitize genetic services.
On this project DNAtix, does not cease to amaze. The company will provide absolutely free of charge some genetic tests.
DNAtix will provide a variety of lifestyle, as well as reduce our costs.
DNAtix portfolio
Well, what good project will not create your wallet? DNAtix will launch its own electronic wallet, in which participants will monitor and access the DNAtix platform.
Technologies:
DNATIX ECOSYSTEM
DNAtix develops a genetic ecosystem that, in the future, will unite both consumers and researchers, as well as laboratories and clinics. The latter are already testing the platform now, for active use in the future. In essence, the company makes it possible to make sure that genetic research can be accessible and with more transparent results that will be accessible and safe.
Technical aspects of ICO
Genetically, a modern platform based on a block chain that provides anonymous and encrypted genetic services, including analysis, storage and transfer of DNA through digital platforms that go directly to consumers.
The technical identifier is DNTX. The total capitalization of coins is 150,000,000 VND. No additional tokens will be created. In the first year, 15% of the total number of DNAtix coins will be frozen in the reserve account. Sales of the DNAtix token will begin with the launch of the ICO in June 2018. 85% of the 150,000 DNA tokens will be sold at this stage. Hard cap is estimated at $ 30 million.
ICO information
Token Token: DNTX
Token Sales Beginning: June 2018
Cost of the token: $ 0.01
Total capitalization: 150,000,000
Hard cap: 30 million dollars.

This concludes my introduction to the project. In the future I will follow the project carefully. If there is any information that might interest you, I will publish it on my blog. For more detailed knowledge of the project, I recommend to follow the official website of the project. Below you will find links to all social networks of the company. I hope that you liked the article. See you in new projects.
Official website: https://www.dnatix.com/
Telegram channel: https://t.me/dnatix_tokensale
Twitter: https://twitter.com/DNAtixGenetics
Facebook: https://www.facebook.com/dnatixgenetics/
Whitepaper: https://www.dnatix.com/download/White_Paper.pdf
ANN: https://bitcointalk.org/index.php?topic=4900060
My profile: https://bitcointalk.org/index.php?action=profile