These are Brazil's favelas.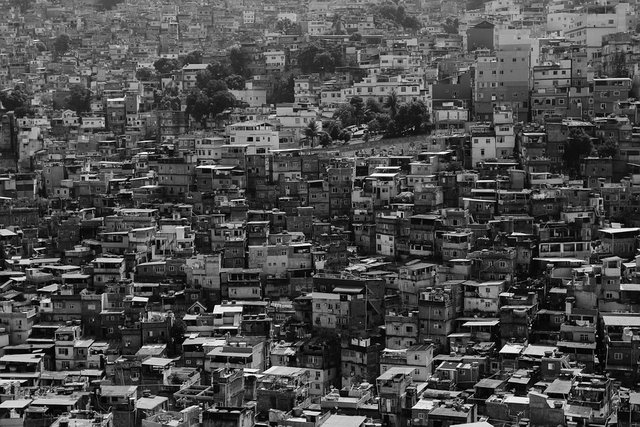 These house some of the poorest people in the country, and according to a 2010 census, six percent of the country's population. They may look glamorous in paintings or on postcards, but that is far from the truth. The buildings are  made of scrap metal and trash, and lack any proper access to plumbing, water, or electricity.  Crime is rampant in these communities, with most being controlled by drug lords. There is no opportunity, plain and simple. Even the uneducated kids know that. These kids too know that their days are numbered, whether it be from starvation, dehydration, murder, disease, or a natural disaster. Government in the country has claimed to be a champion of these shanty towns, but have since failed to deliver . So, there hasn't been a solution, at least not until now.
What the crypto currency can bring to the table
Bitcoin truly does have the potential to bring people out of extreme poverty. This is due to the fact that most people are in poverty because they lack one thing, money. The current financial system of today runs around a centralized system of banks, governments, and other institutions. These institutions make sure that the one percent get ninety percent of all wealth being generated. Therefore, even when the economy is doing well, most of the revenue goes to the top. However, in a world where blockchain and cryptocurrency dominate, this money stream is completely disrupted. Transactions can take place all around the world without having any borders. This means no currency exchange, no banks or governments to go through, and no outrageous ten percent transaction fees to pay. This also means money can go where it belongs. Then, it can help start and build projects that help with infrastructure, water, agriculture, and sustainable energy in these areas. It can even help low income people start businesses that will help them and their community. Jobs and occupations are also quickly changed. This means instead of having to work ten hours a day to make 23 cents in the third world, one there can now earn what everyone else is making in the first world. Of course, there are problems that will need to be addressed. These countries and areas face a lack of bandwidth and internet connection. Equipment, such as computers, tablets, and machines, are also scarce. These problems will need to be solved, but when they are ,  cryptocurrency and bitcoin will spread in the third world like wildfire.