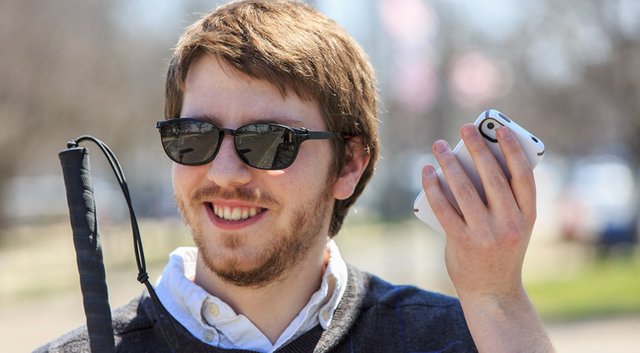 Hey Steemians!
Thank you for stopping by this Steem! Before I'm going to tell you why I decided to steemit, I'll need a 90-second commitment from you to watch the following video because I believe that you are going to change someone live one action at a time. Let's enjoy the video together! Shall we? :D
Thank you for your time! I'm glad you are still here. Now, that you watched the video. It's pretty cool huh? Could you imagine that one day you could give someone who is blind or visually impaired a hand through the internet? It is crazily amazing! Be My Eyes is a free smartphone app (iOS and Android) providing crowd sourced assistance for blind and visually impaired people via live video connection. The whole ecosystem of 669,495 volunteers and 50,582 blinds are connected through this simple and easy to use app.
As a disclaimer, I do not work for BeMyEyes or will receive any incentives for sharing the app to everyone. I was inspired and enlightened from the overwhelming experience I had with the app last night. Let me share with you my experience.
Around 7 PM MST yesterday, I was reading The Internet of Money Volume Two (highly recommended) by Andreas Antonopoulos to learn more about Bitcoin and how it will revolutionize our sociality. Since every piece in the book is so honest and fascinating, I was in the zone and care less about anything else. Fortunately, my peripheral sight was alerted enough to recognize the subtle notification from the BeMyEyes app. I quickly answered and dropped everything down at the moment. Because of a fair large amount of volunteers who are willing to provide help, it was my very first time answering the call.
A part of me felt nervous and another felt exciting because I was trying something cool that I've never done before. After connected with the side, my nervousness got me and I totally forgot to ask for his name. Please forgive me for calling him John. I was amazed by what I saw. John was trying to connect his washer with the water sources by himself and in needed of identifying the hot and cold for the pipes, main water values, and connections to the washer. While helping him, I really admired his aptitude and realized that I have taken a lot of things for granted. If I was in his situation, I would probably hire someone to install the washer for me instead of doing it for myself because it is convenient for me. After being able to label each item spatially, John quickly thanked me and didn't want to take any more of my time even though I offered to stay on the line helping him through the process and learn more about him. We said goodbye and were back to our own way.
After the conversation, I was overwhelmed by the whole experience of helping someone distance far away from me. It was a wake-up call for me to appreciate everything around me, to be grateful for what I have, and not to take everything for granted.
Thank you for reading this long! I greatly appreciate your time and hope my experience would inspire to take action and provide your help to those who in need. You little contribute will make a huge impact in someone's life. Visit BeMyEyes.com to learn more and download the app now! I'm looking forward to learn about your experience as well :D
Let's make the world more accessible to everyone!
-Kingsten
---
Note: I'm always striving to learn and grow to become a better version of myself every day. I know my writing could be dry or my story telling could be boring. I am open for suggestions and helps in making this more engaging!
---
Photo Credits:
Image from https://twitter.com/MSFTEnable/status/931361295605096448