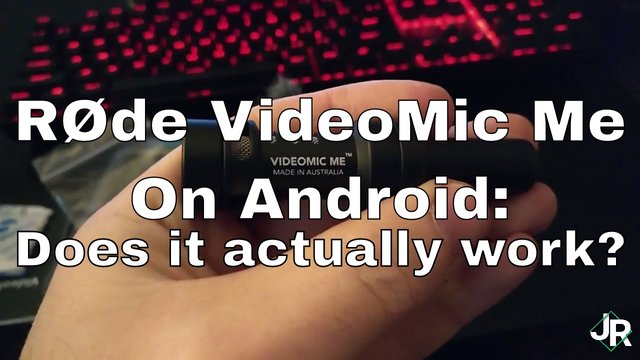 ---
---
The Rode VideoMic Me is a microphone designed of the Apple iPhone. I don't own an iPhone but picked this up anyway to see how well it would work on my Android smart phone. After a few tweeks like putting my device in airplane mode, turning off GPS, and disabling NFC everything sounds amazing. This microphone make the audio so clear compared to any others that I have tried.
This video was recorded about a year ago when I first got the microphone and it is now the only mic I use when recording my "talking head" videos. It's worth the investment of around $50 USD if you are looking to take your audio quality to the next level. Weather it's for creating videos and audio, live streaming, or doing a video call.
Thanks For Watching!
If you have any topics that you would like me to cover please feel free to comment them below and I'll add them all to my list!
All images came from royalty and attribution free sources unless specified.
---
Looking to take your Steem based creations to the next level?
Join us over at the Creators' Guild Discord group! We are here to encourage, support and increase the creation of quality content.
---
If you have any questions about the future of Steem
or my witness please feel free to message jrswab#3134 on Discord.

Click here to vote with SteemConnect!
Or go to https://steemit.com/~witnesses
You can see all active witnesses on @drakos' steemian.info
---
Click here to join the mailing list and get exclusive SDB/STEEM giveaways!
Looking to support my content creation efforts outside of the Steem Blockchain?
Check out jrswab.com/support
---
Mastodon | Keybase | Twitter | Gab | Minds | Hacker Culture Podcast