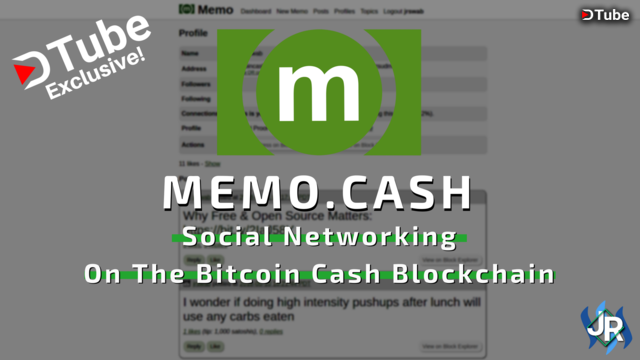 ---
---
▶️ Watch On DTube!
▶️ IPFS Source
---
memo.cash is a new social network that rides on top of the Bitcoin Cash blockchain. Much like @zappl and Twitter, it allows for short-form content such as text and images. While this is not the first social network on a blockchain, it is the first on a chain like Bitcoin.
This social network is still new, and the interface is very bare bones, but I feel that is fine. The primary objective is to get the idea working smoothly than worry about making everything look pretty.
That said, it already looks better than it did when I first joined and there are many sites out there that keep the bare bones look. Take Reddit for example, not flashy or fancy, and they get millions of views a day. It's not about how something looks but how it operates.
Why On Bitcoin Cash?
The reason is due to the size of the blocks on the Bitcoin Cash network. Each block has a default size of 8mb at the moment I write this but will be 32mb in just a couple of days. While the developers on the Bitcoin network chose to keep the block size at 1mb causing the split to Bitcoin Cash.
While both sides of the block size debate have good arguments, it is Bitcoin Cash that can do these cool things like run a twitter service. All because the block size allows for the room. My only worry is that this type of service may get in the way of financial transactions if Bitcoin Cash goes mainstream.
What can we do on Memo.Cash?
View profiles
Make posts

Add text
Add images
Embed video

Follow others
Write a bio
See followers

Your followers
Other people's followers

Write in topic threads
---
▶️ Watch On DTube!
▶️ IPFS Source
Thanks For Reading & Watching!
If you have any topics that you would like me to cover, please feel free to comment them below, and I'll add them all to my list!
All images came from royalty and attribution free sources unless specified.
---
Looking to take your Steem based creations to the next level?
Join us over at the Creators' Guild Discord group! We are here to encourage, support and increase the creation of quality content.
---
If you have any questions about the future of Steem
or my witness, please feel free to message jrswab#3134 on Discord.

Click here to vote with SteemConnect!
Or go to https://steemit.com/~witnesses
You can see all active witnesses on @drakos' steemian.info
---
Click here to join the mailing list and get exclusive SDB/STEEM giveaways!
Looking to support my content creation efforts outside of the Steem Blockchain?
Check out jrswab.com/support
---
Keybase | Twitter | Twitch | Instagram | Gab | Minds | Anchor