Pre-Order a Flamethrower for Only $500 - Thanks to Elon Musk & The Boring Company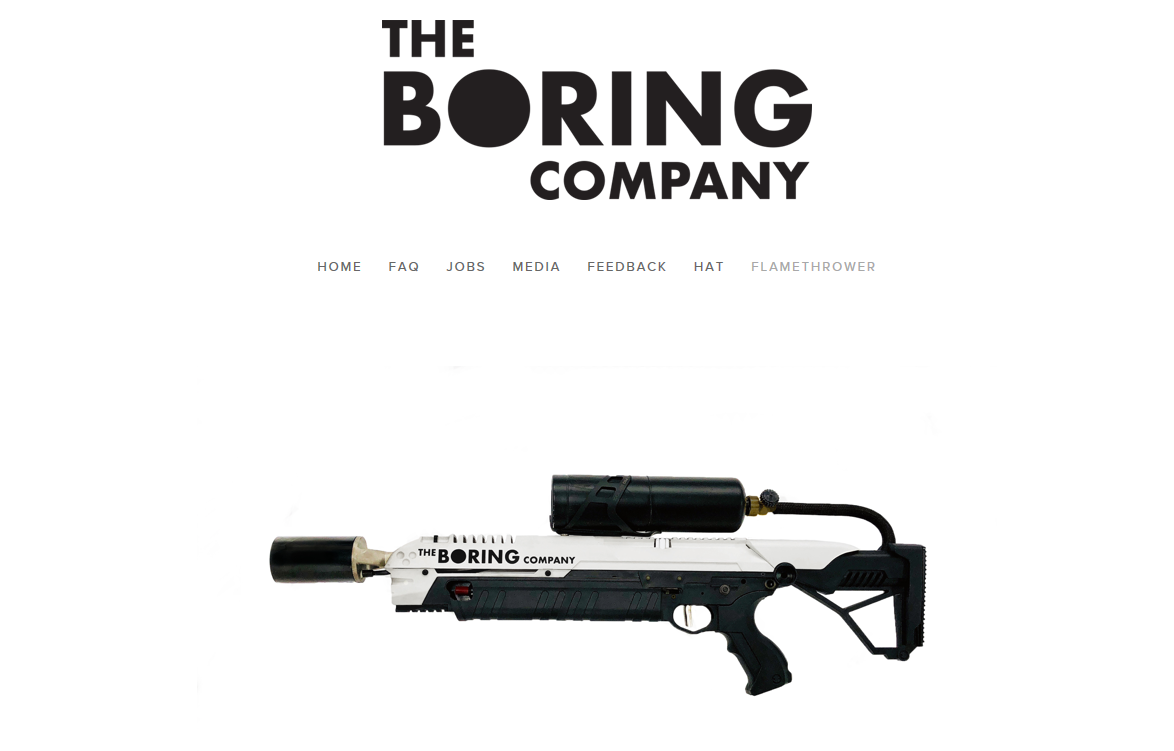 Pre-Order a Flamethrower for Only $500!
Thanks to Elon Musk & The Boring Company
Self taught rocket scientist and entrepreneur, Elon Musk, has launched a webpage in which you can pre-order a Flamethrower from The Boring Company. The Boring Company is a new infrastructure and tunnel construction company founded by Elon Musk in 2016. This is the sector that will be building the 'Hyperloop Tunnels'
This $500 flamethrower is said to liven up any party! It is hailed as the safest flamethrower ever created... And to make things even safer, The Boring Company is also offering a $30 fire-extinguisher to go along with it!
The following disclaimers were posted on The Boring Company's website:
-Fire extinguisher sold separately (for exorbitant amounts of money)
-Taxes and shipping will be added at checkout
-Additional customs fees may apply for international orders because of laws
-International customers can receive a full refund if not happy with said fees
-Before shipping, aspiring flamethrower aficionados will be sent a terms and conditions rhyme for review and acceptance
-Starts shipping in spring
-May not be used on Boring Company decorative lacquered hay bales or Boring Company dockside munitions warehouses
According to Elon Musk on Twitter there are only 20,000 flamethrowers being made and a few thousand have already been claimed. And no... he will not be creating a zombie apocalypse to push product sales...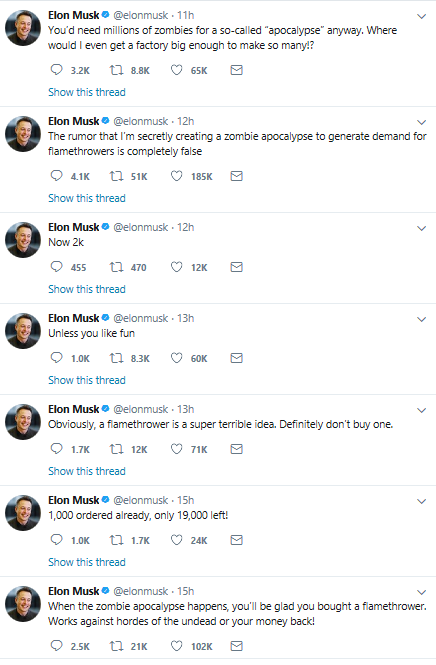 Watch a Demo from Elon:

All proceeds from this post will go towards @jeffjagoe's flamethrower fund

Thanks For Reading!